You have /5 articles left.
Sign up for a free account or log in.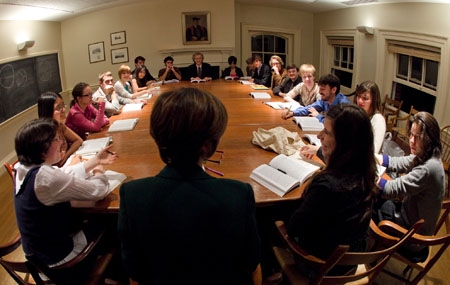 Most of us read that Sweet Briar College, a small, private women's liberal arts college in rural Virginia, announced it would close this summer. The closure can be explained through various factors and reasons: ever-growing deferred maintenance, lack of internship options for students, a rural setting, diminishing public interest in liberal education and single-sex education, an endowment made up of mostly restricted funds, and the simultaneous effects of decreasing enrollments resulting in higher rates of tuition discounts and years of dipping into the unrestricted endowment to cover operating costs.
To be sure, Sweet Briar is not closing due to an absence of quality. Indeed, Sweet Briar was one of the colleges in Project DEEP (Documenting Effective Educational Practice), run by the N.S.S.E. (the National Survey of Student Engagement), which identified institutions excelling at education. Sweet Briar's fate should worry anyone concerned with maintaining a high quality of undergraduate education in America because some of Sweet Briar's peers are endangered.
Of the 2,353 Title IV four-year public and private postsecondary degree-granting institutions in the United States listed by a 2013-14 report from the National Center for Education Statistics, liberal arts colleges comprise about 4 percent. And yet research indicates that these institutions do extraordinary things typically not found in any other institution type.
Data supporting this claim of quality can be found in multiple studies (outlined and hyperlinked below), and it deserves some attention because such dedication to uncompromised quality in a close academic community falls on deaf ears in our national conversation that focuses primarily on quantity, scale and technology.
In an address to the American Council of Learned Societies, George Kuh, director of the National Institute for Learning Outcomes Assessment at Indiana University at Bloomington as well as the founder of N.S.S.E., described these colleges as "built to engage." Kuh found that students attending these institutions tended to not just obtain new knowledge but also "tend to gain more in intellectual and personal development." Likewise, graduates of these institutions also tended to be more civically engaged later in life. In other words, liberal education's commitment to educating the whole person, at least in these contexts, represents both an ideal and an actual reality.  
Accordingly, liberal arts colleges also have the highest rates of alumni satisfaction when compared to other institution types in studies by the Annapolis Group and the Carnegie Foundation for the Advancement of Teaching, respectively. Students graduate from these colleges feeling positive about their educational experience, the attention from faculty and staff, and their overall development as adults. Alumni are satisfied despite attending institutions that typically carry the highest price tag in America.
Given such positive experiences in undergraduate education, it is no surprise then that on a per capita basis there are more liberal arts college graduates obtaining advanced degrees and doctorates than other institution types, according to Kuh (see also a report from the College Solution for a list of specific institutions). Some may interpret such data to indicate that these graduates need advanced degrees to find employment. Another interpretation would be that these colleges better prepare students for the levels of thinking required for completing advanced degrees of study. While both may have some truth, these data indicate that such graduates are then obtaining jobs requiring more advanced degrees as well.
We can also consider how these colleges measure up to the research on evidenced-based best practices of undergraduate education. For example, a study from the University of Iowa and the Center of Inquiry in the Liberal Arts at Wabash College by Ernest T. Pascarella, Ty M. Cruce, Gregory C. Wolniak and Charles Blaich found "evidence supporting the contention that in comparison with other institutions, liberal arts colleges do, in fact, foster a broad range of empirically vetted good practices in undergraduate education." Decades of research support our understanding of best practices and give evidence as to how these practices promote positive student development. From Pascarella et al's study, examples of best practices include:
Student-faculty contact
Cooperation among students
Active learning/time on task
Prompt feedback to students
High expectations
Quality of teaching received
Influential interactions with other students
Another best practice of undergraduate education associated with positive student outcomes relates to student experiences with diversity. A study by Paul Umbach, a professor of higher education at North Carolina State, and Kuh found that liberal arts college students "are significantly more likely than their counterparts at other types of institutions to engage in diversity-related activities and to report greater gains in understanding people from diverse backgrounds." The research linking best practices of education and liberal arts colleges makes sense given that these schools intentionally cultivate small, engaging academic communities with single-mission commitments to undergraduate education in the liberal education paradigm.
To date, the most thorough summary of the research on both liberal arts colleges and liberal education may be found in "Liberal Arts Colleges and Liberal Arts Education: New Evidence on Impacts." While this report remains too large to summarize in the current article, the authors raise an important distinction based on findings that both confirm and challenge the notion that liberal arts colleges are the best at undergraduate education. The confirming data indicate that students at liberal arts colleges typically experience high-quality teaching and an engaging institutional climate through best practices. This makes sense for these institutions, as they also typically spend more on students than other institution types. Yet it challenges this notion insofar as attending these schools does not guarantee that a student experiences such high quality, therefore these institutions were not found to guarantee better student outcomes (e.g. grades, higher scores on standardized learning assessments). After all, just as a professor cannot force a student to learn, an institution simply being a liberal arts college does not ensure quality. The evidence, however, remains that these colleges typically embody the best of undergraduate education.  
Despite all of these indicators of quality, these institutions are disappearing. In his 1994 "Liberal Arts Colleges: Thriving, Surviving, or Endangered," David Breneman determined that there existed 212 institutions that qualified as true liberal arts colleges. To define liberal arts colleges, Breneman first utilized the Carnegie Foundation's previous classifications of liberal arts colleges I and II and then added his own educational and economic criteria. Educationally, colleges must have few or no graduate programs and must award at least 40 percent of their degrees in the liberal arts and sciences.
These criteria effectively eliminated small comprehensive universities as well as professional or preprofessional colleges. Economically, colleges required similar financial models of revenue and cost in order for Breneman to compare institutions. Vicky Baker, Roger Baldwin and Sumedha Makker reran Breneman's study and found that after 18 years, 137 institutions remained. For my own dissertation research on liberal education under the mentorship of Breneman, I also reran the study using Baker et al's sample two years later in 2014 and found that only 103 qualified. After Sweet Briar's closing, 102 will remain.
While some liberal arts colleges with sizable endowments -- Amherst, Swarthmore and Wellesley Colleges, among others -- will be able to weather storms better than others, I expect this trend will continue in the foreseeable future. Colleges will either close, transform into professional schools, or become small comprehensive universities. In the meantime, we need to study these institutions while we still can so that our understanding of the best model of undergraduate education does not in turn disappear. Further research is needed to explore what precisely faculty and staff do to bring out these positive outcomes, what forms of assessment might be best suited for such intense and nuanced communities of learning, and how essential human-to-human interaction is the learning and development process.
The uncertain future of the liberal arts model serves to bring its most valuable and essential components into clear focus. The foundations of mentorship-style learning with faculty and staff through a breadth and depth of study, community engagement, and residential living on which the model is built must not be allowed to fade along with the popularity of liberal arts colleges. It should, at least, set our standard for undergraduate education as well as inform and enrich our work in other sectors of education, be it other institution types or emerging postsecondary models. After all, how else will we know if other models of undergraduate education can measure up to the high ideals and practices associated with liberal arts colleges?