You have /5 articles left.
Sign up for a free account or log in.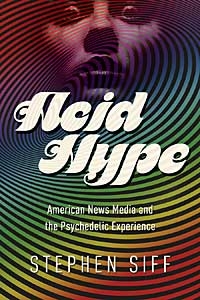 If you can remember the 1960s, the old quip goes, you weren't really part of them. By that standard, the most authentic participants ended up as what used to be called "acid casualties": those who took spiritual guidance from Timothy Leary's injunction to "turn on, tune in and drop out" and ended up stranded in some psychedelic heaven or hell. Not that they've forgotten everything, of course. But the memories aren't linear, nor are they necessarily limited to the speaker's current incarnation on this particular planet.
Fortunately Stephen Siff can draw on a more stable and reliable stratum of cultural memory in Acid Hype: American News Media and the Psychedelic Experience (University of Illinois Press). At the same time, communicating about the world as experienced through LSD or magic mushrooms was ultimately as difficult for a sober newspaper reporter, magazine editor or video documentarian as conversation tends to be for someone whose mind has been completely blown. The author, an assistant professor of journalism at Miami University in Ohio, is never less than shrewd and readable in his assessment of how various news media differed in method and attitude when covering the psychedelic beat. The slow and steady buildup of hype (a word Siff uses in a precise sense) precipitated an early phase of the culture wars -- sometimes in ways that partisans now might not expect.
Papers on experimentation with LSD were published in American medical journals as early as 1950, and reports on its effects from newspaper wire services began tickling the public interest by 1954. The following year, mass-circulation magazines were devoting articles to LSD research, followed in short order by a syndicated TV show's broadcast of film footage showing someone under the influence. The program, Confidential File, sounds moderately sleazy (the episode in question was described as featuring "an insane man in a sensual trance") but much of the early coverage was perfectly respectable, treating LSD as a potential source of insight into schizophrenia, or a potential expressway to the unconscious for psychoanalysts.
But the difference between rank sensationalism and science-boosting optimism may count for less, in Siff's interpretation, than how sharply coverage of LSD broke with prevailing media trends that began coming into force in the 1920s.
After the First World War, with wounded soldiers coming back with a morphine habit, newspapers carried on panic-stricken anti-drug crusades ("The diligent dealer in deadly drugs is at your door!") and any publication encouraging recreational drug use, or treating it as a fact of life, was sure to fall before J. Edgar Hoover's watchful eye. Early movie audiences enjoyed the comic antics of Douglas Fairbanks Sr.'s detective character Coke Ennyday (always on the case, syringe at the ready), or in a more serious mood they could go to For His Son, D. W. Griffith's touching story of a man's addiction to Dopokoke, the cocaine-fueled soft drink that made his father rich. But by the time the talkies came around, the Motion Picture Production Code categorically prohibited any depiction of drug use or trafficking, even as a criminal enterprise. Siff notes that in the 20 years following the code's establishment in 1930, "not a single major Hollywood film dealing with drug use was distributed to the public."
Not that depictions of substance abuse were a forbidden fruit the public was craving, exactly. But the relative openness of the mid-1950s (emphasis on "relative") allowed editors to risk publishing stories on what was, after all, serious research on a potential new wonder drug. Siff points out that general-assignment newspaper reporters attending a scientific or medical conference, unable to tell what sessions were worth covering, could feel reasonably confident that a title mentioning LSD would probably yield a story.
At the same time, writers for major newsmagazines and opinion journals were following the lead of Aldous Huxley, the novelist and late-life religious searcher, who wrote about mystical experiences he had while taking mescaline. In 1955, when the editors of Life magazine decided to commission a feature on hallucinogenic mushrooms, it turned to Wall Street banker and amateur mycologist R. Gordon Wasson. He traveled to Mexico and became, in his own words, one of "the first white men in recorded history to eat the divine mushroom" -- and if not, then surely the first to give an eyewitness report on "the archetypes, the Platonic ideals, that underlie the imperfect images of everyday life" in the pages of a major newsweekly.
Suffice it to say that by the time Timothy Leary and associates come on the scene (wandering around Harvard University in the early 1960s, with continuously dilated pupils and only the thinnest pretense of scientific research) it is rather late in Siff's narrative. And Leary's legendary status as psychedelic shaman/guru/huckster seems much diminished by contrast with the less exhibitionistic advocacy of LSD by Henry and Clare Boothe Luce. Beatniks and nonconformists of any type were mocked regularly in the pages of Time or Life, but the Luce publications were for many years very enthusiastic about the potential benefits of LSD. The power couple tripped frequently, and hard. (Some years ago, when I helped organize Mrs. Luce's papers at the Library of Congress, the LSD notes were a confidence not to be breached, but now the experiments are a matter of public record.)
The hippies, in effect, seem like a late and entirely unintentional byproduct of industrial-strength hype. "During an episode of media hype," Siff writes, "news coverage feeds on itself, as different news outlets follow and expand on one another's stories, reacting among themselves and to real-world developments. Influence seems to flow from the larger news organizations to smaller ones, as editors at smaller or more marginal media operations look toward the decisions made by major outlets for ideas and confirmation of their own judgment."
That is the process, broadly conceived. In Acid Hype, Siff charts the details -- especially how the feedback bounced around between news organizations, not just of different sizes, but with different journalistic cultures. Newspaper coverage initially stuck to the major talking points of LSD researchers; it tended to stress the potential wonder-drug angle, even when the evidence for it was weak. Major magazines wanted to cover the phenomenon in greater depth -- among other things, with firsthand reports on the psychedelic universe by people who'd gone there on assignment. Meanwhile, the art directors tried to figure out how to convey far-out experiences through imagery and layout -- as, in time, did TV producers. (Especially on Dragnet, if memory serves.)
Some magazine editors seem to have been put off by the religious undercurrents of psychedelic discourse. Siff exhibits a passage in a review that quotes Huxley's The Doors of Perception but carefully removes any biblical or mystical references. But someone like Leary, who proselytized about psychedelic revolution, was eminently quotable -- plus he looked good on TV because (per the advice of Marshall McLuhan) he smiled constantly.
The same hype-induction processes that made hallucinogens seem like the next step toward improving the American way of life (or, conversely, the escape route for an alternative to it) also went into effect when the tide turned: just as dubious claims about LSD's healing properties were reported without question (it'll cure autism!), so did horror stories about side effects (it'll make you stare at the sun until you go bling!).
The reaction seems to have been much faster and more intense than the gradual pro-psychedelic buildup. Siff ends his account of the period in 1969 -- oddly enough, without ever mentioning the figure who emerged into public view that year as the embodiment of LSD's presumed demons: Charles Manson. You didn't hear much about the drug's spiritual benefits after Charlie began explaining them. That was probably for the best.