You have /5 articles left.
Sign up for a free account or log in.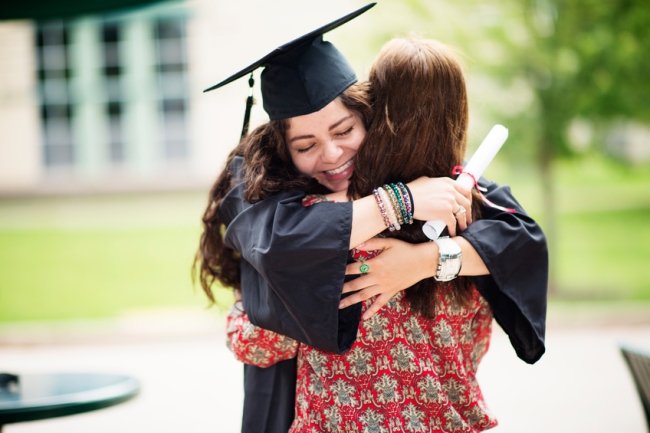 There is a common expression -- "just throw money at the problem" and it will be fixed. But providing adequate financial support plays only a small part in supporting college students from particular sectors -- underrepresented minorities, those who are first in their families to attend college and those from lower socioeconomic backgrounds -- to successfully complete an undergraduate degree.
For such students to succeed, universities need to make a consistent and sustainable institutional commitment toward that goal. They must examine their internal organizational structures and processes to determine those that may need to be rethought or reworked. Senior administrators as well as faculty and staff members should develop what the University of Southern California's Center for Urban Education calls "equity-mindedness." That broad institutional approach accepts responsibility and accountability for student success, as opposed to viewing any student challenges through a lens of student deficiency, ill preparedness, or "the student's fault."
This is what the University of La Verne -- a federally designated Hispanic-serving institution with more than 3,600 Latino students, a near majority of first-generation students and more than 1,400 students on Pell Grants -- is doing. It is also what other universities like Stanford University; the University of California, Berkeley; and the University of California, Santa Barbara, have modeled. This past spring, we were all featured in an Excelencia in Education report that described the tactics that our institutions are using to enroll, retain and graduate more Latino/a students, in particular.
Far beyond only financial assistance, our universities have maintained organizational structures, cocurricular support opportunities and academic curricula that create an environment that helps not only Latino/a students but, in fact, all students to exceed expectations. And all our institutions are in it for the long haul; we introduce many of our initiatives when students are still in high school, provide continuing programs throughout their college years and also offer some initiatives for career and life success after graduation.
Some of the key areas we focus on include:
Recruiting. Support must begin before students apply to college. At the University of La Verne's annual Latino Education Access and Development conference, high school students and their families meet and engage with Latino professionals, faculty members, alumni and current students -- building rapport and encouraging a sense of belonging among first-generation applicants. Similarly, UC Santa Barbara's LA2SB program and UC Berkeley's RAZA Day attempt to demystify the college experience by bringing high school students to their campuses for admissions presentations, tours and meetings with professors. Such programs help all high school students, but they are particularly effective for first-generation students and their entire families, as those students begin to picture themselves as college graduates for the first time.
Retention. It is often assumed that first-generation minority students enter college with the same hopes and expectations as their classmates. Yet they generally arrive with fewer of the skills needed for college success as well as far less familiarity with a higher education environment. It can be daunting for every student to navigate a complex university environment, build college-appropriate study habits, actively seek meaningful advice and counsel, engage in cocurricular activities, and connect with student peers and faculty members. But first-generation, low-income and minority students often face additional challenges. For example, employment obligations are paramount for lower-income students, many of whom are returning to school and are older than the traditional undergraduate age of 18 to 23 years old. Many of these students may also be caring for elderly relatives, siblings or their own children.
UC Santa Barbara and the University of La Verne both employ tactics for continually advising students who are at risk of falling behind in their courses and intervening where necessary. As an example of the need for an intentional focus on those students, consider the first-generation student who gets a D on a biology exam. For most students that might mean, "I need to study more," or "I need a tutor," or "I'll do better next time." A first-generation student often draws an entirely different conclusion that may sound like, "I guess I really don't belong in college," "I am wasting time and money," or "I cannot succeed here." Early and active advising stops that thought pattern, boosts students' self-confidence and helps them develop a sense of belonging. We also offer mentoring programs with a demographic-specific focus, including peer, group and staff mentoring specifically for first-generation students or men of underrepresented populations.
Establishing a sense of community on the campus is also vital. UC Berkeley and Stanford offer Chicano and Latino centers as places to help foster a feeling of belonging among Latino students. The University of La Verne provides a thriving Latino student forum, a first-generation club, a common ground club that promotes religious diversity, a multicultural center and regular programming focused on student identity. We also routinely support events such as the Latino Heritage Month Fiesta, Black History Month Celebration and National Coming Out Day.
Through our signature four-year undergraduate program, The La Verne Experience, we integrate high-impact practices throughout every student's undergraduate years. Those practices include interdisciplinary, student-focused learning communities intended to increase academic and personal support between student peers and faculty members. Starting in the freshman year, such communities gather entering freshman and transfer students with similar interests into the same set of three linked classes -- two distinct discipline classes and a smaller writing class. Over the following years, a series of cocurricular activities supplement what students learn in the classes. In addition, we offer high-touch/high-tech tutoring and career services in person and through telepresence across the university's multiple campuses. (Telepresence is essential for the university's regional campuses and of great value to students over traditional age.)
The La Verne Experience also includes mandatory civic and community-engagement activities, bringing curricular theory into practice and keeping students' interests tied to their cities and focused on the assets of both the students and their home communities. During New Student Community Engagement Day, held on the Saturday before fall classes begin, first-year and transfer students volunteer across more than 20 community organizations. They distribute water and ice cream at Union Rescue Mission in Los Angeles, meet with incarcerated women and their children in Pomona, paint a mural at the Boys and Girls Club of Pomona Valley, or clean and harvest at the Huerta del Valle Community Garden in Ontario.
Students also become examples to other youth in their communities by demonstrating what is possible when they attend an institution that offers an inclusive environment and is attuned to supporting all students. One University of La Verne student who was raised in the foster care system fulfilled his academic community engagement requirement by volunteering at a group home, where he worked with children who shared his background. He found his own mission mentoring those children, and after he completed his service in his junior year, the organization hired him on its staff, where he continued to work after graduation.
Of course, in some situations throwing money at the problem -- expanding financial-aid opportunities to increase retention -- can be an important and effective strategy. The Excelencia report itemized various creative approaches in the junior and senior year of college. UC Santa Barbara awards some low-income high school graduates $120,000 scholarships to cover all four years of education, which reassures students from the outset that their financial needs will be met through graduation. At the University of La Verne, we offer additional scholarships when students might have to step out of college as a result of an increased or changing financial need. We also hold Starbucks nights at local coffee shops for students and their parents to discuss -- in Spanish, if necessary -- the financial aid that will be available at any point in their education.
Graduation. Career preparedness and workforce connections should be threaded throughout students' experiences, beginning when they first arrive on campus. For example, The Convergence -- a partnership between our university and local health care organizations -- generates employment opportunities for our graduates in fields where diversity is highly desired. By working together, the partner organizations are more accurately forecasting workforce trends and developing educational programs and campaigns to make sure students are graduating with the knowledge and skills needed to for high-paying, meaningful careers. Just recently, the university launched a physician assistant program in response to the feedback we received about the need for the profession in the region.
We also provide extensive undergraduate research opportunities for all students. Any opportunity to bridge theory, skills and practice -- such as with research, community engagement or internships -- assists students to understand and appreciate the relevance and value of their education.
The results of these and other focused and intentional practices aimed at supporting the student body at our institution have been noticeable. Our four-year graduation rate has increased from 40 percent to nearly 50 percent in three years. The six-year graduation rate climbed from 59 percent to 64 percent in just one year.
Enhancing financial support alone did not achieve this improvement in student outcomes. While scholarships and other forms of student aid cannot be undervalued, it is the responsibility of a university's leadership, along with the entire campus, to build an academic environment where all students feel comfortable, connected and confident, where they access support and resources are available to them, and where they realize the institution is focused on their ultimate success. You cannot put a price on that.