You have /5 articles left.
Sign up for a free account or log in.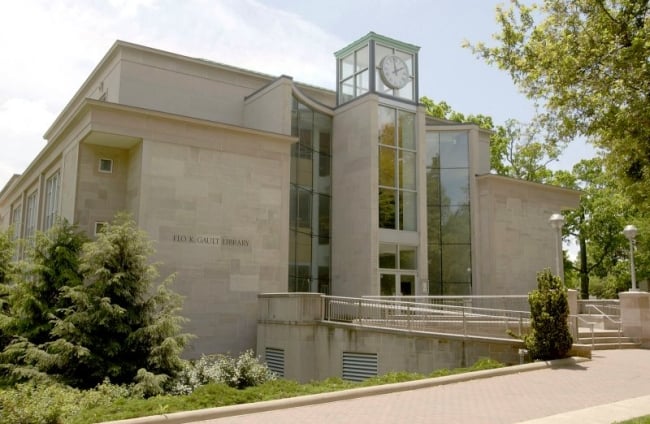 In an Instagram video, former Fox News host Greta Van Susteren proclaimed that she is "scandalized" by the cost of education and how college students are saddled with "gigantic student loans."
Viewers may well have been nodding in agreement at that point in the video. And if they heard last month's NPR program on how more colleges are opening food pantries, it makes sense to many to say that higher education is too expensive for students, their parents and families -- both while students are enrolled in college and afterward, and whether a degree is earned or not.
But academic libraries are part of the solution in higher education rather than part of the problem, and Van Susteren quickly ran off the rails when she targeted academic libraries as the culprit.
Van Susteren complained about "vanity projects," specifically mentioning the construction of library buildings and adding that students are footing the bill for them.
She posted similar comments on Twitter, exclaiming, "Colleges should stop building vanity projects like huge libraries and billing students -- full libraries are on our smartphones!"
Those comments, made by someone who claims to support libraries, are destructively misleading to the general public as well as higher education administrators and legislative decision makers about the significant contributions academic libraries make to teaching and learning.
To say that an academic library can be reduced to an app on a smartphone dangerously trivializes what libraries and library professionals have to offer and their real value to the higher education infrastructure -- value that far outweighs the costs associated with them.
An Artery to the Heart
Academic librarians play a vital part in the education ecosystem, putting information into context for students by distinguishing information from knowledge and offering direct assistance to constituents in a personal way that cannot be replicated by an electronic device.
We have evidence of a strong connection between academic libraries and student learning and success. A recent report entitled "Academic Library Contributions to Student Success: Documented Practices From the Field" issued by the Association of College and Research Libraries, a division of the American Library Association, shows that engagement with the library builds student confidence with the research process and contributes to persistence and retention in first-year students.
In addition, students who receive information-literacy instruction as part of their courses achieve higher grades and demonstrate increased research fluency than students who do not receive such instruction. Further, a library's research and study areas offer a destination for those who can't afford quiet space as well as fostering social and academic community among students.
Far from being tangential to the learning process on our college campuses, libraries -- the physical buildings themselves -- are as essential to the classroom as an artery is to the heart. For example, Michigan State University recently released a heat map of the campus's climate that found that the library was one of the most supportive spaces on campus because it affirmed students' diverse identities through offering a variety of spaces to work differently with information, such as digital humanities labs, green screens, maker spaces and media labs -- all of which supported them in their innovative and creative academic work.
Indeed, architects who design academic libraries usually no longer see them as just iconic buildings in the design of campuses but also identify them as "sticking" spaces where students return -- due to the availability of technology, the welcoming environment for individuals and study groups, the flexibility for their own design of workspaces, as well as student-support destinations with late-night assistance.
Student and researcher demands have driven the creation of many of the newer amenities available in renovated libraries. For example, while cafés may attract attention, the majority of space and planning has been given to creation of engaging learning spaces where knowledge creation is the focus. That has compelled the vision of the learning laboratories, user-focused collaborative hubs and maker spaces that so many academic and research libraries have embraced.
While collaborative spaces can be virtual, too, we've found that such dynamic, interactive, face-to-face spaces in renovated libraries have resonated with our campus populations. For example after a million-dollar renovation primarily funded by donors, the College of Wooster's library's gate count increased to 15,000 a week for a campus of 2,000 students. College officials attribute this to the addition of CoRE, or the Collaborative Research Environment, an interactive learning space where students can develop collaborative projects using digital and traditional media, and consult with an expert research librarian, work with writing center consultants and get help digitizing their projects at a media bar.
While there may be other laboratories across a campus, they do not provide the access to information, librarian expertise and interdisciplinary integration that academic and research libraries sustain. In addition:
Academic libraries provide (for the haves and the have-nots) spaces or commons -- primarily "high-tech ready" in nature -- that offer general and subject-specific equipment, software and web-delivered content for individual access and study. They also offer collaborative spaces for students to work together with each other in small groups and with classroom faculty to study and create content.
Academic libraries provide spaces for STEM and STEAM discovery or maker space environments for students anywhere in the program or the curriculum -- especially those who don't have access to departmental labs, where spaces are often reserved for students majoring in those specific areas.
Academic libraries provide open labs and flexible, individual computer spaces with equipment and software unique to special research or subject area populations, such as geographic information systems or statistical software packages to process data used in the study of social and natural sciences. They also serve special needs students, faculty members and staff.
Academic libraries provide not only access to content within their buildings but also equipment and technology that students can check out and use in their educational pursuits. (This takes space for not only storage but also delivery of resources.)
Meanwhile, academic library professionals, often faculty members themselves, are experts in areas of research, and they work in partnership with classroom instructors in the design and delivery of curricula. They also:
partner with classroom faculty members in the design and delivery of courses requiring critical thinking and information literacy as well as subject-targeted assignments;
are champions for and leaders in open educational resources that provide vetted, free content for students who can't afford textbooks, a large part of the price tag of college;
build digital as well as print collections to reflect classroom faculty research, recommended research by other experts and subject content required by external regional and national accreditation bodies -- such as digital and print content for the health sciences and business-management curricula; and,
acquire, curate, design and deliver online content and competency lessons (online tutorials, streamed office hours with library experts) for students to access on their smartphones.
We invite Van Susteren to visit one or more of our nation's fine academic libraries, such as that of her alma mater, the University of Wisconsin at Madison, or any of ACRL's Excellence in Academic Libraries award winners. She will see firsthand the role those libraries play in the life of knowledge and information and how an investment in them is an investment in the success and future of our college students -- and, in turn, the success and future of our nation.