You have /5 articles left.
Sign up for a free account or log in.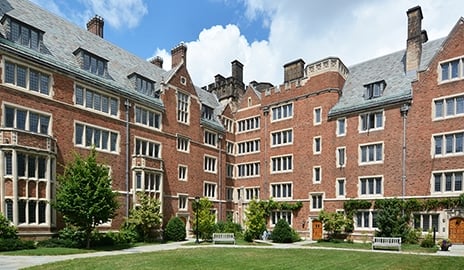 Calhoun College is gone with the wind. Last month, Yale University announced it was removing the name of 19th-century politician and pro-slavery alumnus John C. Calhoun from one of its residential colleges. In the same week, Centre College of Kentucky reported that the name of the late U.S. Supreme Court Associate Justice John C. McReynolds was being removed from a campus building because donor McReynolds's record of racial intolerance and anti-Semitism in public office from 1914 to 1941 was at odds with Centre's mission and values. The decisions at both institutions followed thoughtful deliberations.
Previously, on Jan. 25, the University of South Carolina honored the memory of Richard T. Greener, the university's first African-American professor, by unveiling a model of a statute "to commemorate the Reconstruction-era pioneer." Education professors Christian Anderson and Katherine Chaddock (emerita) teamed with art history professor Lydia Brandt and graduate students in the higher education program to lead efforts over several years to recognize Greener (who also was the first African-American graduate of Harvard College).
An irony of the dedication event was that the Greener statue is adjacent to the Thomas Cooper Library, named in honor of a legendary university president from 1820 to 1833 whose teaching of Calhoun's "nullification theory" was popular with students. Cooper's curriculum of political economy, combined with emphasis on oratory, helped to make the University of South Carolina the alma mater of numerous Southern governors, senators and congressmen who championed slavery and states' rights in national politics up to the state's secession in 1861.
All this attention to monuments means that history matters on the American campus. And the motley mix of building names shows that the heritage of higher education is complex and even conflicting in its symbols and celebrations. Deletions and additions of campus figures can be at best indicative of healthy renewal, both in their process and decisions. What's also wise is that colleges and universities take care not to erase all symbols and signs of the partisan slavery-advocating alumni and politicians of an earlier era -- a point that Yale President Peter Salovey made in the letter he released announcing the removal of Calhoun's name.
Why is such an accommodation important? Each day on my way to the University of Kentucky, I pass by a state historic marker on the sidewalk noting the apartment where Jefferson Davis, later president of the Confederacy, roomed when he was an undergraduate from 1821 to 1824 at nearby Transylvania University. Even though I may not celebrate Davis's leadership legacy, the historical marker assures that I remember him and daily confront his historic presence at his alma mater and as part of the heritage of the city and the state. Other campuses elsewhere should retain some symbols and signs of their comparable legacy even if -- or rather, especially if -- those historic figures conflict with contemporary ideals of social justice and political equity. This is important because colleges and universities are historic institutions -- and genuine history is complex and not for the forgetful or fainthearted.
Colleges and universities face unfinished business in some other areas of heritage and representation in their campus monuments. For starters, at many campuses few buildings are named to honor distinguished women. That neglect may be changing. Yale has shown imagination and sound values by renaming the former Calhoun College in honor of Grace Murray Hopper, who earned her master's degree and Ph.D. from the university in the 1930s and then was a pioneer in computer science, as well as serving as a rear admiral in the U.S. Navy. Will other colleges and universities follow Yale's example?
At the University of California, Berkeley, I would like to see a building named to honor Laura Nader, who has been an internationally acclaimed anthropology professor for more than a half century. An appropriate historic site would be the Faculty Club, where newcomer Nader persuaded a few women colleagues in 1960 to join her in climbing through a window to attend a universitywide faculty meeting. It was the only way they could gain entrance to the all-male faculty club building. Her pioneering act in a long, distinguished scholarly career deserves to be marked prominently for all to see while walking across the campus.
If women are underrepresented in the names on our campus buildings, in stark contrast, donors are abundant. For starters, just consider the names of entire institutions: Brown, Carnegie, Clark, Cornell, Duke, Harvard, Johns Hopkins, Rice, Tulane, Vanderbilt, Vassar and Yale, for starters. Donors also have added power to shape institutional memory because they have the right to have a building named in honor of a campus figure they designate. Given American higher education's historical dependence on philanthropy, it's understandable that our colleges and universities acknowledge generous gifts with naming rights. However, recent controversies and changes signal that each institution ought to draft a thoughtful protocol to consider -- and reconsider -- names honored on buildings and in other memorials. That might reduce the volatile clashes and hasty name-removing decisions that have surfaced recently.
Perhaps the worst abuses in naming campus buildings does not come from controversial political disputes but thoughtless choices that lead to a lack of historic distinction. When a college or university gives monumental recognition to really undistinguished people, the danger is that the campus architecture becomes uninspiring.
In teaching the history of higher education, I have tried to provide an antidote to nondescript monuments. I ask students to walk a campus to observe in detail whom the buildings honor -- and whom they overlook. My key question, then, is to ask how they would amend this -- and why.
The numerous, thoughtful suggestions were dramatic. Perhaps the biggest surprise to me came in 1983 when I was teaching at The College of William & Mary and one of my graduate students was an African-American woman who was a graduate of Tuskegee University. She recommended that Tuskegee award an honorary degree to George Wallace. At first, most students and I were incredulous and thought she was joking. But she was both serious and wise. She explained that since Wallace had repented, an honorary degree from Tuskegee could represent both remembering and healing for all Alabamians. About a year and a half later, her suggestion became a reality when the university did indeed give Wallace such a degree.
All members of the class learned from this. It provides a good reminder why I encourage all campus constituencies to join in this exercise to bring history to life with deliberate, distinctive monuments. It's an investment in time that can connect past and present as we join together to consider diverse significant people and achievements within the historic campus setting.