Calhoun: Gone at Yale, but Not Everywhere
After years of debate, Yale removes name of slavery defender from a residential college. But names and symbols associated with white supremacy remain visible on other campuses. Plus a chart of names that have not been changed.
Yale University announced Saturday that it will remove the name of John C. Calhoun from one of its residential colleges.
"The decision to change a college's name is not one we take lightly, but John C. Calhoun's legacy as a white supremacist and a national leader who passionately promoted slavery as a 'positive good' fundamentally conflicts with Yale's mission and values," said a letter released by Peter Salovey, the president. Calhoun is notorious in American history for his effectiveness in protecting slavery and promoting bigoted ideas about black people in the era prior to the Civil War.
Saturday's announcement marks the end of decades of debate at Yale over Calhoun, an alumnus. Last year, Yale announced that it would keep the Calhoun name on the residential college, and that doing so was part of the commitment of the college to acknowledging and teaching the history of the institution's connections with slavery. The decision led to protests and considerable condemnation.
A few months later, Yale announced it would reconsider its decision, and that it would first create a system for evaluating requests for such name changes. That panel was then convened, as was another to consider whether the Calhoun name should be removed. On Saturday, Yale's board made a final decision on the matter.
Salovey's letter noted that Calhoun was different from others in history who may be honored at Yale or elsewhere. "This principal legacy of Calhoun -- and the indelible imprint he has left on American history -- conflicts fundamentally with the values Yale has long championed. Unlike other namesakes on our campus, he distinguished himself not in spite of these views but because of them. Although it is not clear exactly how Calhoun's pro-slavery and racist views figured in the 1931 naming decision, depictions in the college celebrating plantation life and the 'Old South' suggest that Calhoun was honored not simply as a statesman and political theorist but in full contemplation of his unique place in the history of slavery," Salovey's letter said.
He added, "In making this change, we must be vigilant not to erase the past. To that end, we will not remove symbols of Calhoun from elsewhere on our campus, and we will develop a plan to memorialize the fact that Calhoun was a residential college name for 86 years. Furthermore, alumni of the college may continue to associate themselves with the name Calhoun College."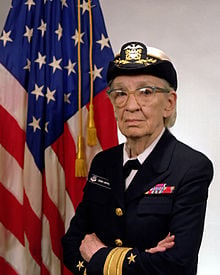 Or those alumni may adopt the new name for the residential college, which will honor Grace Murray Hopper (right), a pioneer in computing who earned a master's degree and doctorate from Yale in the 1930s. She had a long career in the U.S. Navy, retiring with the rank of rear admiral.
Yale is not alone in changing names or symbols that honor people whose bigotry was once tolerated but is no longer. Harvard University's law school dropped a seal that was the family seal of Isaac Royall Jr., who was honored as a major early donor to the law school but was also involved with the slave trade in the 18th century. Centre College recently changed the name of McReynolds Hall to the building's street address, following a request by students who did research on James Clark McReynolds, a Supreme Court justice from 1914 to 1941 who is considered among the more bigoted justices of his era. McReynolds frequently left the bench if a female or black lawyer argued before the Supreme Court. He was also known as an anti-Semite, refusing to talk to Louis Brandeis for three years following Brandeis's appointment to the high court because Brandeis was Jewish.
Other colleges, however, have maintained names -- including that of John C. Calhoun -- despite strong opposition in some cases from students, faculty members and others.
Here are some of the cases where institutions have either rejected the idea of changing a name, including some cases where the institutions have suggested reconsideration may be possible down the road, and one where the name has not been a source of public controversy.
Buildings, Statues and Programs That Honor Calhoun and Others
Institution
Figure Honored
Status
Calhoun Community College, in Alabama


John C. Calhoun

There are no known plans to change name.
Clemson University


John C. Calhoun

Honors college is known as the Calhoun Honors College. Calhoun and his family members had many ties to Clemson.
Clemson University

Benjamin Tillman

A major campus building honors Tillman, a notoriously racist politician in South Carolina who was known for promoting and joining in violence against black people. The Clemson board rejected the idea of a name change in 2015, releasing a statement that said in part, "Every great institution is built by imperfect craftsmen. Stone by stone they add to the foundation so that over many, many generations, we get a variety of stones. And so it is with Clemson. Some of our historical stones are rough and even unpleasant to look at. But they are ours and denying them as part of our history does not make them any less so."
Princeton University


Woodrow Wilson

Students and others urged the university to drop the name from the institution's public affairs school, and one of its residential colleges, due to Wilson's racist attitudes and actions as president.

The university in 2016 rejected the idea, but vowed to be "honest and forthcoming about its history" and transparent "in recognizing Wilson's failings and shortcomings as well as the visions and achievements that led to the naming of the school and the college in the first place."

Stanford University

Junipero Serra

Many students want the university to rename several structures that honor Serra, an 18th-century Roman Catholic priest who created missions throughout California. While Serra was declared a saint by Pope Francis last year, many Native Americans contend that Serra worked to destroy the cultures and beliefs of those who were in California before the missionaries.

Stanford last year created a panel to draft guidelines for how to consider renaming buildings and other spaces that honor those with imperfect (and worse) histories.

University of North Carolina at Chapel Hill

"Silent Sam"

Students periodically protest and demand the removal of "Silent Sam," a statue that honors Confederate war dead.
University of Virginia

Thomas Jefferson

Some students and faculty members have asked Teresa Sullivan, president of the university, to stop quoting Jefferson, who founded the university, given that he owned slaves. "Though we realize that some members of our university community may be inspired by quotes from Jefferson, we also realize that many of us are deeply offended by attempts on behalf of our administration to guide our moral behavior through their use," said a letter sent to Sullivan.

She responded by writing, "Quoting Jefferson [or any historical figure] does not imply an endorsement of all the social structures and beliefs of his time, such as slavery and the exclusion of women and people of color from the university."

Winthrop University

Benjamin Tillman

Tillman Hall at this university has also been controversial, with many saying the name should change. In 2015, someone wrote "violent racist" on a portrait of Tillman in the hall. In November, black stockings stuffed to reflect the black lives Tillman took were hung in an art protest outside the hall.

The university has condemned the vandalism and pledged to consider how to deal with the Tillman name as part of larger discussions about race at the institution.
You may also be interested in...
Today's News from Inside Higher Ed
Inside Higher Ed's Quick Takes