You have /5 articles left.
Sign up for a free account or log in.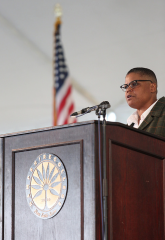 Threats to scholars are growing. John Eric Williams, an associate professor of sociology at Trinity College in Connecticut and Dana Cloud, a professor of communications and rhetorical studies at Syracuse University, are among the latest professors to face "physical threats or harassment, or both, for their political speech." They both received unwanted attention, and their college and university received threats, for statements they made online that ran counter to right-wing orthodoxy. At Trinity College, the president blasted Williams for "poor judgment" and sent the matter to the dean of faculty to review whether "any college policies or procedures were violated."
When Keeanga-Yamahtta Taylor, an assistant professor of African-American studies at Princeton, gave an impassioned commencement address at Hampshire College recently, she included a reference to President Trump as a "racist, sexist megalomaniac." The speech was picked up by Fox News and then circulated throughout the conservative social media ecosystem. Within days, Taylor had received more than 50 "threatening emails" -- some of which contained obscenities and promises of violence. Fearing that those were more than idle threats, she canceled her upcoming speaking engagements.
To its credit, Hampshire College issued a statement in support of Taylor, saying, "We are appalled by the vicious and explicitly racist, misogynistic and homophobic threats being directed against Professor Taylor in response to her remarks. And we condemn the actions of those who are inciting violence by willfully taking information out of context and fanning the flames of prejudice and hate." That is just the kind of statement that college and university leaders should be issuing when faculty come under attack. Unfortunately, it is relatively rare. As right-wing groups scale up their attacks on higher education, higher education institutions need to take bold steps to protect scholars who are being targeted.
Yet at a time of declining funding for higher education, administrators often become less courageous and more beholden to deep-pocketed donors. In 2014, when the University of Illinois at Urbana-Champaign rescinded a job offer to literature professor Steven G. Salaita after he posted a series of tweets that were critical of Israel's bombing of Gaza that killed children, the legal battle that followed revealed emails that circulated between the university's chancellor, Phyllis M. Wise, and donors, including one that read, "Having been a multiple six-figure donor to Illinois over the years I know our support is ending as we vehemently disagree with the approach this individual [Salaita] espouses."
While there is no evidence that Wise's decision to rescind Salaita's job offer was a direct response to donor pressure, in the context of cutbacks, such considerations play important, often unacknowledged roles. Giving in to that pressure poses a challenge to faculty members and academic freedom -- and can result in expensive lawsuits. The University of Illinois eventually settled the dispute with Salaita for a reported $2 million in settlement and legal fees, a decision Salaita called, "a vindication" for himself and a "victory for academic freedom and the First Amendment."
At times, administrators curtail academic freedom more subtly. Lee Bebout's Arizona State University course U.S. Race Theory and the Problem of Whiteness was singled out for ridicule by Fox News commentators, including Elisabeth Hasselbeck, who called it "quite unfair, and wrong and pointed." After a group called Campus Reform, which is behind many of these attacks, began to organize online, Bebout received more than 70 hostile emails, including one that said, "I look forward to your suicide."
The response offered by leadership at Arizona State University was, at best, tepid. When the course was offered for a second semester, it carried the modified, less overtly critical name Whiteness and U.S. Race Theory. Anita Levy, of the American Association of University Professors, said, "Whether or not [Bebout] gets tenure, [he] is going to think twice and thrice about what he teaches next time." This is the kind of slow, chilling effect that a less than robust response from universities can have on academic freedom and political dissent.
Colleges and universities hire scholars to teach and to produce knowledge. For many years, being a professor was a job where you got paid to read and think, insulated to some extent from the rough and tumble of the rest of society. While there have always been a handful of scholars, usually from elite institutions, who could parlay the life of the mind into a more public career, and universities were happy to bask in the reflected media attention, this was the exception that proved the rule of academic isolation.
Now, "we can no longer hold a position of splendid isolation," University of California, Berkeley, sociologist Michael Burawoy has said. As the cloistered ivory tower goes the way of the card catalog, we have to rethink what it means to be a professor. Angelique Haugerud, a professor at Rutgers University, recently called upon her fellow anthropologists to participate more vocally in "our era's economic dilemmas" and reject the economic "oversimplifications that pervade public discourse." This seems particularly urgent in the era of Trump.
The expanding use of social media by academics at a time of growing national political polarization means that activist scholars face new, unforeseen risks. A 2013 survey found 70 percent of faculty use social media for personal reasons at least monthly, while 55 percent use it specifically for professional use at least monthly. People who take stands on controversial issues, particularly if they're members of marginalized groups, are more likely to be subjected to scrutiny and even, at times, intimidation. By and large, college and university administrators are not prepared for these new challenges.
While social media enables scholarly work to travel into unknown spaces, it does so in ways that its authors cannot always anticipate. The ease and speed with which ideas move can make us more vulnerable to attack. Those who produce research that calls dominant groups to account and challenges deeply felt assumptions about how the world works are especially vulnerable; if they are members of less privileged groups, that's even more likely. Social media has introduced a whole new set of potential interlocutors, trolls, who deliberately attack others online without engaging in reasonable debate. When college and university administrators join in and attack their own faculty, they are very effectively being trolled.
"A lot of people have said things like, 'I hope you get raped,'" says sociologist Lisa Wade, author of American Hookup. Readers occasionally go to the trouble of googling her name to find out where she teaches, and then send diatribes. Usually, says Wade, "they seem perfectly satisfied having had their say. 'Oh, good, I called her a cunt 16 times, and now I feel better,'" and she rarely hears from them again. Once, though, a man kept sending her abusive emails. "Eventually, he ran out of steam and went away." (From Going Public, chapter six, interview conducted by Jessie Daniels; unedited interview is online here.)
A newly emboldened cadre of people on the far right has weaponized the use of social media. In 2015, Boston University professor Saida Grundy's comments on Twitter about white men, race and slavery led to a series of coordinated attacks against her. Grundy had called white college men the "problem population" in America and asked, "Can we just call St. Patrick's Day the white people's Kwanzaa that it is?" In response, a right-wing group culled several of her more provocative tweets and began a campaign to fire the newly appointed assistant professor -- although she posted the tweets before she was even employed at her university.
For her part, Grundy admits that she was "completely naïve" about Twitter. "What I did not calculate was that there are people who hunt" for Twitter comments in order to stage coordinated attacks, she said. That is precisely what groups like Campus Reform do. They hunt for remarks that they can take out of context, whether on Twitter or in a commencement address, and then attack. Grundy says she didn't realize that the title of professor, which suggests power and authority, made her a lightning rod for far-right attacks. Her experience suggests that while it's impossible to fully guard against being attacked, publicly minded scholars must be wary of the political landscape in which they operate.
That a junior scholar might be unprepared for the specter of coordinated, right-wing attacks on faculty members is understandable. For college and university administrators, it is unacceptable. When faculty members are attacked, college administrators should speak out early and loudly to support them -- as Hampshire College did in the wake of attacks on Taylor. In order to guard against attacks on academic freedom, faculty members and administrators need to be better prepared. Until they are, faculty members can take some steps.
Knowing your rights as a public scholar is important. As of this writing, faculty unions, professional associations and colleges and universities are woefully behind in adopting policies that protect scholars who come under attack for their engagement in the public sphere. While your institution may have some resources, you're going to have to search for them.
Public scholar Tressie McMillan Cottom suggests: ask whether your college or university has a media office. Find out if your institution has a plan in place for threats against their faculty. Also look into faculty governance, such as the faculty senate, and find out if they have a clear policy in place about social media and public scholarship. And contact your professional association to see if they have any resources for besieged members.
In addition, if you're in a faculty union, make sure it protects academic freedom. On the day after the election, Orange Coast College professor Olga Perez Stable Cox was secretly videotaped by a student as she was criticizing Trump in class. The student then leaked the video to several conservative outlets. Predictably, a backlash against Cox on right-wing blogs gained strength -- until her union stepped in. The Coast Federation of Educators, which represents Cox, noted that it violates college policy to record a class without the explicit permission of the instructor. Ultimately, the student in this case was suspended, and the professor kept her job.
The cases of Williams, Cloud, Taylor and others suggest that colleges and universities need to do a much better job of protecting academic freedom in a digitally networked age. It's time for faculty unions, professional academic associations and institutional administrators to develop protocols to guard professors and graduate students against harassment, and support them if they come under attack. If it hasn't happened to someone on your campus yet, chances are it will.