You have /5 articles left.
Sign up for a free account or log in.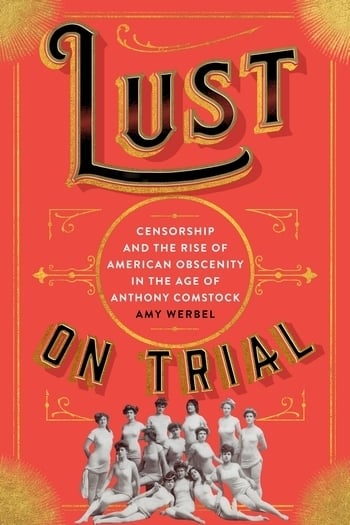 He has long since passed into public memory as one name among others in H.L. Mencken's gallery of archetypal American rubes, mountebanks and busybodies — so perhaps it was a matter of time until someone tried, against all odds, to revive Anthony Comstock as a heroic character. Certainly he thought of himself as one. The authorized biography by Charles Gallaudet Trumbull, published two years before Comstock's death in 1913, bore the title Anthony Comstock, Fighter: Some Impressions of a Lifetime of Adventure in Conflict With the Powers of Evil. And if that sounds like the premise for a comic book -- well, of course it is.
Available on DVD and for preview on YouTube is an animated graphic novel called Outlawed! How Anthony Comstock Fought and Won the Purity of the Nation. With an animated graphic novel, not to be confused with cartoon animation proper, the camera lens moves across the images, panning and zooming as a narrator recites the text. Outlawed! completely ignores historical research and is based entirely on Trumbull's Anthony Comstock, Fighter -- long in the public domain but now adapted so as to spare you all that reading and page-turning.
A blurb endorses Outlawed! as a weapon in "the contemporary 'Culture Wars'" designed with an eye to "recover[ing] the comprehensive approach to sexual ethics held by Comstock and his allies." The point is aptly made. Pornography was never the Comstock Act's exclusive focus. It was explicitly framed to prevent the spread of information about birth control and abortion, and any device or method making them possible, and even to ban literature that questioned the existing norms and institutions governing sexuality, such as a treatise offered under the title Cupid's Yokes: or, The Binding Forces of Conjugal Life: An Essay to Consider Some Moral and Physiological Phases of Love and Marriage, Wherein Is Asserted the Natural Right and Necessity of Sexual Self-Government. And as Amy Werbel makes clear in Lust on Trial: Censorship and the Rise of American Obscenity in the Age of Anthony Comstock (published by Columbia University Press and discussed in this column last week), makers and vendors of gay and lesbian erotica were punished more severely than those marketing comparable heterosexual materials.
How would Comstock's "comprehensive approach to sexual ethics" be applied in the 21st century? I've tried to imagine it and keep getting scenes from The Handmaid's Tale.
According to the Outlawed! website, Comstock fought and won "the battle for national purity": a turn of phrase with sinister overtones no less pronounced for being, one hopes, unintentional. Either way, it expresses the familiar reactionary nostalgia for an era of secure authority and happy virtue. In fact, we are told that the moral and legal order that Comstock established "rid this nation of impurities for almost 100 years" -- that is, from the 1870s until whenever America started to go to hell in a handbasket full of birth-control devices.
Reality proves much more interesting. In Lust on Trial, Amy Werbel notes that nearly all accounts of Comstock's work have relied on "Comstock's own self-aggrandizing numbers of defendants punished" and obscene materials confiscated. For many years, the New York Society for the Suppression of Vice, which he ran, received numerous and often sizable donations; in return, patrons could follow Comstock's progress not only in the newspapers but through the society's annual report. For his own purposes, Comstock kept a detailed set of records on each investigation and court case, filling three sizable ledger books.
Comstock's personal diaries went missing at some point, but Werbel has made use of the ledgers as well as searchable newspaper databases, allowing her to scrutinize more of his activity than he found it useful to publicize. She writes that "his arrest blotters are far more truthful" than the society reports: "American judges and juries, far more often than Comstock liked to admit publicly, threw out his cases or assessed paltry fines." At the peak of his success, in the years between 1887 and 1891 when he won 76 percent of his cases, "only 11 percent of defendants [were] sentenced to jail," and by last four years of Comstock's life, "his conviction rate was down to 40 percent." In fact his loss of influence over the last decade of the 19th century and the first decade of the 20th was more pronounced than that: "Ultimately, the language of the Comstock laws was so expansive, subjective, and difficult to articulate and enforce that prosecutors and judges turned their attention to more easily won cases." (They remained on the books well after Comstock's death but were worn down as a more robust sense of First Amendment protections took shape.)
Indeed, Comstock's methods and motives inspired reservations even as his first pieces of legislation were passed. (He did not hold elected office but drafted laws for those who did.) Informed that supposedly obscene goods were available from a business, Comstock, who held an unpaid commission as special agent of the U.S. Post Office, would place an order under an assumed name; when the merchandise arrived, he would prosecute the offender. Rumors abounded that Comstock or those working with him might be opening packages and letters in transit. That seems to have been unfounded, though it clearly suggests a degree of public wariness over the breach of privacy his activity implied. Werbel also notes that the concept of entrapment had not been used much in American courts until that point, and arguably it did not quite apply to Comstock's investigations. But in some cases it worked, which may have been catalytic in making the claim of entrapment a more popular defense.
Besides a feeling that his practices were inherently dishonorable, jurists and laypeople came to complain that one man's sensibilities were claiming, and exercising, unaccountable influence over public life. At first, he was able to win convictions without the jury being able to examine the evidence (which, being vile and depraved, could only prove corrupting) and could have confiscated materials destroyed before the trial was finished. He scorned the idea that a connoisseur might be the best judge of a painting's worth.
Anthony Comstock didn't know much about art, but he knew that he didn't like it. "The nude, as uncovered by so-called art," he wrote, "is a web which has enmeshed many a youth to his or her ruin. At its best it has a tendency to suggest to the minds of the young and inexperienced thoughts of an impure and libidinous character. . . . in the heart of every child there is a chamber of imagery which the spirit of evil seeks to decorate with defilement." Obscenity was obvious: "Its very presence poisons the moral atmosphere. Its breath is fetid, and its touch moral prostration and death. . . . [W]hen art thus lends its enchantments to vice the law quarantines it, and justice applies a disinfectant."
To which he might as well have added: "And I am the law." Authority of this kind is easier to assert than to defend. At some point, the fact that Comstock himself was being exposed to enormous amounts of obscenity on a constant basis was bound to be pointed out in an uncomplimentary way. When he took the Art Students League to court, the defense attorney challenged his capacity to form an opinion: "Comstock during most of his life has followed the single profession of looking for the worst. . . . [H]e is a degenerate so far as the consideration of certain subjects is concerned. He is blind to the beauties of life." Offers were made to send him to Europe for a tour of museums, with no hurry in getting back.
One case he attempted to prosecute in Philadelphia was effectively derailed when someone from the district attorney's office interrupted a witness and announced:
"I believe in the Bible and in God and I know he made nothing imperfect. He made man in his own image, and by the fall of man alone came indecency. However, I can not reconcile my mind that the pictures before me are obscene, lewd, and indecent. They are of the highest state of art, and any man who says they are obscene ought to go to a less civilized community than Philadelphia."
Our mutton-chopped Culture War superhero's "Lifetime of Adventure in Conflict With the Powers of Evil" rewards study, if not for the reasons Outlawed! might suggest. For as Amy Werbel's book shows, the Comstock laws were not an inevitable product of Victorian-era inhibition. They were forged, enacted, and enforced by a canny political operator and self-mythologizer who -- though blessed with the energy and determination of the true fanatic -- met with resistance on a number of fronts.
Free-love advocates and artists jealously protective of the right to create were fully capable of challenging his arguments, of course, and did so more than is remembered. But he also ran up against an inchoate mood or attitude of suspicion towards anyone driven to enforcing some virtue while manifestly incapable of minding his own business. As Werbel so neatly puts it, "Few authors of obituaries wished God had waited longer before calling him home."