You have /5 articles left.
Sign up for a free account or log in.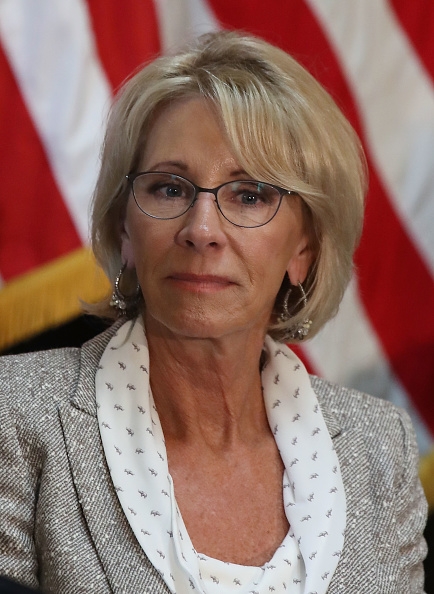 Betsy DeVos and the U.S. Education Department have diluted the Office for Civil Rights' mission to defend students and employees from discriminatory practices in colleges, universities and a host of other places that receive federal funding, in accordance with Title VI of the Civil Rights Act of 1964. DeVos unilaterally -- and without a public comment period -- decided to change policies to allow the OCR to ignore a large swath of civil rights complaints.
Secretary DeVos, before you make any additional changes to the OCR, the NAACP respectfully requests that you first at least familiarize yourself with the purpose and function of the office.
While appearing before the U.S. House of Representatives' Education and Workforce Committee, DeVos was rightfully questioned on her commitment to civil rights by Democratic Congresswoman Marcia Fudge of Ohio, who asked her to state the Office for Civil Rights' mission. DeVos's reply: "The Office for Civil Rights is committed to protecting the civil rights as determined under the law of this land, and we do so proudly and with great focus each day." DeVos's use of a circular definition when stating OCR's mission betrays her lack of understanding and appreciation for the essential work the office does.
According to OCR's website, its mission is, in fact, to "ensure equal access to education and to promote educational excellence throughout the nation through vigorous enforcement of civil rights." Promoting equality across educational institutions is a vital function, but DeVos has signaled that civil rights are not a priority. She explained her actions, stating that complaints to the OCR present "an unreasonable burden" to the office. Furthermore, OCR will stop reviewing repeat complaints put forth by the same party and will block appeals to its rulings. But unlike the Justice Department, the Education Department cannot pick and choose the cases it pursues. Until this precipitous and unconstitutional change in case handling, if the office has evidence that the law has been violated, then it typically must open a case.
DeVos and OCR's duty is to ensure that the office is adequately staffed to fully carry out the rule of law. If the number of complaints cannot be adequately dealt with in due time, then the Education Department should increase its capability -- not bar victims from seeking justice. In fact, Congress recently increased funding to OCR for the 2018 fiscal year by $8.5 million to help the office secure the resources necessary to investigate instances of discrimination. So, with congressional support and funding, and a patently obvious need for discrimination watchdogs in education, it brings up the question: Why won't Betsy DeVos defend civil rights in higher education institutions? Why limit access to an office whose mission is to protect victims of discrimination?
It is unclear whether the NAACP, as a civil rights organization with a duty to call out discrimination any and everywhere, and other civil rights groups would, under OCR's new and unconstitutionally vague regulations contained in the Case Procedure Manual, be able to report a case of discrimination in one part of the country if they previously reported discrimination in another part of the country. How then does DeVos expect organizations and people to adequately report cases of discrimination?
Discrimination rarely occurs in a silo, and systemic racism and oppression often present themselves in patterns of behavior. By narrowing the opportunity for victims to seek justice, the Department of Education is allowing discrimination to fester and worsen. In May we heard the story of Lolade Siyonbola, a black graduate student at Yale University. A white classmate saw her napping in a common room -- a practice typical among Yale students -- and called the police on her. Students from all ethnicities, background and ability should be able to report such instances of discrimination in education and are lawfully entitled to do so.
This issue doesn't just affect African Americans. OCR's charge extends to all student populations facing discrimination, including those with differing abilities -- such as vision or hearing impairments and students from low-income households. The New York Times reported that OCR has already dismissed hundreds of civil rights complaints, including 500 disability rights violations.
That's why the NAACP, along with the National Federation of the Blind and the Council of Parent Attorneys and Advocates, filed a lawsuit against Department of Education officials, for abandoning civil rights policies without public notice and a comment period, in violation of the federal Administrative Procedures Act.
We cannot allow ourselves to become a nation complicit in civil and human rights violations, especially when they occur in our educational institutions. The NAACP calls on the Department of Education and DeVos to restore the full power and capability of the OCR and to make civil rights a priority during her tenure at the Department of Education.