You have /5 articles left.
Sign up for a free account or log in.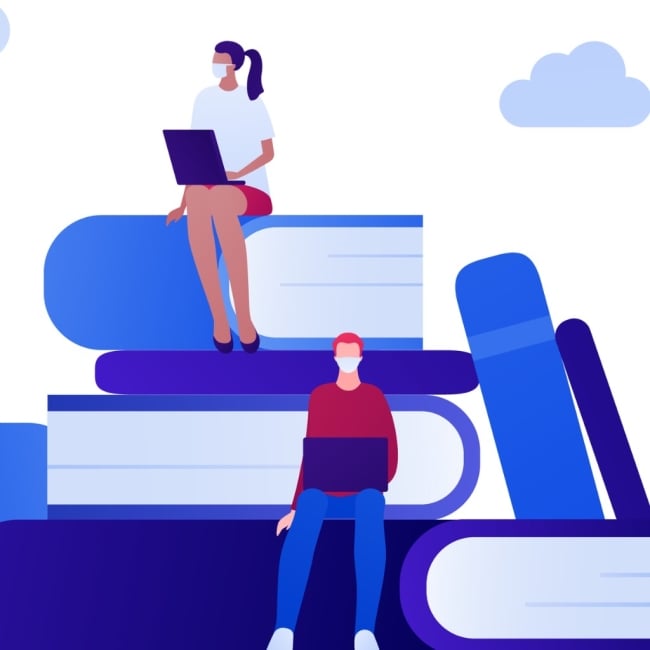 As more than 100 experts in public health, infectious diseases, mental health, social sciences and clinical care, holding faculty positions at universities across the country, we call on university administrators to embrace a more humane approach to students during the coronavirus pandemic.
Colleges and universities that have made the choice to open their campuses to students during the coronavirus pandemic have an obligation to protect the students' health, along with the health of faculty, staff and members of the surrounding communities. In addition to critical public health infrastructure -- including frequent testing, contact tracing and supported quarantine and isolation -- behavioral changes are needed to help mitigate coronavirus transmission, which is particularly likely to occur in crowded indoor environments. However, many colleges and universities are requiring students to make radical and unsustainable changes in their behavior that go well beyond avoidance of large indoor parties, including long-term maintenance of six feet of distance from all other people, at the threat of swift and unnecessarily punitive disciplinary action.
This abstinence-only approach to social contact is inhumane, unrealistic and likely to backfire. We acknowledge the risk of young adults transmitting the virus to faculty, staff or peers who may be at greater risk of morbidity or mortality from coronavirus infection. But, in general, young adults are themselves at substantially lower risk of complications from coronavirus infection than older people, while at higher risk of psychological distress that can be triggered or worsened by social and physical isolation.
Social contact may be particularly vital for marginalized students, whose mental health may be heavily impacted by the loss of positive social connections. Higher education institutions that expect students to sustain long-term abstinence from close social and physical contact are failing to consider these competing risks, with potentially dire consequences.
Socializing is also not the only route by which the coronavirus spreads. Many college students hold public-facing jobs to support tuition, where potential exposure to the virus is by necessity rather than choice. Moral outrage about partying on and off campus has perpetuated the shaming and blaming of young people and distracted from these occupational risks, which have contributed to stark socioeconomic and racial/ethnic inequities in coronavirus morbidity and mortality among young adults.
Students must be held accountable with proportionate consequences if they put their communities at great risk, but shaming and extreme punishment are toxic to public health efforts. Administrators have sent letters to students that have harshly condemned their behavior as "selfish and reckless" and threatened severe disciplinary action. Across the country, students have been blamed, snitched on, policed, sanctioned, suspended and dismissed for violations of COVID-related guidelines, including minor infractions. The goal of these punitive measures is ostensibly to reduce onward transmission risk by deterring future risk taking, and administrators' frustration when students break the rules is understandable.
Nevertheless, decades of public research have demonstrated that punitive measures and shame-inducing messages and policies do not have the intended effect and can actually be harmful for individual and public health. Indeed, students who fear harsh disciplinary action will become expert at hiding their activities, exposures and symptoms, contributing to the breakdown of contact tracing efforts and potentially increasing the risk of ongoing transmission. Although taking a tough stance can demonstrate that some action is being taken, it can also distract from interventions that may be more effective in maximizing public health.
There is ample evidence from other areas of health, including sexual health and substance use, that a harm-reduction approach is more compassionate, effective and sustainable than a punitive one that expects universal and indefinite abstinence. Instead of aiming for total elimination of risk, harm reduction acknowledges that some risk will inevitably occur, often for reasons that are beyond an individual's control or are essential to other aspects of health. Instead of shaming and punishment, the harm-reduction model helps people reduce risk through community engagement, compassionate messaging, behavioral support and structural interventions. By facilitating lower-risk opportunities for people to address their unmet needs -- in this case, for social and physical contact -- this approach can help people avoid the highest-risk scenarios that will cause the most harm.
To that end, colleges and universities that have chosen to invite students back to campus need to allow some nondistanced social and physical contact among students while keeping the risk of coronavirus transmission low. They should provide guidance on social bubbles, which can allow close interaction while minimizing the overall number of contacts, and should support socializing -- and consider being flexible about alcohol use -- in outdoor settings, which are far lower risk for transmission than indoor settings. These strategies could help students maintain enough social connection to be able to avoid the large indoor gatherings that are the highest risk for spreading the virus.
To minimize loss of students' trust and engagement in public health efforts in both the short and long term, colleges and universities need to decouple contact tracing and symptom tracking efforts from disciplinary action, in the same way that students who seek medical attention for alcohol use are often absolved from punishment for underage drinking. Institutions should prioritize positive reinforcement and rewards -- and use enforcement, policing and disciplinary action only as a last resort.
Finally, public health interventions are most effective when the communities that are being served are involved in every step of the process. Colleges and universities should engage students in public health efforts and decision making, including peer-led education about distancing, masks and testing, as well as ongoing feedback on and evaluation of COVID-related messaging and policies.
According to the World Health Organization, health is more than just the absence of disease; it is a state of complete physical, mental and social well-being. Likewise, students are more than potential vectors of disease. They are human beings who are still maturing and need social and physical contact to remain healthy, and university policies should be designed accordingly. As concerned experts and faculty members, we implore campus administrators to adopt a more compassionate approach to coronavirus prevention and mitigation that is centered on the basic human needs and behavior of students, thereby maximizing their overall health and well-being.
Julia Marcus, Ph.D., M.P.H., associate professor of population medicine, Harvard Medical School
Stefan Baral, M.D., M.P.H., associate professor of epidemiology, Johns Hopkins University
Carl Bergstrom, Ph.D., professor of biology, University of Washington
Gregg Gonsalves, Ph.D., assistant professor of epidemiology, Yale School of Public Health
Rochelle Walensky, M.D., M.P.H., professor, Division of Infectious Diseases, Harvard Medical School
A. David Paltiel, M.B.A., Ph.D., professor, Yale School of Public Health
Judith Bass, Ph.D., M.P.H., associate professor of mental health, Johns Hopkins Bloomberg School of Public Health
Marc Lipsitch, D.Phil., professor of epidemiology, Harvard T. H. Chan School of Public Health
Noel Brewer, Ph.D., professor of health behavior, University of North Carolina Gillings School of Public Health
Jodie Guest, Ph.D., M.P.H., professor and vice chair, Emory University, Rollins School of Public Health
Carlos del Rio, M.D., professor of medicine, epidemiology and global health, Emory University
Art Reingold, M.D., professor and division head of epidemiology and biostatistics, University of California, Berkeley
Leslie McClure, Ph.D., professor and chair, Drexel University's Dornsife School of Public Health
William Hanage, Ph.D., associate professor, Harvard T. H. Chan School of Public Health
David Glidden, Ph.D., professor of epidemiology and biostatistics, University of California, San Francisco
Joshua Salomon, Ph.D., professor of medicine, Department of Medicine, Stanford University School of Medicine
Saad Omer, Ph.D., professor of medicine and director, Yale Institute for Global Health
Tim Lahey, M.D., M.M.Sc., professor of medicine and director of ethics, University of Vermont Medical Center and the Larner College of Medicine at the University of Vermont
Sherry Pagoto, Ph.D., professor, Department of Allied Health Sciences, University of Connecticut
Natalie Dean, Ph.D., assistant professor of biostatistics, University of Florida
Paul Sax, M.D., professor of medicine, Harvard Medical School; clinical director, Division of Infectious Diseases, Brigham and Women's Hospital
Chinazo Cunningham, M.D., M.S., professor of medicine, Montefiore Health System and Albert Einstein College of Medicine
Christopher Swanson, Ed.D., urban education leadership executive director and associate research scientist, Johns Hopkins University IDEALS Institute
Megan Ranney, M.D., M.P.H., associate professor of emergency medicine and health services, policy, and practice, Brown University
Jeffrey Klausner, M.D., M.P.H., professor of medicine and public health, University of California, Los Angeles
Kenneth Mayer, M.D., professor of medicine, Harvard Medical School
Nahid Bhadelia, M.D., M.A.L.D., associate professor, Boston University School of Medicine
A. Marm Kilpatrick, Ph.D., professor of ecology and evolutionary biology, University of California, Santa Cruz
Gavin Yamey, M.D., M.P.H., professor of global health and public policy, Duke University
Jen Balkus, Ph.D., M.P.H., assistant professor of epidemiology, University of Washington School of Public Health
Howie Forman, M.D., professor of radiology, public health, management, economics, Yale University
Katherine Rucinski, Ph.D., M.P.H., assistant scientist, Johns Hopkins Bloomberg School of Public Health
Andrea Ciaranello, M.D., M.P.H., associate professor of medicine, Harvard Medical School
Joseph Allen, D.Sc., M.P.H., associate professor, Harvard T. H. Chan School of Public Health
Joshua Barocas, M.D., assistant professor of medicine, Boston University School of Medicine
Darcy Rao, Ph.D., M.P.H., acting assistant professor of epidemiology, University of Washington
Christine Khosropour, Ph.D., M.P.H., assistant professor of epidemiology, University of Washington
Lindsay Wiley, J.D., M.P.H., professor of law, American University
Jessica Gold, M.D., M.S., assistant professor of psychiatry, Washington University in St. Louis
Laura Balzer, Ph.D., assistant professor, Department of Biostatistics and Epidemiology, University of Massachusetts Amherst School of Public Health & Health Sciences
Kristjana Ásbjörnsdóttir, Ph.D., M.P.H., acting assistant professor of epidemiology, University of Washington
Nicholas Reich, Ph.D., associate professor of biostatistics, University of Massachusetts Amherst
Brandon Guthrie, Ph.D., assistant professor of epidemiology and global health, University of Washington
Patrick Sullivan, D.V.M., Ph.D., professor of epidemiology, Emory University, Rollins School of Public Health
Joseph Ladapo, M.D., Ph.D., associate professor of medicine, University of California, Los Angeles
Sarah Goff, M.D., Ph.D., associate professor of health policy and management, University of Massachusetts Amherst
Adrienne K. Chan, M.D., M.P.H., FRCPC, associate professor, Division of Infectious Diseases, University of Toronto
Ravi Gupta, M.D., fellow, National Clinician Scholars Program, University of Pennsylvania
Tracey Meares, J.D., Walton Hale Hamilton Professor of Law, Yale University
Reza Yaesoubi, Ph.D., assistant professor, Yale School of Public Health
Anne Monroe, M.D., M.S.P.H., associate research professor, Department of Epidemiology, George Washington University Milken Institute School of Public Health
Sharmistha Mishra, M.D., Ph.D., assistant professor, University of Toronto
Peter Swenson, Ph.D., professor of political science, Yale University
Samuel Jenness, Ph.D., assistant professor of epidemiology, Emory University
Lisa Bodnar, Ph.D., professor and vice chair of research, Department of Epidemiology, University of Pittsburgh Graduate School of Public Health
Jonathan Cutler, Ph.D., associate professor, Department of Sociology, Wesleyan University
Sheree Schwartz, Ph.D., M.P.H., assistant scientist, Johns Hopkins School of Public Health
Michelle Odden, Ph.D., M.S., associate professor of epidemiology, Stanford University
Carlos Rodriguez-Diaz, Ph.D., M.P.H., associate professor of prevention and community health, George Washington University Milken Institute School of Public Health
Douglas Krakower, M.D., assistant professor of medicine, Harvard Medical School
Christopher Hoffmann, M.D., associate professor, Johns Hopkins University
Viraj Patel, M.D., M.P.H., associate professor of medicine, Montefiore Health System, Albert Einstein College of Medicine
Rabail Sadiq, M.B.B.S., general internal medicine fellow, Montefiore Health System, Albert Einstein College of Medicine
Michael Mugavero, M.D., professor of medicine, University of Alabama
Ingrid Katz, M.D., M.H.S., associate faculty director, Harvard Global Health Institute
Gregory Phillips II, Ph.D., M.S., assistant professor of medical social sciences and preventive medicine, Northwestern University
Wendy Armstrong, M.D., professor of medicine (infectious disease), Emory University School of Medicine
Katy Backes Kozhimannil, Ph.D., M.P.A., professor of health policy and management, University of Minnesota School of Public Health
Elizabeth Lee, Ph.D., research associate, Johns Hopkins Bloomberg School of Public Health
Joseph Tucker, M.D., Ph.D., A.M., associate professor, University of North Carolina and London School of Hygiene and Tropical Medicine
Katie Biello, Ph.D., M.P.H., associate professor of epidemiology and behavioral and social sciences, Brown University
Jonathan Ross, M.D., assistant professor of medicine, Montefiore Health System, Albert Einstein College of Medicine
Aaron Richterman, M.D., M.P.H., fellow in infectious diseases, University of Pennsylvania
Maya Petersen, M.D., Ph.D., associate professor of biostatistics and epidemiology, School of Public Health, University of California, Berkeley
Katherine Keyes, Ph.D., associate professor of epidemiology, Columbia University
Barbara Taylor, M.D., M.S., associate professor of infectious diseases, University of Texas Health San Antonio
Sandra Springer, M.D., associate professor of medicine, Yale School of Medicine
Kristine Torres-Lockhart, M.D., assistant professor of medicine, Montefiore Medical Center, Albert Einstein College of Medicine
Anjali Sharma, M.D., M.S., associate professor of medicine, Albert Einstein College of Medicine
Deepika Slawek, M.D., M.P.H., M.S., assistant professor, Albert Einstein College of Medicine
Steven W. Thrasher, Ph.D., Daniel H. Renberg Chair of Social Justice in Reporting, Northwestern University Medill School of Journalism and Northwestern University Institute of Sexual and Gender Minority Health and Wellbeing
Emily Gurley, Ph.D., M.P.H., associate scientist, Johns Hopkins Bloomberg School of Public Health
Lauren Beach, J.D., Ph.D., research assistant professor, Northwestern Feinberg School of Medicine
Sarah Murray, Ph.D., assistant professor of mental health, Johns Hopkins Bloomberg School of Public Health
Benjamin Hayes, M.D., M.P.H., M.S.W., instructor of medicine, Montefiore Medical Center, Albert Einstein College of Medicine
Matthew Spinelli, M.D., M.A.S., assistant professor of medicine, University of California, San Francisco
Micah Berman, J.D., associate professor, Ohio State University College of Public Health & Moritz College of Law
Lise Saffran, M.P.H., M.F.A., associate teaching professor of public health, University of Missouri
Andrea Jakubowski, M.D., assistant professor of medicine, Montefiore Medical Center
Joseph Lewnard, Ph.D., assistant professor, School of Public Health, University of California, Berkeley
Daniel Westreich, Ph.D., associate professor of epidemiology, University of North Carolina Chapel Hill
Patrick Janulis, Ph.D., assistant professor, Department of Medical Social Sciences, Northwestern University
Alyson Littman, Ph.D., M.P.H., research professor of epidemiology, University of Washington
M. Kate Grabowski, Ph.D., Sc.M., assistant professor of medicine and epidemiology, Johns Hopkins University
Michelle Birkett, Ph.D., assistant professor of medical social sciences, Northwestern University
Rajiv Bhatia, M.D., M.P.H., assistant clinical professor of medicine (affiliated), Stanford University
Julie Robbins, Ph.D., assistant clinical professor, Ohio State University College of Public Health
Alysse Wurcel, M.D., assistant professor, Tufts University School of Medicine
Lisa Goldman Rosas, Ph.D., M.P.H., assistant professor of health research and policy, Stanford University
Davis Patterson, Ph.D., research associate professor, University of Washington School of Medicine
Eva Enns, Ph.D., associate professor, University of Minnesota School of Public Health
Adam Gaffney, M.D., M.P.H., instructor in medicine, Harvard Medical School
Jonathan Snowden, Ph.D., associate professor, School of Public Health, Oregon Health and Sciences University
Lesley Park, Ph.D., M.P.H., instructor of epidemiology and population health and associate director, Stanford Center for Population Health Sciences
Scott Hadland, M.D., M.P.H., assistant professor of pediatrics, Boston University School of Medicine
James Brust, M.D., associate professor, Albert Einstein College of Medicine
Meredith Clement, M.D., assistant professor of clinical medicine, Louisiana State University Health Sciences Center
Sarah Gollust, Ph.D., associate professor of health policy and management, University of Minnesota School of Public Health
Louis Fazen, M.D., Ph.D., instructor, Yale School of Medicine
Jason Rosenfeld, Dr.P.H., M.P.H., assistant professor of medicine and assistant director of global health, UT Health San Antonio Long School of Medicine
Aimee Palumbo, Ph.D., M.P.H., assistant professor, Temple University College of Public Health