You have /5 articles left.
Sign up for a free account or log in.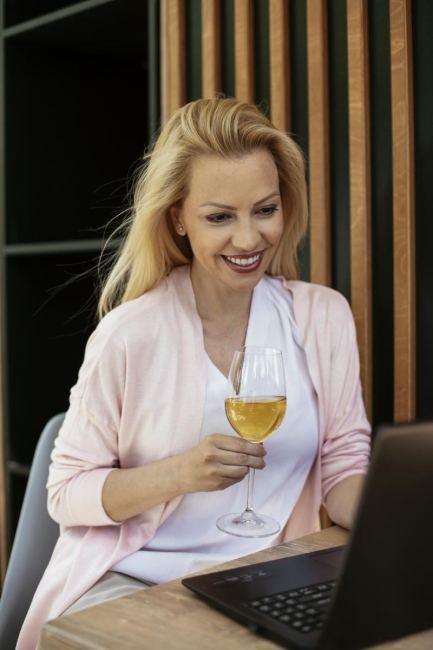 Now that we've wrapped up the first full year of widespread online classes due to the pandemic and are looking toward the future, it is apparent that remote learning will stay with us in some form -- even at traditional residential institutions. If you are a college or university instructor, you likely did not have prior experience teaching online. But by now you've probably attended trainings such as "how to teach online," "how to engage your online students" and "how to create a trauma-informed online classroom."
However, do you have a plan for addressing in-class substance use during online classes? With adult students logging in to class from home, potentially during the evening or on a weekend, you may find students in your class who feel comfortable attending while sitting on their couch in sweatpants with an adult beverage. If that happened in an in-person class on campus, you would probably consider it a red flag that must be dealt with, but in-class substance use is more complicated online.
We have advice.
We are social workers with experience in online education in the United States. Our distinct perspective has given us strategies that we can share to help you handle controversial situations that may arise in online classrooms, while avoiding shaming or stigmatizing students.
Studies have shown that long-term COVID-related impacts include greater stress, food and housing insecurity, and mental health needs. It also has led to increased use of alcohol. These impacts may encourage students to casually bring substance use into their online classrooms, for example by showing alcohol or other substances on the webcam or mentioning substance use in chat or discussion forums.
Also, as drinking is often associated with the college experience, students may experience social pressures to mention alcohol in particular when celebrating the weekend or the end of a course. With the lasting effects of the pandemic, which includes a continued mental health crisis and changes in norms around online use of alcohol and substances, in-class substance use could become more complex and require more attention from online instructors.
While this substance use may be legal for adult students located in their own homes, and students may have become accustomed to virtual parties with alcohol during the pandemic, it can have negative results when occurring during an online class. Alcohol or substance use can interfere with the ability to think clearly and regulate emotions -- which, in turn, can interfere with learning and the retention of course material. In addition, when students see alcohol or other substance use by their peers during class, it can potentially impact those who are struggling with complex relationships with their own or someone in their family's substance use.
We as authors of this piece didn't always agree among ourselves on the exact approach to take when students bring alcohol and other substances into the online classroom, as each institution and instructor can respond differently with different students in different situations. But we did all concur that this is something that instructors need to consider and prepare for, ideally before the start of the semester.
Questions to Ask Yourself
When instructing online courses, we recommend addressing in-class substance use before it happens, when it happens and after it happens -- and maintaining a supportive attitude throughout. Here are some questions to consider when preparing your approach:
Does your college or university have a policy about in-class substance use?
What impact would alcohol and other substance use in class have on your learning community and on individual student learning?
What steps will you take if this happens during class?
What holidays and class celebrations might you treat differently?
What resources does your institution provide to support student well-being?
At the start of the next semester, we recommend sharing your policy about in-class substance use with your students and discussing its rationale. It can be short and presented alongside explanations of your other policies, such as grading policies, absence policies and policies around whether children are allowed in class. You may want to outline the policy in your syllabus or during the first class and then remind your students when a holiday or event approaches that may increase alcohol or other substance use.
We recommend presenting the policy in a neutral tone that normalizes discussions about substance use. You should make your expectations explicit, as your students will probably come from a range of cultural norms. For example, a student may have grown up in a context where the norm is a responsible glass of wine with dinner, and class may take place during dinnertime, while other students may feel it's obvious not to have alcohol during class, regardless of the time. While it's best to present the policy at the start of the semester, you can introduce it at any time -- for example, when beginning to plan your celebration for the last day of class.
If a student sees another classmate engaging publicly in substance use in class -- whether or not a policy has been presented yet -- as the instructor in the moment, you will be in a difficult position. We recommend responding both publicly and privately. One option for the public response is to revisit your policy about substance use by saying something brief, such as, "I notice that one of the members of our class is drinking out of a wineglass right now, and I don't need to know what's in the glass, but I want to give a friendly reminder that if it's wine, wine is for outside of class, which is in only 45 minutes. Stay with me! The weekend can start right after class." For the private response, one option is to use your web conferencing tool's typed private chat with the student to ask them to stay after class to talk.
We acknowledge that addressing the issue can be uncomfortable for instructors. Some instructors may have their own complex relationship with substance use, some may fear causing shame or embarrassment, and some may be OK with moderate in-class substance use. There is no one-size-fits-all model for addressing in-class substance use. Maintaining a caring and nonjudgmental tone is well aligned with promoting a healthy learning environment, including with the student whose behavior you are addressing.
After an instance of in-class substance use occurs, if the student has stayed after class to chat with you, we recommend checking in with them in a supportive manner. That might include seeing how they feel about this being discussed in class, asking if they are experiencing stress and offering to connect them with college services like advising or student health. If the student doesn't stay after class, we recommend emailing with them to follow up.
Over all, we know that every institution has its own policies and guidelines, and we hope that we've got you thinking and exploring those at yours -- as well as your own viewpoint as an instructor and your beliefs about discussing student substance use. Although you may come up with a different approach than ours, we recommend that you at least create a plan to be ready when substance use happens during an online class. That way, you won't be surprised and can address the situation appropriately, confidently and compassionately.