An End to Years of Growth for New International Enrollments
Declines are greatest in central-south region that includes Texas. Only New England sees increase.
After years of growth, enrollments of international students at American universities started to flatten in fall 2016, and a downward trend in new enrollments appears to be accelerating this academic year, with nearly half of universities surveyed (45 percent) reporting a drop in new international students this fall.
Those are the headline findings of two international enrollment surveys released today: "Open Doors," a comprehensive annual survey of more than 2,000 colleges and universities that reports international enrollment numbers on a one-year delay, and a "snapshot" survey of about 500 institutions that reported on their international enrollment numbers for the current semester. The institutions that responded to the snapshot survey reported an average decline in new international students this fall of 7 percent.
While there are lots of variables that affect international enrollments, the drop in new students comes at a time when many in international education have expressed fears that the rhetoric and policies of President Trump could discourage some international students from enrolling at U.S. institutions. Among institutions that responded to the survey, 68 percent cited the visa application process or visa denials and delays as a reason for declining new enrollments, up 35 percentage points from last year, and 57 percent cited the social and political environment in the U.S., up 41 percentage points from last year. Other factors cited included the cost of tuition and fees (57 percent of respondents also cited this) and competition from universities in other countries (54 percent).
However, despite the 7 percent drop in new international students, the overall picture for this fall is mixed and suggests a divergence of trends depending on the selectivity, type and geographic location of a given university.
While 45 percent of institutions responding to the snapshot survey reported declines in new international students, 31 percent reported increases and 24 percent reported no change. Of those reporting decreases in new international students, the average decrease was 20 percent. Of those reporting increases, the average increase was 5 percent.
The most selective universities -- those that admit less than a quarter of applicants -- continued to report growth in new international student enrollments. The steepest declines in new international enrollments were reported by master's-level institutions, where new international enrollments are down by 20 percent, and at associate-level institutions, where they're down 19 percent. Institutions in the middle of the country -- including the West South Central region, which includes Texas -- saw steeper declines in new enrollments than did institutions on the East and West coasts (see map below).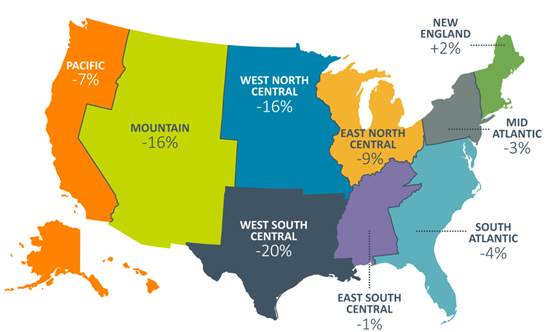 Total international enrollments have not fallen, buoyed up as they are by students already in the U.S. higher education pipeline. But the declines in new international enrollments will likely be cause for concern for many universities that have counted on growth in international students -- and the tuition revenue they bring -- to help balance their budgets.
"Open Doors" on International Enrollments
The "Open Doors" data, which reflect enrollments for the last academic year, not this one, show a 3.4 percent increase in total international student enrollments at American colleges and universities in 2016-17 compared to the year before, bringing the total number of international college students in the U.S. to 1,078,822.
Though a slowdown compared to the growth rates seen in the six years prior, 3.4 percent is still growth. However, what will be worrisome for many colleges is the fact that the number of new international students decreased for the first time in the six years that Open Doors has been reporting new enrollments, falling by 3.3 percent compared to the previous year.
Drilling down by academic level helps to explain the top-level trends. In 2016-17 the number of international students increased by a modest 2.7 percent and 1.9 percent at the undergraduate and graduate levels, respectively, and fell by 14.2 percent at the nondegree level -- a category that includes intensive English programs, which many students enroll in prior to entering degree-granting programs.
The fastest rate of growth by far was in the number of students who are participating in optional practical training (OPT), a number that grew by 19.1 percent in 2016-17 compared to the prior year.
While individuals on OPT are classified as students for visa purposes, and remain on their university's sponsorship, they are not really students at all in the traditional sense, as they have already graduated from their degree programs and are now pursuing employment. Under an extension of the OPT program that went into effect in May 2016, students with degrees in science, technology, engineering and mathematics fields can now spend up to three years working in the U.S. on OPT after they graduate (students with degrees in non-STEM fields are eligible for a one-year OPT term).
"What we're really seeing is this sort of bulge in the system. A lot of students who began their studies in the U.S. have remained under the sponsorship of their institutions for longer because of the OPT extension, while at the same time the numbers of enrolled students haven't increased at the same pace," said Rajika Bhandari, head of research, policy and practice at the Institute of International Education, which publishes the annual "Open Doors" survey with funding from the U.S. State Department.
"Then when you add to this the finding on the drop in new enrollments, all of that put together really points to the fact that the numbers of international students coming to the U.S. are beginning to flatten. I would interpret this as by no means a crisis, but really more of a wake-up call where this is the beginning of a flattening trend and there's a lot that institutions and others can be doing to still turn this around," Bhandari said.
In 2016-17, U.S. universities reported increases in the number of students from China (up 6.8 percent) and India (up 12.3 percent) -- two countries that collectively account for about half of all international students in the U.S. However, the number of students from two other key source countries, South Korea and Saudi Arabia, dropped. The 14.2 percent decline in the number of students from Saudi Arabia was especially notable and is likely attributable to moves to scale back and retool the Saudi government's foreign scholarship program, which has sent massive numbers of students to U.S. universities in recent years. The number of students from Brazil also declined by 32.4 percent, following an 18.2 percent decline the year before, reflecting the wind-down of another large foreign scholarship program sponsored by the Brazilian government.
Top 15 Countries of Origin for International Students in the U.S.
| | | |
| --- | --- | --- |
| Country of Origin | Number of Students in 2016-17 | Percent Change From 2015-16 |
| 1. China | 350,755 | +6.8% |
| 2. India | 186,267 | +12.3% |
| 3. South Korea | 58,663 | -3.8% |
| 4. Saudi Arabia | 52,611 | -14.2% |
| 5. Canada | 27,065 | +0.3% |
| 6. Vietnam | 22,438 | +4.8% |
| 7. Taiwan | 21,516 | +1.8% |
| 8. Japan | 18,780 | -1.5% |
| 9. Mexico | 16,835 | +0.6% |
| 10. Brazil | 13,089 | -32.4% |
| 11. Iran | 12,643 | +3% |
| 12. Nigeria | 11,710 | +9.7% |
| 13. Nepal | 11,607 | +20.1% |
| 14. United Kingdom | 11,489 | -0.9% |
| 15. Turkey | 10,586 | -1% |
The top three fields of study for international students in the U.S. in 2016-17 were engineering -- students in engineering fields accounted for 21.4 percent of all international students in the U.S. -- business and management (18.6 percent) and math and computer science (15.5 percent). The most notable change according to field of study was the big drop in intensive English enrollments, down 25.9 percent.
Note, all the numbers in the charts directly above and below are for the 2016-17 academic year. For more numbers from this fall, read on to the next subhead.
International Students in the U.S. by Field of Study
| | | |
| --- | --- | --- |
| Field of Study | Number of International Students, 2016-17 | Percent Change From 2015-16 |
| 1. Engineering | 230,711 | +6.4% |
| 2. Business and management | 200,754 | +0.2% |
| 3. Math and computer science | 167,180 | +18% |
| 4. Social sciences | 83,046 | +2.1% |
| 5. Physical and life sciences | 76,838 | +1.9% |
| 6. Fine and applied arts | 61,506 | +3% |
| 7. Health professions | 34,395 | +1.3% |
| 8. Intensive English | 30,309 | -25.9% |
| 9. Communications and journalism | 21,913 | +3.6% |
| 10. Education | 17,993 | -7.6% |
| 11. Humanities | 17,561 | -0.6% |
| 12. Legal studies and law enforcement | 15,306 | +1.5% |
| 13. Agriculture | 12,602 | +2.3% |
Fall Snapshot Data
Simultaneous with the release of "Open Doors," IIE released the results of the "snapshot" survey it conducted in partnership with nine other higher education groups on this fall's international enrollments. Once again, the universities that responded to the survey reported an average drop of 7 percent in new international enrollments, but their total international enrollments remained flat as existing students stayed in the pipeline, including on OPT.
The survey does not disaggregate the enrollment changes by country of origin, but 71 percent of institutions said they were concerned about recruiting students from China for next fall and 68 percent said the same about India. Seventy-six percent of institutions said they are concerned about enrolling international students from the Middle East and North Africa, a finding that IIE says is likely due to concerns about the reductions in the Saudi scholarship program and travel restrictions for the region. A third version of the Trump administration's travel ban, currently halted by the courts, would bar all travel from North Korea and Syria and impose varying restrictions or higher vetting standards for travelers coming from Chad, Iran, Libya, Somalia and Yemen (it would also bar certain Venezuelan government officials and their families from coming on business and tourist visas).
New enrollments of international students started to decline last fall prior to the election of President Trump. But some college administrators are worried that the current political and social climate may contribute to keeping some students away. Hundreds of universities have joined a campaign aimed toward prospective international students called "#YouAreWelcomeHere" to counter concerns about xenophobia and perceptions about personal safety in the U.S.
Fifty-two percent of universities responding to the snapshot survey said that international students have cited the U.S. social and political climate as a potential deterrent to studying in the U.S. However, only 20 percent of institutions said that international students have expressed a desire to leave or have left the U.S. as a result of this climate. Eight percent reported an incident on campus or in the community that targeted international students in a negative manner.
You may also be interested in...
Today's News from Inside Higher Ed
Inside Higher Ed's Quick Takes