You have /5 articles left.
Sign up for a free account or log in.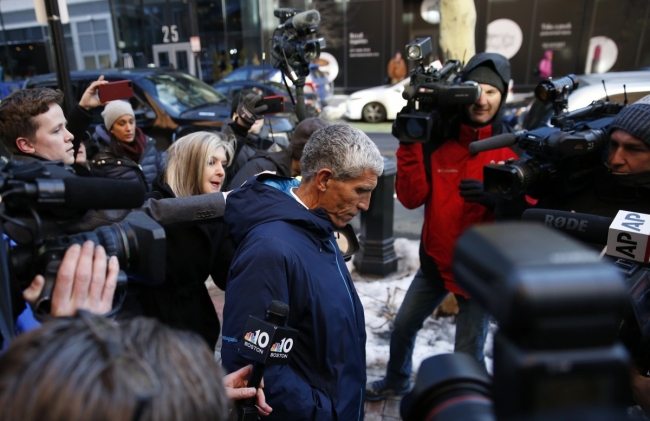 Americans remain obsessed with highly selective colleges and their manicured campuses and 10-figure endowments.
But an accumulating body of evidence, including both a five-alarm admissions scandal and cutting-edge data on social mobility, have convinced many of what they long suspected: that the deck is stacked against lower-income students in higher education.
At the same time, a growing number of Democratic and independent voters are following the lead of Republicans with rapidly souring attitudes about higher education, although mostly for different reasons. As a result, a wide range of policy observers say traditional higher education will face more scrutiny from Democratic politicians.
For example, the day after the Varsity Blues scandal hit the news, a top Senate Democrat, Ron Wyden of Oregon, said he would introduce a bill to end the tax benefit for donations made to colleges and universities before or during the enrollment of children of the donor's family.
And last month the influential think tank New America proposed to Senate Democrats that colleges should lose their federal aid eligibility if they offer early-decision admissions or give preferences to children of alumni. The group also said universities that receive federal research funds should be required to use some form of lottery admissions.
Observers said political pressure from Democrats and Republicans could spur interest in policies most higher education advocates oppose on college admissions, endowment spending, charitable giving, risk sharing on student loans and even affirmative action.
The heightened scrutiny is due to the combined effect of skyrocketing student debt, many low-value college credentials and a drumbeat of scandal, said Spiros Protopsaltis, a senior Education Department official during the Obama administration who also was a Democratic staff member on Capitol Hill.
"There is a growing concern on both sides of the aisle that higher education hasn't been accountable for a very long time," said Protopsaltis, who is currently an associate professor of education policy at George Mason University. "You have many institutions that have become engines of inequality."
Perhaps the most powerful data to back that assertion comes from a 2017 study from the Equality of Opportunity Project. Among a wide range of damaging findings for the academy, the research found that more students who attend 38 of the nation's most selective colleges come from the top 1 percent of the income scale than from the bottom 60 percent.
Resurgent congressional interest is possible in taking on endowment spending, low-income admissions and other issues, said Jessica Thompson, director of policy and planning for the Institute for College Access and Success.
"There is traction and it's this part of the cycle," she said, referring to reauthorization of the Higher Education Act and the looming presidential election. "The ground is shifting."
Changes in Public Opinion
Several polls released during the last two years show growing public disapproval of traditional higher education from across the political spectrum.
A 2017 survey by the Pew Research Center identified a dramatic change among Republicans, with just 36 percent saying colleges and universities have a "positive effect on the way things are going in the country." That figure was a 28-percentage-point decline from two years before.
Another Pew poll from last year found that 61 percent of adults said the U.S. higher education system was "generally going in the wrong direction," including 73 percent of Republicans and 52 percent of Democrats. Respondents cited different reasons for their skepticism, with Democrats tending to be more concerned with tuition rates and Republicans pointing to political and social concerns about the liberal skew of most campuses -- an issue the Trump administration seized on last week with an executive order linking research dollars to free speech and inquiry.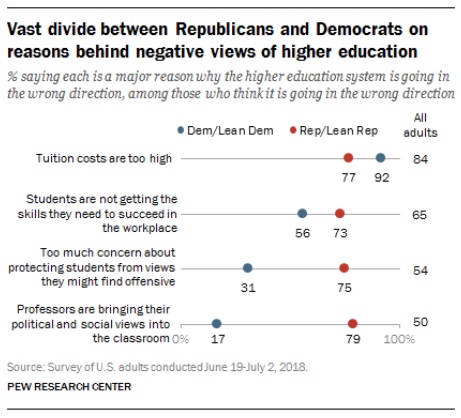 Subsequent national polling found a more nuanced picture of higher education. For example, one found that most Americans think high school graduates should pursue some form of postsecondary education or training. And a majority of respondents in another poll had favorable views about their local colleges.
Yet findings from that batch of polling also included plenty of storm clouds for college leaders.
For example, a survey by New America last year found that just one in four Americans think higher education is fine the way it is. And there was little partisan split in the more than two-thirds of respondents who think higher education needs to change.
And that was before Varsity Blues, a scandal that continues to fascinate and enrage people after two weeks in the news.
The 204-page complaint from the U.S. Department of Justice was a visceral display of how rich people can game the college admissions process.
It included many transcripts of candid phone conversations of many of the more than 50 indicted investment bankers, celebrities and other wealthy parents as they discussed allegedly fraudulent schemes to spend hundreds of thousands of dollars, or even millions, to bribe their kids' way through the "side door" into selective colleges by cheating on the SAT or ACT and paying off coaches for admission as student athletes.
William (Rick) Singer, the alleged ringleader who ran a private college admissions counseling company, explained how it worked in a call the feds recorded last year with an indicted parent.
"What we do is we help the wealthiest families in the U.S. get their kids into school," Singer said, noting that his clients want guaranteed admission to specific colleges. "There is a front door which means you get in on your own. The back door is through institutional advancement, which is 10 times as much money. And I've created this side door in."
Democratic lawmakers quickly pounced on the scandal and linked it to broader concerns. And as Senator Wyden's bill illustrates, many aren't happy with the legal back door, either.
The examples of bribery and fraud undermine the integrity of the nation's higher education system, Representative Bobby Scott, the Virginia Democrat who chairs the House education committee, said in a written statement the day the indictments dropped.
"While illegal schemes are maddening and inflammatory, it is the legal and systemic inequality in college admissions and success that ultimately deprives countless students of the chance to reach their potential," Scott said.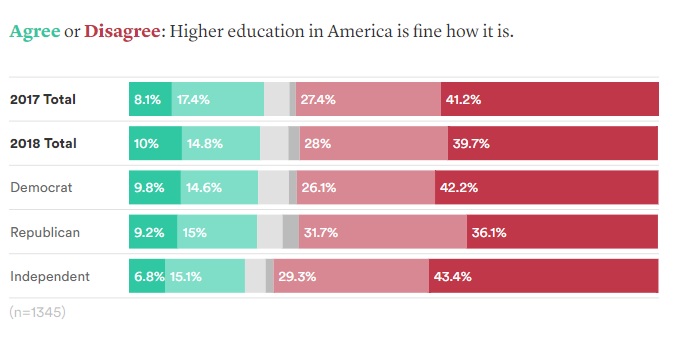 The newly stoked outrage over college admissions arrived amid growing populist and antiestablishment sentiments on both sides of the political divide, said Michael Dannenberg, director of strategic initiatives for policy at Education Reform Now, a nonprofit group.
"The political dynamic for the institutions of the higher education lobby has been altered," said Dannenberg, who served in Obama's Education Department and was senior education counsel for the late Senator Ted Kennedy, the Massachusetts Democrat, when Kennedy led the Senate education committee.
And as Dannenberg wrote last year, problems with fairness and inequality in college admissions go much deeper than the extreme example of fraud by wealthy parents.
"It is a rigged game," he said. "The real scandal is what's legal and known."
Frustration and Cynicism
The timing of Varsity Blues couldn't be much worse for college leaders.
Congress is gearing up for the long-overdue reauthorization of the Higher Education Act, the law that oversees federal financial aid. And a sprawling field of candidates for the 2020 Democratic nomination for president are beginning to stake out positions on college affordability and access.
The admissions scandal might not stick around long enough in the public's conscious to be a substantial motivator for Democratic politicians. But even advocates for traditional higher education acknowledge that the optics are a major challenge.
"It's touching the nerve of wealth and privilege, and that's what the Higher Education Act is supposed to be countering," said Sarah Flanagan, vice president for government relations and policy development at the National Association of Independent Colleges and Universities.
And the powerful symbol arrives amid a historic change in how the white working class thinks about college, according to Jill Normington, a veteran pollster and campaign strategist for Democrats.
This bloc, which is roughly 46 percent of the nation's adult population, historically has supported policies to expand college access, Normington said. "This cohort of voters, many of them encouraged their kids to go to college," she said. But that's changing rapidly.
"We're seeing a very different set of policy demands from voters now," she said, with much of the shift hinging on the growing conviction that "college is not for everyone."
Citing focus group research, Normington said a key driver of that view is that many voters have a relative who invested in college but struggled during the Great Recession with student loan debt or making a credential pay off in the job market. And while a preponderance of evidence shows that college degree holders are much more likely to get well-paying jobs, during a recession or a strong economy, recent years have shaken many Americans' faith in higher education.
"They think that a college degree is not worth the cost," she said. "This is the first generation of working-class voters who have reached that conclusion."
The admissions scandal taps into snowballing hopelessness and frustration about higher education, said Normington, with a growing share of voters now feeling that the one viable door to increased economic opportunity is shut to them, and probably always has been.
Other data points show that frustration veering into cynicism.
For example, a survey released last week by the polling firm YouGov found that fully two-thirds of Americans said the education system is rigged for wealthy students.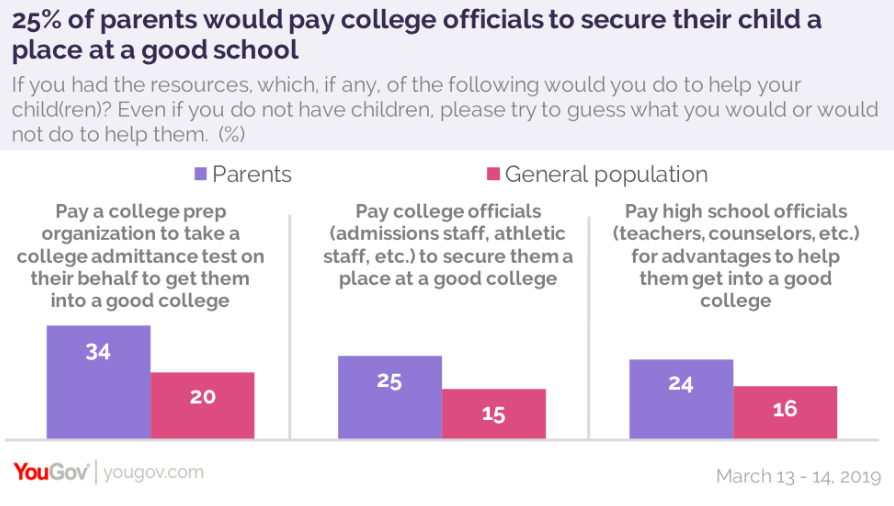 Perhaps the most noteworthy findings from that poll, however, show that a substantial portion of respondents would be willing to illegally game the system themselves.
More than a third (34 percent) of parents said they would pay a college prep organization to take a college admittance test on their child's behalf. And 25 percent of parents said they would pay admissions or athletics staff to secure a spot in a good college.
Public sentiment on higher education is approaching a crisis point, said Jim McCorkell, CEO and founder of College Possible, a nonprofit group that works on college admissions and success for low-income students.
Many people feel that "our higher education system is not there as a pathway to opportunity," he said, citing data showing that the top quartile of income earners are five times more likely to earn a college degree than people in the lowest quintile. "It's starting to feel that it's the opposite, that it's an obstacle."
'Sea Change in the Politics'
Several observers said the looming bill from Wyden was a shot across the bow that could be an early sign of a backlash among Democratic lawmakers.
Many higher education advocates were frustrated by the Obama administration. While those grievances mostly were aired in private, they resented Obama's failed effort to create a college ratings system, particularly his initial plan to tie federal aid to metrics like graduation rates.
The administration also irked the wealthier side of the Democratic base with its 2015 attempt to eliminate the tax benefits of popular 529 college savings accounts, which mostly benefit families with annual incomes of at least $200,000. The proposal generated fierce criticism from top Democrats, and Obama dropped it days later.
Yet left-leaning experts said Obama won't be the last Democrat to push hard for accountability measures that traditional higher education resists, or to attempt to redirect federal money away from wealthier students and toward underserved student populations.
Democrats in Congress and presidential candidates are showing less deference to higher education groups than they did in previous years, said Lanae Erickson, senior vice president for the social policy and politics program at Third Way, a center-left think tank.
"There is a bit of a sea change in the politics happening right now," she said.
Erickson said lawmakers on both sides of the aisle took note of the reaction to the 2017 Republican tax bill, which imposed a tax on 28 large college endowments. That piece of the law remains on the books despite continued opposition from higher education groups.
Once a red line has been crossed without consequences, Erickson said lawmakers might take on other previously sacrosanct issues. "Nothing's really happened," she said. "The bark was worse than the bite."
Senator Chuck Grassley is the Iowa Republican who chairs the Senate Finance Committee, where Wyden is the ranking member. He's long pushed for wealthy colleges to be required to spend a set amount of their endowments each year. Before the recession, that threat helped encourage several highly selective universities to spend more on need-based aid.
Bipartisan interest exists in revisiting endowment spending, said Erickson and others.
Likewise, Senator Christopher Coons, a Delaware Democrat, has co-sponsored legislation with Senator Johnny Isakson, a Republican from Georgia, to prod wealthy colleges to enroll more low-income students.
Their bill would rank institutions based on the percentage of federal Pell Grant recipients they enroll. The bottom 5 percent of colleges in the ranking would risk paying fines after being given four years to improve, with the penalty money going to college completion efforts. Many of the nation's wealthiest colleges can point to generous aid they give to low-income students. But these institutions generally do not admit and enroll large shares of needy students.
College advocates have pushed back on these proposals.
For example, the National Association of College and University Business Officers (NACUBO) and the Council for Advancement and Support of Education both quickly fired back with critical statements about Wyden's promised bill to nix tax benefits for college donations.
"We are concerned about how deep and wide the impacts of this might be," said Liz Clark, senior director of federal affairs for NACUBO. "We don't support bribery. But we do support charitable giving."
Likewise, several higher education advocates said they worry that knee-jerk responses to the scandal might end up hurting colleges with less money and that enroll large numbers of low-income students. For example, one said historically black colleges and universities as well as women's colleges often give preference to legacy applicants.
And NAICU's Flanagan said a federal government crackdown on college admissions could cause problems on other issues for Democrats and colleges.
"The whole debate on meritocracy in admissions could put at risk programs meant to recognize the disadvantages many students face because of income inequality," she said via email, adding in an interview that, "People are very good at identifying the problems of colleges. But the solutions are much more challenging."
Yet others said colleges that cater to wealthier students probably have more to worry about it in this political environment.
For example, broad bipartisan interest in expanding work-force training and education, and growing skepticism about the traditional higher education system, could encourage Congress and the Trump administration to redirect federal aid spending away from four-year programs and toward career and technical education. In a zero-sum approach to federal funding, that could happen with the bipartisan Senate bill to open Pell eligibility to short-term programs, which Democrats in the House support (with conditions).
"For a very long time we've been focused on higher education," said Normington, specifically building a system with access to college for everyone. But Democrats are "no longer exclusively focused" on this goal.
Fissures are spreading in the higher education lobby as well. For example, last week the Association of Public and Land-grant Universities said it was time to end legacy preferences in admissions, saying the practice is at odds with public universities' commitment to fairness.
If colleges want to head off attempts by Congress to weigh in on admissions, endowment spending or other issues, they may no longer be able to count on traditional allies on the Democratic side of the aisle.
Take Representative Donna Shalala, the first-term Democrat from Florida, a cabinet member in the Clinton administration who for three decades was a college president. The day the Varsity Blues news broke, Shalala called for a congressional hearing on systemic flaws in college admissions.
"Greed and naked ambition has stained the reputation of higher education," she said in a written statement. "The American people deserve transparency to determine whether these are a few bad apples or if the barrel is rotten."