You have /5 articles left.
Sign up for a free account or log in.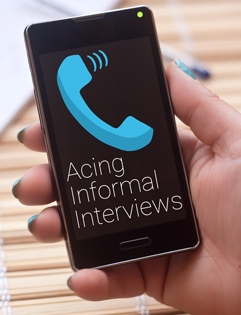 When career counselors talk about interviews, we usually talk about formal, behavioral interviews wherein a candidate has applied for a job and is invited to discuss that application with a potential employer. It is hard enough to prepare for this type of interview. What we don't talk about as much -- until you come to see us, of course -- is informal interviews. These include informational interviews that turn into opportunities and/or an invitation to speak to a hiring manager about "fit" despite the fact that a job does not officially exist (yet). Luckily, the top strategy for success in any interview is the same: a well-developed marketing plan.
I received some very good advice from an employer recently. He explained that often employers do not always know exactly what they want until they find it. As such, they rely on you to make clear your added value. "Once you do," he explained, "they will say 'yes, that's what we were thinking.'" The essence of added value is knowing how your interests, skills and values align with theirs. This, in fact, is the key to getting an informal interview in the first place. Most trainees I meet go to networking events or informational interviews armed with very basic questions like "what do you do every day," or "do you hire Ph.D.s," both of which likely have answers online. Good impressions begin with doing your homework so that you may have memorable, informative conversations from the beginning.
Once you have grabbed the attention of potential employers and they invite you to discuss potential opportunities with their company, you can expect the format to be somewhat similar to what you are used to. As with any interview, a good informal interview will be a conversation. Still, it is daunting because there is no job description to which you can refer. And while trying to guess questions and memorize answers is rarely a good strategy, it is difficult to not even know where to begin. To prepare, then, you should know that every question boils down to three primary themes: Why should we hire you, why do you want to work here and how will you fit in?
Why should we hire you? Variations on this question include: What are your strengths and weaknesses, what's your brand, how often do you use "x" skill (e.g., C++, PCR, etc.), and tell us about your research -- what is your most significant and relevant finding?
This question aims at understanding the skills you bring to the organization to which you are applying. The goal is to test your knowledge of the primary duties performed and to test the depth of that knowledge. In preparation, you will want to review the publications and/or media overviews of the work being done at the organization, use LinkedIn to review the job descriptions of current employees, and look up job descriptions for relevant or desired positions at similar companies. Remember that informal interviews aim to find a potential fit for you, regardless of whether or not a current job is available, so it behooves you to show yourself as well-rounded. Still, it is also a good opportunity for you to develop a brand for yourself and present it in a way that helps them see alignment between your skills and those most needed for their success.
Why do you want to work here? Variations on this question include: Where do you see yourself in 5 to 10 years, what most interests you about this field/company and why aren't you pursuing academia?
The purpose of this question group is twofold -- to understand how well you know the field and to also get a deeper sense of your interests as they apply to the organization and/or potential job. In effect, they want to know you are not just looking for "a" job but rather a job with them. Naturally, it is easier to answer these questions when you actually are interested in them and the work they do. Regardless, there is probably a reason you are meeting with them in the first place (as opposed to another field, company, etc.). Focus on what you believe makes them unique and why that excites you.
How will you fit in here? Variations on this question include: Tell us about yourself, what do you look for in a supervisor, tell us about a time in which you had to manage a team conflict and what worries you most about working here?
These are values questions. It is possible that the way you approach problem solving, your communication style or simply your understanding of the organization don't fit with the culture where you are interviewing. In fact, you may come to this conclusion yourself about them. For example, you may meet with an executive or scientist known to be talented in your field. However, if you know you do not do well with a micromanager for a boss and this person is likely to take this approach, the division or company may not be a fit for you.
This is what we mean by interviews being conversational -- come prepared with your own ideas of goals for the meeting and an understanding of the components of the "ideal" job. Develop your own questions to ask as you go along. Often, informational interviews are more conversational than others in that there is less back-and-forth question/answer dialogue. Instead, you will find that interviewers will start with a question from above, for example. You will respond and they may give their perspective on how things work there, thus opening up opportunities for you to ask questions and share your own perspectives. It is also great timing for you to be able to inquire about organizational culture, new divisions and changes in the organization and to display working knowledge of these, as relevant.
At the end of your discussion, the most important question to ask is about next steps. Find out if your interviewer needs additional information. Then, finally, reiterate your fit and interest in working with them. Remember that it may take a while to hear back from them. If they are looking into positions in their organization or trying to create something new, it will take a lot of time for your future employer to make a case and find funding. Two weeks is standard timing for follow-up emails, which should be a short reminder of your conversation and a reiteration of fit.
The informal interview need not be daunting. In fact, it is a great opportunity to end up with a job tailor-made to your skills, interests and values. Getting there requires a marketing plan that shows how these three facets of your personality fit with their interests and culture.