You have /5 articles left.
Sign up for a free account or log in.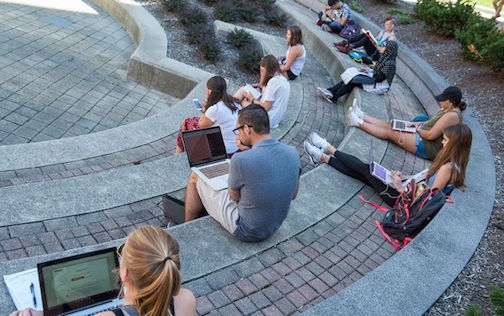 Ohio State University wants to spur the next generation of technology-enhanced learners. The public institution -- one of the largest in the country, with more than 66,000 students at six campuses -- thinks Apple's products, services and technicians will help achieve that goal.
The university's partnership with Apple, as reported by Inside Higher Ed, reflects a major new step in the tech giant's educational efforts. It also indicates that institutions are looking to splashy corporations with deep pockets and innovative offerings to help students meet the needs of an increasingly digital society.
The Ohio State-Apple deal is comprised of three main components:
IPads -- equipped with Apple Pencil and Smart Keyboard apps -- delivered to all incoming students free of charge during summer orientation starting next year.
An iOS Design Lab, set to open in a temporary space in 2018 and in its permanent home at Ohio State's Columbus main campus in 2019. The lab will offer opportunities for direct engagement with technology among students and faculty members.
Coding courses, set to launch in spring 2018, featuring Apple's Swift programming language. The courses are an extension of Apple's similar arrangement with more than 30 community colleges nationwide.
Details of how these new offerings will be integrated into the student experience haven't been finalized, according to administrators. But the initial plans reveal the overall strategy, which emphasizes making students more aware of existing on-campus services and preparing them for the digital demands of the modern world, both professional and personal.
From Abstract to Concrete
Apple has been in touch with Ohio State for four years, mainly on training faculty members in the distance education group to use Apple tools for course development, ebooks, presentations and grading, according to Provost Bruce McPheron. The university's campus technology store already offers a large discount on Apple products. Macs and PCs are and will continue to be supported on campus.
Over the last six to eight months, as the institution embarked on a concerted strategic planning effort, administrators have focused on finding new opportunities to infuse technology into the learning process, according to McPheron. They took some of those abstract ideas to their contacts at Apple, launching the dialogue that led to the formal arrangement.
Between 2,000 and 3,000 Ohio State students have been provided iPads since the beginning of this decade. Each iPad's retail value is $1,000.
Funds to supply iPads to all incoming students will come from an ongoing administrative efficiency effort underway at the institution, which involves redirecting savings to programs including the Apple partnership and financial aid for students. Ohio State and Apple are negotiating a discount rate for students who don't receive a free iPad but would like to purchase one, administrators said.
Several enterprising instructors recently launched pilots in their classrooms in which two students share an iPad during instruction and return it to the instructor at the end of each session. Those tablets were paid for and are owned by Ohio State, according to a university spokesperson.
Ohio State plans to incorporate findings from its early iPad experiences into its iPad offerings going forward. One of the major takeaways from these initial efforts, administrators said, was that students benefit from using the tablet as their own personal device, rather than something they borrow briefly or share with others.
Cory Tressler, Ohio State's director of learning programs, hopes the iPads will help students organize their experience, serving as a calendar for time management purposes and a searchable notebook for studying. Apps that connect students to resources on campuses, including mental health, financial aid and tutoring services, will also streamline students' overall experience at the institution, according to Liv Gjestvang, Ohio State's associate vice president of learning technology.
Although upper-level students won't receive iPads, they can take advantage on their own mobile devices of apps created for students who receive iPads, according to McPheron.
Boosting Student Success
Coding courses using Apple's popular Swift programming language will be available to all students at no fee, but most outside of the computer science major won't be required to enroll, according to Tressler. Some basic coding tutorials might be sent to all students in an effort to introduce them to the discipline.
Eventually, the institution hopes to create a course sequence that leads to a coding certificate or credential, Tressler said.
"We're not saying that all 60,000 of Ohio State students are going to walk away being developers for Apple," Tressler said. "Coding as a language and structure has some really important concepts that everyone could apply."
He's observed that students en masse don't come to the institution possessing the capability to fully leverage available technology to make their lives more efficient. For instance, some students don't instinctively realize that Google Docs and other programs allow multiple people to work on presentations and documents at the same time. Even more learners lack the skills to navigate library resources for scholarly research, according to Tressler.
"Yes, they can use social media, and they [use the Candy Crush app] very well," Tressler said. "When you get to academic-level communication, they are a little bit" out of their depth, he said.
An introduction to coding, Tressler said, could offer students a proverbial tool kit to expand those digital skills. Coding effectively requires time management and attention to detail. Understanding the value of coding also helps students see the backbone of the technology they use every day, he said.
Instructors will work on-site with Apple representatives to develop the Swift curriculum, according to McPheron.
"To actually have a physical interaction with Apple experts in bringing the ideas to fruition was the icing on the cake," McPheron said. "You can train people to use a new language, but to actually have them working with people who are building innovation in so many different sectors, it's an absolute win for us."
As with the coding courses, students will not be required to use the design lab space, but it will be open to them as a collaborative environment for coding and app development. The cost of that facility for Apple and Ohio State has not yet been determined.
The institution hopes to offer students real-world experience in app development by partnering with nonprofits, community groups, organizations and businesses across Ohio, Gjestvang said. Such plans are in their nascent stages for now.
Planting a Seed
Mike Abbiatti, executive director of the WICHE Cooperative for Educational Technologies, hopes and expects more partnerships like this -- perhaps on an even larger scale -- to emerge soon.
Decades ago, he said, technology used to originate on campuses and make its way into homes. Now the opposite is true, and institutions are scrambling to keep up.
"The internet has really taken off in higher ed, because everyone from the chancellor to the newest freshman has quite an array of personal technology devices that he or she brings with them every day," Abbiatti said. "There has to be an actionable agenda on the part of the university to leverage these things for research, teaching and learning."
The Ohio State-Apple arrangement could also make the institution more attractive to international students who recognize the global brand, according to Eric Stoller, a higher education thought leader and Inside Higher Ed blogger. He does worry, however, that betting entirely on a single platform is a risk -- students might be put off by Apple smartphone costs, limiting their ability to participate on the iOS platform.
Abbiatti hopes Ohio State offers regular updates on the progress of the partnership so that other institutions can benefit as well. He stressed the importance of recognizing that corporations like Apple get into business with higher education because they see an opportunity to make money.
"We have to be very clear that if the technology doesn't help us do what we want to do better, and it doesn't result in quantifiable outcomes, then it's really not worth the effort," said Abbiatti, who believes Ohio State's deal with Apple clears that bar.