You have /5 articles left.
Sign up for a free account or log in.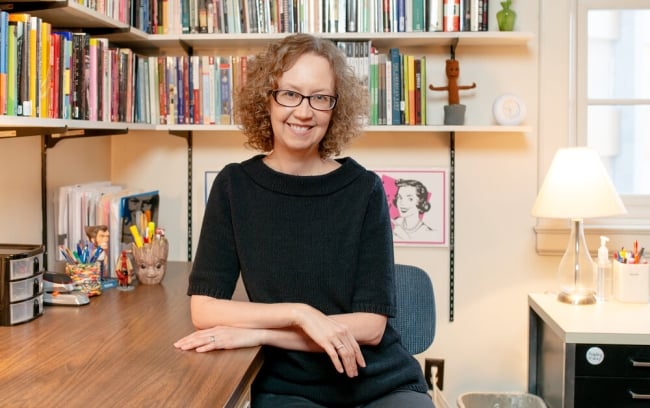 Welcome to "Transforming Teaching and Learning," a column that explores how colleges and professors are reimagining how they teach and how students learn. If you'd like to receive the free "Transforming Teaching and Learning" newsletter, please sign up here.
***
Maybe it's just the long-in-the-tooth journalist in me, on the lookout for signs of conflict, but on first read Jessamyn Neuhaus's Listserv post last month sounded like a cry for help from someone possibly in over her head at a vulnerable time.
Neuhaus, a professor of U.S. history and pop culture at the State University of New York College at Plattsburgh, told her colleagues on the POD Network discussion group that she had just the previous week become interim director of her campus's one-person Center for Teaching Excellence.
The part-time role, which came with limited release from her teaching duties and some modest additional compensation, made her responsible for faculty instructional development at a time of great external tumult on a campus that (like many) had for years been struggling to attract faculty to programs and to utilize the center's services. Her cited reasons for that ineffectiveness may sound familiar to those elsewhere: budget austerity, turf wars, uneven administrative encouragement and "staffing/personality issues.")
Stepping into a situation like that might be challenging at any time, but this isn't an ordinary moment. Like faculty members and administrators elsewhere trying to help their institutions pivot from a spring of emergency remote teaching to prepare for a fall likely involving a mix of in-person and virtual learning, Neuhaus was facing "wildly unrealistic expectations," she wrote. "The lack of a campus culture that understands and uses [educational development] + high anxiety about the unknowns of the fall = people looking for quick fixes, on a gigantic scale and on a timetable that's simply not possible."
How, she asked her peers, "can I capitalize on the fact that at this moment more people on our campus than ever before are open to the idea of engaging in ED while at the same time managing/redirecting expectations of quick fixes and simple solutions?"
I asked Neuhaus if she'd spare some time to talk about her plight, and expected the conversation to reinforce the general sense of dread and anxiety that so many discussions about higher education leave me with these days.
I was very wrong.
***
Neuhaus's path to her new role started several years ago. Like many early-career faculty members, she says, she had published a lot (in history) but had little training in teaching. "I'm an introvert, not a natural performer, so I became increasingly interested in questions of teaching and learning," Neuhaus says. When Plattsburgh created its first Center for Teaching Excellence nearly a decade ago, she jumped at the chance for help. She eventually served as a faculty fellow at the teaching center. "It took me a very long time to become an effective teacher," she says.
The center's original director died suddenly last year and, because of budget woes caused by the SUNY campus's declining enrollment, was not replaced. Plattsburgh administrators contemplated various models for keeping the center going, ultimately embracing a plan suggested by Neuhaus to have two faculty co-directors, both part-time. Neuhaus was one; the other logical choice opted out this spring. That's how she ended up in her formal role as a teaching center of one at this pivotal time.
The "grand plans" she had for faculty development this spring went out the window when COVID-19 hit. She and the head of Plattsburgh's technology-enhanced learning unit, John Locke, focused much of their efforts on helping the college's instructors transform their in-person courses so they could educate their dispersed students remotely.
Difficult as the transition was, Neuhaus found it invigorating. At Plattsburgh, as is true at most colleges, there's a "little core group of faculty" who have been "all in" on teaching experimentation, and a comparable band of professors who are "actively hostile."
This spring, though, the "big middle group showed up," Neuhaus says. She and Locke held virtual happy hours and lounges that were a combination of "social gathering, moral support, questions about pedagogy and some technical questions for John," she says. "There was an openness, an urge, an impetus to talk about teaching and learning."
"For the first time, here and all across the country, college instructors became novice learners in so many ways," Neuhaus adds. "For the first time, it was acceptable, even desirable, for smarty-pants experts to say, 'I need some assistance; I'm not sure how to teach this right now.' It became culturally acceptable for people to just admit, 'I'm not totally sure how to do this.' That is so huge."
And yet, there were limits on what could be accomplished this spring, Neuhaus says, because of the "crisis conditions … Nobody learns well while their brains are experiencing trauma and stress," as was true for so many instructors (especially those who are traditionally most vulnerable, "contingent and marginalized and underrepresented faculty") and students.
The challenge for Neuhaus and other faculty development officials now, she says, is to sustain that instructor interest and use it to create sustainable momentum.
That's not the faculty's job alone, she says. Yes, "every college instructor who wants to be an effective teacher has to take responsibility for their own educational development -- they have to maintain that all-essential growth mind-set."
But it takes much more than individual effort, especially when professors are being tasked with learning entirely new ways of designing and delivering their courses -- possibly several at a time if, as might be necessary this fall, they need to ensure that students can participate whether they're in person, online or both.
"Without extensive support, financial and training support, that's not something you can do on an individual basis," Neuhaus says. Campus leaders have to step up to provide those things.
Students have a role to play, too. "Even the most highly skilled online educator is at a disadvantage if the students are coming in resentful and leery of online learning," says Neuhaus. "Students need to get up to speed on the potential of online teaching and learning, and there has to be different messaging to students about what's possible in online learning."
She didn't say it explicitly in our interview, but most college leaders are sending a very different message right now in their clamor for students to return to campus, with many suggesting that they can't possibly deliver on their missions if students remain virtual. It will be hard to expect students to believe that online or virtual learning can be good -- better than it was this spring -- if their colleges' own leaders don't.
Taking Advantage of the Moment
What does Neuhaus hope that she and Plattsburgh's professors can accomplish together in the months to come? And how does she see the center's role, given that she's a one-person show?
First, she plans to talk up five key pedagogical practices that she laid out in her 2019 book, Geeky Pedagogy: A Guide for Intellectuals, Introverts, and Nerds Who Want to Be Effective Teachers (West Virginia University Press): awareness, preparation, practice, support and reflection.
"Last semester, what I saw so many faculty doing was all of those things in a much more aware way," Neuhaus says. "They showed increased awareness of what was happening with their students, prepared in new ways; reflected on a scale I've never seen, practicing all these new things, seeking out support. Doing all of those things on a regular basis is the difference between somebody who is constantly working at being an effective educator and not."
She wants faculty members to continue to be open to acknowledging their limitations as teachers. "A lot of us have built up so many walls about our teaching. At this moment, you could say, 'Something's going off the rails with my class' and nobody would question it. As educators, we are always learning new things, and we should be able to ask each other for help without it being a threat to our expertise."
And Neuhaus hopes instructors will embrace some of the insights they gained and practices they used this spring. "Many saw more than before the importance of connection with their students, and their humanizing presence as instructors in their students' lives," she says.
"Finding more flexible ways for students to demonstrate their learning was a necessity for many faculty for the first time, because it was a crisis," she says. "That's something that should survive this."
The Center's Role
There are limits to what Plattsburgh's Center for Teaching Excellence, as a one-person band, can do to make all this happen. The advice Neuhaus got from her colleagues at the POD Network was to focus not on generating original programming, but to be a "lifeline … I am a resource curator, campus connector and college community builder," she says.
"I want to help build a campus community where people talk to each other about what's working with students and find ways to support each other. This crisis has created a moment where that's maybe more possible than it was before.
"I don't want to blow this chance."