You have /5 articles left.
Sign up for a free account or log in.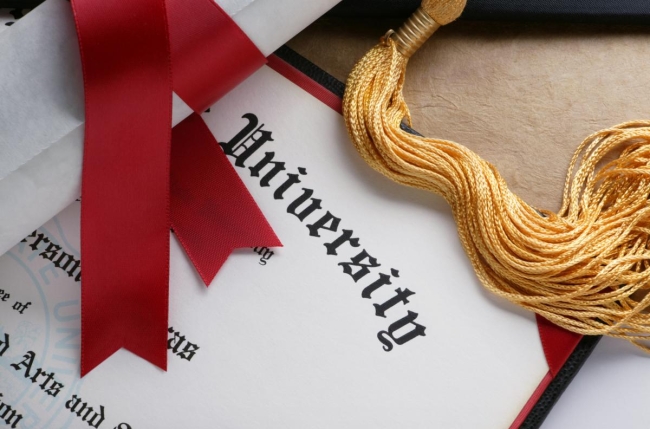 A recent New York Times article examined the need for the "60-year curriculum" at a time when people are living and working longer. As workers move across jobs and careers, they will constantly need new skills -- over many decades -- to remain employable. This pace of change, fueled by globalization and technology, is fundamentally reshaping the future of work and creating a need for a new kind of lifelong learning.
In that context, the university degree is facing growing competition and criticism, but 2019 saw significant innovations in the design and delivery of degrees that promise to meet this need.
Higher education institutions are making the university degree more accessible, more affordable, more flexible and more relevant to a global audience of lifelong learners. While the choice of job-relevant credentials has grown considerably, degrees continue to be valued by employers as the most important predictor of future success, reflected in the wage premium degree holders command. Innovations that we saw in 2019 give us a glimpse of how the degree will continue to play a vital role in our digital future.
The Best Universities Around the World Go Online With Top Degrees
Earlier this year, President Mark Schlissel of the University of Michigan committed to grow academic innovation by creating learning experiences that are both high quality and broadly accessible to learners all over the world. Michigan launched an online master of applied data science and a master of public health, the University of Pennsylvania started an online version of its on-campus master in computers and information technology degree, Purdue University announced three new online master's degrees, and the London School of Economics is launching an online bachelor of science in data science and business analytics.
Leading international universities also went online with in-demand degree programs. Universidad de los Andes in Colombia launched an online master's degree in software engineering -- Latin America's first fully online master's degree in software engineering from a top-10 university -- for Spanish-speaking learners everywhere. Higher School of Economics announced an online master of data science -- a similar first from a top-10 university in Russia. A common global thread was the strong alignment to industry needs, with new online degrees equipping learners with today's most sought-after skills.
Capacity Constraints and Learner Demand Encourage Innovation
FutureLearn estimates that 14 million new students will enter global higher education every year from now until 2030. If all of them are to be educated face-to-face, 13 new universities would need to be built every week to meet the demand. This is prohibitively expensive. More universities are reimagining the delivery of higher education, offering top-notch online degree programs priced at the sweet spot where they offer tremendous value and quality. Enrollment in the University of Illinois's online iMBA, priced at a third of the cost of an on-campus M.B.A., shot up to more than 2,500 students this year. This at a time when applications to full-time, two-year M.B.A. programs have been on the decline.
An early innovator with the iMBA, Gies College of Business announced this year that it will shift investments from its on-campus M.B.A. programs to the iMBA. As universities prioritize impact and growth, digital delivery and hybrid programs that combine the best of both worlds will continue to reshape the degree classroom of the future.
Stackability Goes Mainstream
Microcredentials like MasterTrack Certificates and MicroMasters are unbundling master's and bachelor's degrees into smaller, stackable, modular credentials have made degree programs more accessible -- especially to those who are interested in pursuing a degree while they work. They are shorter and less expensive than full degrees and offer academic credit upon admission to a degree program.
The Google IT Certificate, which prepares learners for in-demand entry-level IT jobs, also took them closer to a degree, with the University of London and Northeastern University accepting the certificate as academic credit for those accepted into specific degree programs. When Louisiana State University expanded its online degree offerings in 2019, it also introduced a new "MicroCreds" program online that created a fully stackable program going all the way up to a graduate degree. These modular subdegree credentials also empowered learners to test out the product through a try-before-you-apply model, before committing themselves to a full degree.
Performance-Based Admissions Pave the Way for Inclusive Degrees
As universities look to serve a more diverse, global audience, we are seeing the emergence of performance-based admissions, which reduce barriers to access and give international and nontraditional learners a merit-based pathway into a degree program. The University of Colorado at Boulder's master of science in electrical engineering exemplified this emerging trend, where a degree does not require prerequisites or an application. To qualify, students simply need to pass a series of online courses and a summative assessment for admission to the program.
The University of Illinois also broadened access to its online master of computer science and its data science track by introducing a new Specialization that helps students prepare for a proficiency exam that strengthens their degree application. Nearly 7 percent of recently admitted students took advantage of this innovative pathway -- students who would not have otherwise been able to show that they qualified for the degree. As online degrees increasingly break learning silos, I see them offering multiple and alternate pathways for professionals to build the foundational knowledge they will need to adapt through technological shifts.
Degrees in the Workplace: From an Employee Benefit to a Talent-Development Strategy
Lifelong learning will happen at work, so universities will need to look to the workplace to find tomorrow's degree students. For most people it is too costly to quit work and move to campus, so they will earn their degree online while they work. From Starbucks to Disney, employers have banked on the value of a degree to equip and retain talent by offering tuition reimbursement or scholarships.
Increasingly, online degrees are finding a place in employers' learning and development strategies. Companies are looking to create deeper, foundational expertise as they upskill their talent. Enterprise AI provider C3.ai announced it would cover the total cost for employees to earn a master's degree in computer science online -- developing skills in-house to offset the industrywide AI talent shortage. In a step toward building advanced data science skills it needs for its business, Novartis recently decided to offer employees a fully-funded online master's degree in data science from the University of Michigan and the University of Illinois at Urbana-Champaign.
So what does the future hold for degrees? A study by Northeastern University found that 64 percent of employers believe the need for continuous lifelong learning will demand higher levels of education and more credentials. Leading universities are responding by offering degrees that are more accessible, more affordable, more flexible and have currency in the workplace. The innovations we saw in 2019 herald a future where top universities create lifelong learning partnerships that serve the needs of all learners everywhere in the world and hold the promise to end educational privilege.