You have /5 articles left.
Sign up for a free account or log in.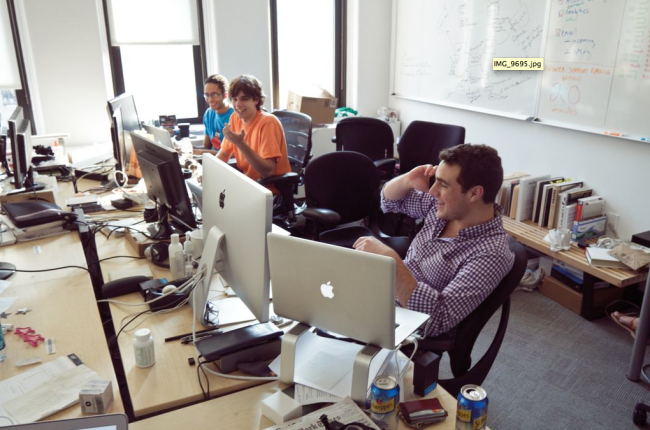 Students at residential colleges care about their environs. The grungy, college-issued couch gets a slipcover. The fluorescent overhead light gets support from a shaded table lamp. The bare walls get posters. The phrase "Feng Shui your dorm room" gets 26,900 Google hits.
When Joseph Cohen was a college freshman, he lived in a University of Pennsylvania dorm. At the same time, "I spent my life on the Internet," says Cohen. Penn has an institutional subscription to Blackboard, the oldest — and still by far most popular — brand of learning management system (LMS). Cohen would use the platform to access course readings, interact with classmates, and submit coursework. Like many universities across the country, Penn used Blackboard as a classroom away from the classroom.
There was only one problem. "Blackboard was lousy," he says. Worse, Cohen, a design junkie, had no power to redecorate. "Why is that?" Cohen says. "Why are LMS products lousy? It was something that perplexed me from the day I started school."
A year earlier, on the other side of the country, a pair of graduate students at Brigham Young University — Brian Whitmer and Devlin Daley — had been wondering the same thing.
"Coursekit and us — the beginning story is very similar," says Whitmer, who at the time was working toward a master's degree in human-computer interaction. "We were using Blackboard, and we were frustrated with it." Daley says he had used other platforms as well, including versions of Moodle and some non-LMS platforms that dissatisfied instructors were using instead of Blackboard. "It wasn't just Blackboard," he says, it was the whole LMS gamut.
Both the BYU duo and Cohen arrived at the same solution. They would build something better.
In the spring of 2008, Whitmer and Daley took a class in software entrepreneurship. By the end of the semester, they had founded a company, called Instructure, and had set to work building Canvas, an open-source LMS. (Two years later, they made their instructor in that class, entrepreneur Josh Coates, the chief executive officer of Instructure.) The Canvas source code would be freely available, and Instructure would sell hosting and support services to the institutions that adopted it. (They would not disclose pricing.) That clientele now exceeds 100 colleges, including Brown University and Auburn University.  In October, Instructure made its debut on the Campus Computing Project's yearly technology survey survey, clocking in at 1 percent of the LMS market share — nowhere near Blackboard, which still owns more than half the market among nonprofit colleges, but a promising start, and enough to attract venture funding of its own.
As Instructure was picking up momentum, Cohen and two Penn classmates were laying the groundwork for Coursekit, an e-learning platform (Cohen, who serves as CEO, dismisses the term "LMS" as outmoded) that opened late last year. The company has raised $5 million in venture capital.
In some ways, the companies are fundamentally different: Instructure markets to administrators in addition to individual instructors. Like Moodlerooms, a company that thrives on providing stability for institutions using Moodle, Instructure provides the source code for free and charges clients for hosting and upkeep. Coursekit is free, markets only to individual professors (for now), and plans to build a business model around helping students buy other things they need, such as books and homework help. But both companies believe that the learning management market, despite being mature (more than 90 percent of institutions use an LMS) is nevertheless ripe for the picking, and have convinced investors of the same.
Coursekit, in particular, is tapping into a particular business strategy that several companies and venture capitalists have bought into. That is, finally building a social network oriented around education.
"Going to school is inherently social," says Cohen. Existing learning-management platforms have social features such as chat boxes and discussion threads; Coursekit's idea is to build a platform that gives instructors the essential tools they need to conduct the online component of a course while building a network of users that reaches across the boundaries of courses and institutions. The company has no business model yet, just enough cash to buy some time to come up with one. But Cohen says he expects Coursekit to make money by promoting commercial exchanges between students on the network and the many companies that have something to sell them.
The young CEO is quick to emphasize that this does not mean selling student data or advertising space inside the platform. After all, the company's strategy is to get professors to adopt Coursekit on behalf of their students, and most professors cringe at the idea of forcing their students to use a platform that is going to turn around and sell their data profiles or spam them with advertisements (not least because of the their institutions' liability under educational privacy laws).
Other companies operating completely independently from colleges did not need to earn the trust of institutions, only students.
Chegg, which had for years operated as a textbook rental company, recently rebranded itself as a "social education platform," acquiring five companies and raising more than $160 million in venture funding. Chegg's platform is not designed as a means for professors to conduct online components of a course. But it does replicate some tools for students that have historically been the sole dominion of the LMS.
For example, Chegg has unleashed computer scripts to crawl college websites and scrape information from their online course catalogs. So if a student on the Chegg network enters in her college and course schedule, the Chegg platform often knows what books that student needs for the course, and will offer to rent them to her.
Same with homework help: through its acquisition of the tutoring service Cramster, Chegg retains a stable of subject experts in India who are on call to coach students through concepts.  Through Notehall, another recent acquisition, it offers a marketplace where students in similar courses can buy and sell their notes.
Tools to easily buy content assigned in the syllabus; a medium through which exchange of useful course materials; and interaction with fellow students around those course materials. These are all features offered by most learning management systems. But unlike LMS vendors, Chegg is not bound by contracts with institutions or instructors. And the personal information students submit to Chegg — where they go to school, what courses they take, etc. — makes the company a valuable gatekeeper to a lucrative consumer population.
"As we build our student graph and understand students' tastes, we're able to surface the things they need and want more easily," says Gib Biddle, the company's chief product officer.
Chegg is not an LMS. But from the perspective of students looking to get what they need for class and keep their college lives organized online, there is some overlap. "There is a line [between Chegg and LMS], and we'll learn more about it over next couple years," says Biddle. "Our theory is being maniacally focused on what is right for students" will make students choose to use Chegg, even if no one is forcing them to. "We're hoping that, in the long term, teachers and universities will see that value as well."
A Blackboard spokesman declined to comment on the various companies seeking some of its business.
Lou Pugliese, chairman and CEO of Moodlerooms and a former executive at Blackboard, says that despite the new entrants, he is not concerned about losing customers. Notwithstanding new platforms that might imitate some of the functions of the institutionally prescribed LMS for students and faculty, he said demand for fully integrated campus-wide platforms remains high.
Pugliese also cautions against ascribing too much credence to platforms that purport to harness social networks to improve learning. "Integrating the personal and academic worlds is still an early science that has not reached replicable scale in ways that have directly impacted student achievement," he says. "...These tools end up requiring a lot of efforts on the users' ends and there's no larger authority. These all show great promise, but it will not be the immediate catalyst for change in and unto itself, the industry may be seeking."

For the latest technology news and opinion from Inside Higher Ed, follow @IHEtech on Twitter.