You have /5 articles left.
Sign up for a free account or log in.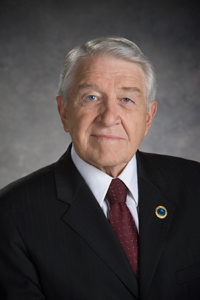 The top job for an enormous swath of American higher education is opening up. It offers the potential to play a lead role in determining the success of the national college "completion agenda," as well as a laundry list of problems daunting enough to intimidate even the most ambitious of applicants.
At the end of August, when Jack Scott steps down as chancellor of California's community college system, his successor will take on a budget with a hole of at least a half-billion dollars in this cycle alone. The new chancellor will also arrive amid a heated debate over priorities as the system, which will turn away an estimated 200,000 students this year, wrestles with a plan to for the first time restrict access intentionally and give first dibs to students who are most likely to succeed.
Many observers in higher education are pessimistic about the future for California's 112 community colleges, which serve a staggering 2.6 million students. The budget mess won't let up for at least two years. And many say fundamental changes to the system's funding structure are needed to give it a fighting chance.
Most notably, a state commission in February released a report calling for performance-based funding.
"California's community colleges hold so much promise, but are limited by the way the system is funded, by the design of the leadership structure, by outdated practices for setting policy and goals," Daniel Hancock, chairman of the panel known as the Little Hoover Commission, said in written statement.
Some reforms are already under way, and have stirred up plenty of controversy. A state task force's recommendations – including the shift in focus to first-time, full-time students – was endorsed by the system's Board of Governors. And the state's Legislature is considering bills related to some of those recommendations.
Clearly, the new chancellor won't have a boring job.
"It's a turning point," said Nancy Shulock, a member of the task force and director of the Institute for Higher Education Leadership and Policy at California State University at Sacramento. As a result, she said the chancellor position is "more likely to attract good people now than ever before."
That's a good thing, because replacing Scott will be tough. The 78-year-old is a former California community college president and powerful state senator who oversaw the state's higher education budget before becoming chancellor in January 2009. He also makes just under $200,000, which is less than half the going rate for a president of a public research university and would be a pay cut for many two-year chiefs as well.
Scott had a strong relationship with former Gov. Arnold Schwarzenegger and has close ties to the Legislature. Many say he was successful at bringing together community college voices and amplifying them in Sacramento. And as challenging as the last three years have been for California's two-year colleges, they probably would've been worse without Scott at the helm. To wit, the University of California and California State University systems absorbed proportionally bigger cuts.
One of his biggest achievements was 2010 legislation that made it easier for community college graduates to attend a California State University campus – ensuring admission to in-state community college students who earn a newly established associate degree, which is designed for transfer.
He also played a strong role in prodding the task force to the finish line, which wasn't easy.
"It really faltered in the beginning," Shulock said, noting that Scott and the task force's chairman "were masterful at moving it along."
Scott will continue to battle budget cuts and push the system's legislative goals until his last day on the job, which, not coincidentally, is also the end of California's legislative session.
"He will be there to drive that home," said Scott Himelstein, president of the Board of Governors.
Stronger System Office?
In an interview, Scott acknowledges that the chancellor role can be frustrating. But he's optimistic about the future because of the effort started by the task force report. "No institution can succeed if it remains static," he said.
Scott insists he's not stepping down as a result of the budget crisis. He's just ready to retire, telling the Los Angeles Times that "I'd prefer a less demanding life." Those demands include dealing with his house, which was severely damaged in a Christmas Day fire (no one was injured).
Several California insiders praised Scott for getting the ball rolling for needed changes to the way California's community colleges have long operated. He has said often that because of the "state's disinvestment in higher education, access is being rationed at the community colleges in ways that are unfair and harm entering students." That mantra appears to be sinking in, although many faculty members do not agree with Scott or the task force's recommendations.
Scott has done a good job of organizing the system to take the lead on fixing its own problems, said Eloy Oakley, president of Long Beach City College, rather than just waiting for lawmakers to do the job. The push was coming anyway, Oakley said. "He recognized it. He did something about it."
The state Legislature created the task force in 2010 with a bill requiring a look at alternative funding structures. The original legislation, authored by Sen. Carol Liu, a Democrat, had called for performance-based funding.
Scott said the state's community colleges do not want performance funding, at this point. But legislative interest in that approach remains strong, and got a boost from the Little Hoover report. Observers agreed that the system's financial structure will be an increasing focus of reform-minded state leaders.
The task force created score cards by which colleges will be rated for their performance on student outcomes, which Scott said brings "transparency that will set the stage for other reforms."
Liu, who chairs a budget subcommittee on education, in a statement called Scott a "friend, a mentor and a colleague," praising his efforts to "advance student success." Scott's successor probably won't have the same ties to Liu and her colleagues in Sacramento. But for what it's worth, the community college system will retain a behind-the-scenes ally in the retired Scott. "I have no intention of removing his phone number from my speed dial," Liu said.
The next chancellor's job may come with some advantages Scott hasn't had, thanks to the task force's call for a strengthened central office. The panel recommended more funding for the system headquarters, "if necessary through alternative means," and enhanced authority like being able to require more regional coordination between colleges. Currently, the system is relatively decentralized. For example, the Board of Governors lacks the authority to appoint vice chancellors and the central office cannot issue some regulations without the approval of the state's Department of Finance.
Faculty unions have fought what they see as a power grab. But some community college presidents say more statewide coordination on budget policy is sorely needed, and can be achieved without threatening decision-making at the college level.
The chancellorship isn't the only open leadership position in the system. While observers said Scott has built a strong team of administrators in the central office, at times presidencies have been tough to fill. Currently, of the system's 138 chancellors, presidents and superintendents, 18 are interims and another 11 have announced that they will retire this year, according to the Community College League of California.
Those open jobs are undeniably important – after all, the system enrolls 25 percent of American community college students and one-eighth of all college students. And the next couple years are likely to include more than a few big decisions by the chancellor and campus presidents.
"Those of us that are still here, that's why we're here," Oakley said.