You have /5 articles left.
Sign up for a free account or log in.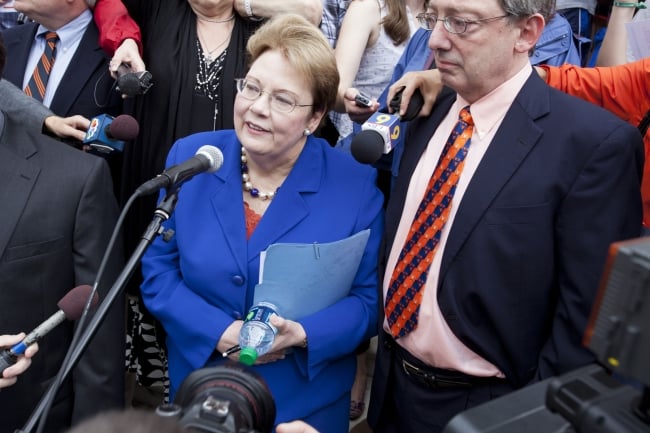 After a highly unusual -- arguably unprecedented -- series of events over the past two weeks, the University of Virginia's Board of Visitors will meet on the campus Tuesday to reconsider the controversial forced resignation of President Teresa Sullivan.
The official notice states that the board will meet "to discuss possible changes in the terms of employment of the President," but media outlets including The Washington Post and The Associated Press indicate that board members have been collecting votes to reinstate Sullivan. But a statement released Thursday evening by Helen E. Dragas, the board's rector (or chair), called that outcome into question.
In her statement, Dragas, whom reports put at the center of the effort to remove Sullivan, goes into detail about the problems she thinks the university faces, states that she perceives a lack of strategic vision by both the university and Sullivan, calls into question Sullivan's leadership style, and refers to the "next president" of the University of Virginia.
The Story So Far:
Friday, June 8: Board of Visitors Rector Helen E. Dragas and Vice Rector Mark Kington meet with President Teresa Sullivan on campus and tell her they have enough votes to end her presidency.
Sunday, June 10: The Executive Committee of the Board of Visitors meets and announces that Sullivan will leave the presidency on Aug. 15.
Thursday, June 14: Executive council of the Faculty Senate passes a vote of no confidence in the rector, vice rector and board.
Sunday: Full Faculty Senate, by an overwhelming majority, approves vote of no confidence in rector and vice rector.
Monday: Faculty Senate leaders meet with Dragas and call for her and Kington's resignation, for the board to delay its decision on an interim president, for Sullivan to be reinstated, and for a faculty member to be appointed to a voting position on the board.
Board of Visitors meets at 3 p.m. to appoint an interim president. A group of roughly 2,000 faculty members and students protests the meeting. Sullivan makes a statement to the board. Meeting wraps up 2:30 a.m. Tuesday with the announcement that Carl Zeithaml, dean of the McIntire School of Commerce, will become interim president on Aug. 16.
Tuesday: Vice Rector Kington submits his resignation to Gov. Robert McDonnell. The university releases a series of e-mails between Kington and Dragas.
Wednesday: Zeithaml holds a press conference in which he criticizes the process that led to Sullivan's departure and his appointment. Says he wants to restore trust between board and the campus community when he takes office Aug. 16. Faculty leaders continue to call for Sullivan's reappointment.
Thursday: Board announces meeting for 3 p.m. Tuesday.
Important Upcoming Dates:
Tuesday: The board is meeting to discuss possible changes in the terms of employment of the president. The board will also likely elect a new vice rector, who will assume the rectorship when Dragas's term ends.
June 30: Dragas's term as rector ends.
July 1: Gov. Robert McDonnell will make a total of five appointments and/or reappointments to the board. Dragas is one of two members up for reappointment. Three other seats, including the seat vacated by Kington, will be filled by new members.
Aug. 15: Barring action before this date, Sullivan will step down as president. Zeithaml will take office the next day.
Tuesday's meeting is likely to bring to head a series of almost surreal events that have transpired at the historically stable university since Sullivan's resignation; taken together, the goings-on have put Sullivan in a much better position than she was in 12 days ago.
The university's board has faced significant opposition from faculty members, students, alumni and some lawmakers; seen the resignation of one board member associated with the effort to remove Sullivan; endured a 12-hour meeting that led to the appointment of an interim president who may never take office; confronted the release of e-mails detailing the effort to remove Sullivan; and watched the national academic community rally around the president.
(UPDATE: The following sentence was added following the publication of the original article.) On Friday, Carl Zeithaml, dean of the university's McIntire School of Commerce who the board selected earlier this week to serve as interim president starting Aug. 16, said he was "suspending any further negotiations with the board" regarding his status as interim president, as well as his activities associated with the interim role until the board clarifies Sullivan's status.
If the board decides to keep Sullivan as the university's president -- and if Sullivan agrees to stay -- the move would be unprecedented, particularly at an institution with the profile of U.Va. Presidents rarely get second chances. Sullivan and the board would face major looming questions about how they will interact, what will happen to various administrators who took positions (for and against Sullivan and board members) over the past weeks, the strategic direction of the university, the pace of change and how the university will confront challenges.
While the reappointment of Sullivan would make most faculty members and others happy, it will also be seen as an admission -- at least by some members of the board, a board that until this month was regularly viewed as one of the most responsible in the country -- that they mistakenly acquiesced to the dismissal of a president without a good enough reason, and that they don't have confidence in the board's leadership.
The last time the board met, the meeting lasted for close to 12 hours. Based on the conflicting statements out of the board Thursday and the seismic shifts that seem to be happening daily in Charlottesville, the meeting on Tuesday could be another protracted showdown.
What the Vote Means
In some sense, the board's vote on Tuesday will be a referendum on the speed of the changes the university will undergo over the next few years. That decision, given U.Va.'s prominence among research universities, particularly public flagships, could reverberate through the sector.
In her statement Thursday, and in previous statements about Sullivan's resignation, Dragas took issue with how the president approached change at the university, saying U.Va. needed "bold and proactive leadership."
"The bottom line is the days of incremental decision-making in higher education are over, or should be," she said in her statement Thursday.

That statement contrasts sharply with one Sullivan made to the board Monday, at the meeting in which the board considered the appointment of the interim president.
At that time, Sullivan accepted the mantle of "incrementalist," saying that slow change with campus buy-in is "the best, most constructive, most long lasting and beneficial way to change a university." While Dragas referenced the advent of online learning in statements surrounding Sullivan's resignation and in the board's e-mail flurries before Sullivan was forced out, the board has provided no evidence that Sullivan was unwilling to explore online education. Sullivan did say in her remarks Monday that she did not view it as a panacea for the university's budget problems.
Sullivan also said in those remarks that she had undertaken significant changes in her two years at the university's helm that would set it up to deal with the major challenges it would face in the near term, specifically a new budget model that would give individual schools the authority to retain most of the revenues they generate – a strategy designed to incentivize revenue generation and strategic cuts at a decentralized level.
Most in higher education, particularly faculty members, would agree with Sullivan about the pacing of change. But an increasing number of boards and outside parties, as well as some members of the academy, say that universities should be acting more quickly to address the changes they see on the horizon.
While Tuesday's meeting with be much more than a clash of personalities between Sullivan and Dragas, whether both can remain in their positions at the university, given their divergent views about what should be done, is unclear. According to The Washington Post, Sullivan said Dragas's resignation would be a condition of her remaining as president.
Change in Power
The board's handling of the decision has widely been condemned as a public relations disaster, something board members have admitted. "In my view, we did the right thing, the wrong way," Dragas said in her statement Thursday.
Numerous newspaper editorial boards, as well as Katie Couric, the television host and one of the university's most high-profile alumni, have condemned the board's actions.
At the same time, Sullivan has seen her stock rise considerably since her ouster. Before she released statements to the board Monday, she had not made any public statements on her resignation, a point she stressed in her remarks Monday. "The current reaction by faculty, staff, and students on and off Grounds, and among the donors and alumni to my impending departure, is not something I have stirred up," she said. "I did not cause this reaction in the last ten days, but perhaps the reaction speaks to the depth of connections I have made in the last 22 months."
On Thursday, Sullivan released a statement calling for the campus to be civil in the wake of her ouster. "I know that emotions are running high on Grounds, but there is no excuse for abusing anyone with whom you disagree," she said.  "Let me say in particular that Carl Zeithaml [the man appointed as interim president, who has been vilified in some circles] add okay? dl has been an exemplary member of the University community, and he and his family in no way deserve abusive language. The Board of Visitors is made up of dedicated volunteers, and abusive behavior toward them or anyone else is destructive of our community's values."
Several faculty members on campus Monday admitted that before the board announced Sullivan's resignation, they were indifferent to their president. But as details trickled out about how the board went about making its decision, and as they looked into Sullivan's background and action, they began to rally around her.
On Thursday, Sullivan gained even more support. The deans of the university's colleges and schools, the dean of admissions, and the university librarian penned a letter to the board calling for Sullivan's reinstatement. The American Association of University Professors also released a statement reiterating its call for the board to rescind its decision to remove Sullivan from office.
Challenges
In her statement Thursday, Dragas listed 10 challenges she sees as "very high hurdles that stand in the way of our University's path to continued success in the coming decade": 1) Decreases in state and federal funding, 2) the changing role of technology, 3) a rapidly changing health care environment, 4) a heightened pressure for prioritization of scarce resources, 5) issues of faculty workload and the quality of the student experience, 6) declining relative faculty compensation, 7) philanthropy, 8) research funding, 9) accountability for quality and productivity, and 10) the increasing importance of a proactive, contemporary communications function.
She also decried the lack of strategic planning by university officials. "Believe it or not, the last time the University developed a concrete, strategic plan was a decade ago," she said. "We deserve better -- the rapid development of a plan that includes goals, costs, sources of funds, timelines, and individual accountability."
But in a strategy memo Sullivan wrote to Dragas and Kington, dated May 3, Sullivan makes clear that she was "explicitly instructed not to do a strategic plan for the academic program."
"The university had already conducted a series of strategic plans, and the faculty were said to be fatigued and discouraged by the lack of follow-through on those plans," she said.
With the exception of the emergence of U.Va.'s competitive peers in online education -- including EdX and Coursera, two high-profile efforts by major research universities -- most of the issues on Dragas's list were on the table two years ago when the board, including Dragas, voted unanimously to approv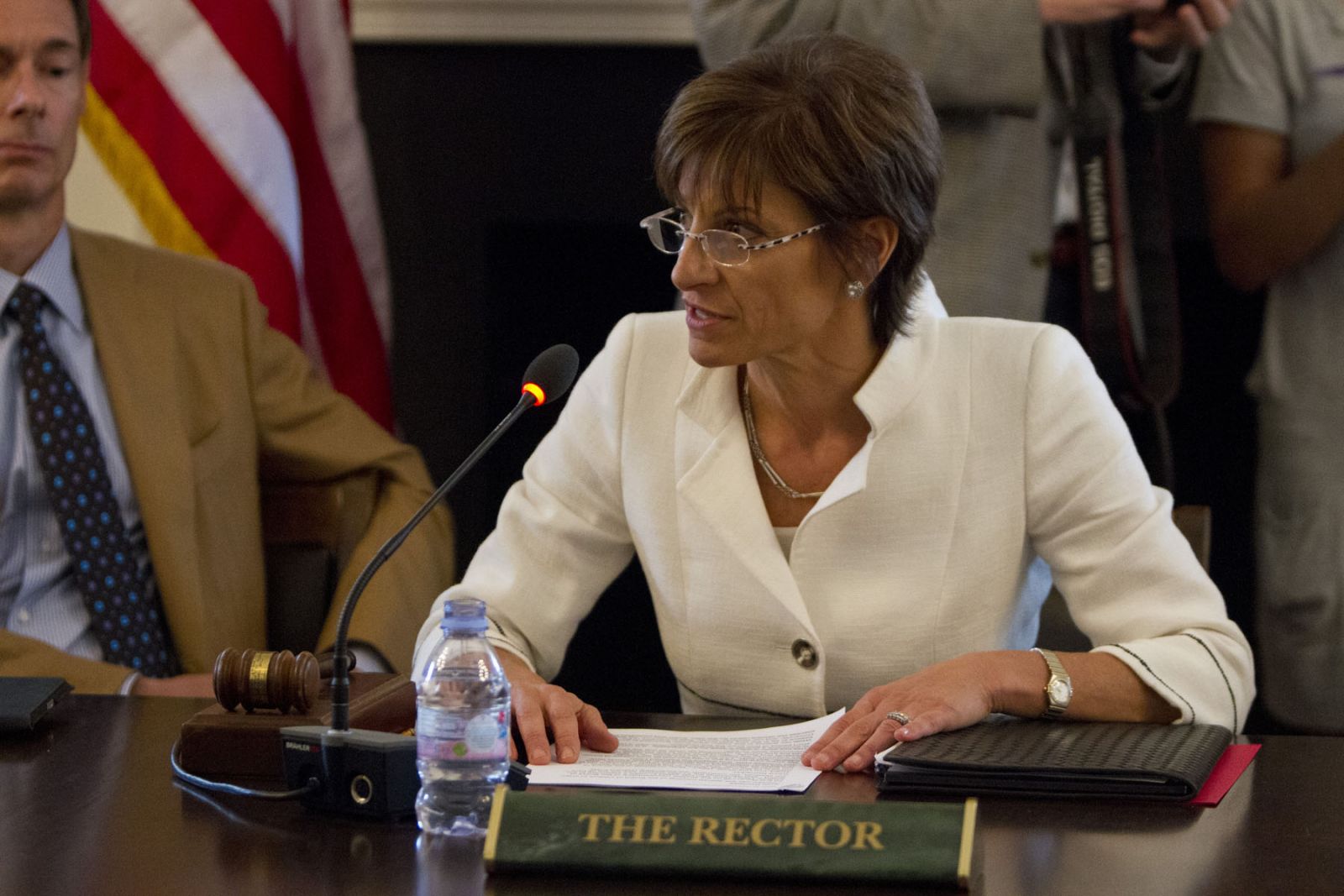 e Sullivan as president, so it is still unclear exactly why the board picked this month to remove her.
The board has not provided evidence that Sullivan was unwilling or unable to tackle any of the issues Dragas laid out in her statement Thursday, or that its members communicated their concerns to Sullivan.
Who Wants This Job?
Even if the board wishes for her to stay on as president, Sullivan has not said publicly whether she would want to remain in the role, though sources close to Sullivan said she is still interested in taking the job, provided there are significant changes in how the board interacts with her.
Given the fact that national attention has zeroed in on Charlottesville, the university and Sullivan's actions in office would probably be highly scrutinized.
There would also be major questions about how Sullivan would interact with a board that forced her to resign and probably would not vote unanimously to reappoint her. But there is likely to be a much different board in several weeks. Mark Kington, the vice rector, resigned Tuesday. Dragas's term as rector ends on June 30, and there is a chance that the governor will not reappoint her to her board seat on July 1. One other member is up for reappointment, and three vacant seats will be filled.
John Thelin, a higher education historian at the University of Kentucky, said he could not remember a similar move to reinstate such a high-profile president under such disputed circumstances. He also said Sullivan would face significant challenges if she were to step back into the role, and said it would be wise to bring in outside consultants to work with Sullivan and the board on communication and governance issues.
Even if all that got worked out, he said, there would be a good chance that the situation would deteriorate after a while. "There's going to be this initial period of good will," Thelin said. "But that euphoria will pass. And then you're in a very, very hard situation to govern."
Presidents have to make controversial decisions that can alienate campus constituencies. If Sullivan were reappointed, for instance, she would have to confront the issue of whether to push for a faculty member to be appointed to the board, an issue the faculty has been championing since Monday. Pushing such a move -- which would be highly unconventional among universities -- would put Sullivan outside what are accepted best practices. Going against such a move could greatly upset faculty members who might feel betrayed by the president they rallied to support.