You have /5 articles left.
Sign up for a free account or log in.
Potential "disruptions" to higher education typically portend a diminished role for the academy in workforce training, as students ditch college for, well, something else. But one of the most promising alternative credentialing movements – the manufacturing industry's system of stackable certificates – has actually led to a deeper, more symbiotic relationship between employers and colleges.
The growing partnership has also given rise to a blended model of higher education, where the manufacturing industry takes the lead on standards for competency-based education, with a helping hand from colleges, which then provide the traditional degree path.
For example, Harper College, a community college in Illinois, last month launched a program where students can earn industry-endorsed certificates in manufacturing. And 54 companies have agreed to hire students from the two-year college as paid interns, as soon as students complete the first level certificate, which, at 16 credits, can be earned in less than four months.
If Harper students thrive in their internships and are able to progress in their manufacturing careers without earning more credentials, everybody wins (except for the college's graduation rate). But even better if students decide to continue their educations and work toward more advanced certificates or degrees.
This hybrid approach, with both employers and colleges at the table, is a promising way to "bridge the worlds of workplace competencies and postsecondary education," Louis Soares, a senior fellow at the Center for American Progress, wrote in a recent report.
Going It Alone?
That's not to say that manufacturers and colleges always see eye-to-eye. In fact, many companies feel higher education has failed to create a pipeline of skilled workers. An estimated 600,000 manufacturing jobs are currently unfilled.
"We're dealing with an industry that has lost a lot of faith in working with education," said Jacey Wilkins, a spokeswoman for the Manufacturing Institute, which is affiliated with the National Association of Manufacturers. In particular, Wilkins said manufacturers have been frustrated with the dismantling of vocational education.
So the institute decided to take matters into its own hands, and came up with standards for the education of manufacturing employees. The group created its manufacturing skills certification system in 2009. The "stackable" credentials include four tiers of competency for applicants and veteran employees to demonstrate, ranging from basic aptitude – like showing that they can get to work on time and work in teams – to proving that they have high-tech skills in specialized manufacturing fields, like machinery or medical technology.
The certifications are stackable because they build on each other, with each level presumably having value but also leading to a next step, which can in turn lead to promotions on the job.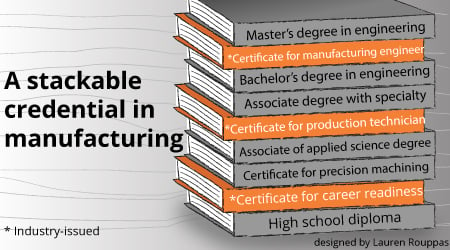 Plenty of praise rolled in for the certification system, including from President Obama. But there's a problem: manufacturers themselves have been slow to recognize the certification, relying on the old standby of college-issued certificates and degrees, many of which do not address the key competencies needed in manufacturing jobs.
That's where higher education, most notably the University of Phoenix and a growing number of community colleges, has stepped in to give the stackable credential system a fighting chance to become widely accepted.
The institute's stackable credentials are designed to match up with curriculums at colleges (as well as high schools at the entry level). And in recent months the industry has signed up higher education partners to strengthen those curricular links.
Phoenix, for example, last year announced a new bachelor degree track -- the bachelor of science in management with a concentration in manufacturing sector -- that incorporates competencies from the industry's credential system. Soares calls the partnership between Phoenix and the institute a major "step up" in the development of stackable credentials.
Creating the new curriculum to align with the certification system wasn't easy, said Tim Welsh, senior vice president for Phoenix's national industry strategy group. It required a substantial financial investment for the university to put faculty members and administrators to work building competencies into the degree program, in a way that met manufacturers' needs. As result, Phoenix needed to be sure the final product had value, for both students and employers.
"For us, it keeps the University of Phoenix relevant to the needs of industry," Welsh said. "We really do want to get this right."
Early returns have been positive, with manufacturers backing the degree. And Phoenix doesn't plan to stop with one industry. Welsh said the university is planning to work with national associations for other industries to create similar tailored degrees, with retail, energy, defense and health care as possibilities.
16-Credit Certificate
There are 80,000 unfilled manufacturing jobs in Illinois alone, a striking number for a state that has been walloped by the recession's lingering effects.
That's why Harper College recently sat down with local manufacturers to look for an answer.
"You've got to find local solutions to these problems," said Kenneth Ender, president of the college, which is about 30 miles northwest of Chicago.
Part of the reason companies can't find applicants who are prepared to enter manufacturing is that relatively few college students are interested in the industry, often because they have outdated ideas about it and think the jobs are dirty, menial and probably dead-ends. So the college decided to create a stackable, and portable, system of credentials where students can give manufacturing a whirl and "find out if they really like it," Ender said.
While manufacturing may be a tough sell, the promise of a paid internship helps. College officials worked with industry partners to create an entry-level certificate that gave students enough safety skills and a basic idea of technical measurement and quality control, including some mathematics, so that they could go to work as interns after only one semester of coursework.
The college also designed several more-specialized certificates in four fields: mechatronics/automation, precision machining, metal fabrication and supply chain management. The just-launched program includes at least two certificates in each specialization, which range from 6 to 15 credits to earn.
There are two further layers in the "stack." Students can earn a manufacturing-oriented associate of applied science degree from Harper, or transfer to a four-year institution to pursue a bachelor's degree, perhaps in engineering. The idea is that many students will continue to work in manufacturing jobs while earning their degrees. And Harper has booked articulation agreements on the manufacturing pathway with both Northern Illinois University and Roosevelt University.
Harper's manufacturing credentials were created to match up with the industry's competency-based skills certification system. Manufacturers served on panels at the college and contributed to the curriculum's design. Ender said some of the companies were not aware of the industry's own stackable system.
"They endorsed it and were amazed that they didn't know about it," he said.
'Part of the Supply Chain'
Phoenix and Harper are not alone in partnering with the manufacturing industry. Wilkins said about 115 institutions, mostly two-year colleges, have incorporated elements of the institute's system into academic programs.
"We're talking about system change here. That doesn't happen overnight," she said. "Eventually we'll get to the point where this is the standard for manufacturing education."
But the sluggish start for the system has shown that the business sector probably needs higher education to get an alternative credential off the ground. As further proof, few industries are more geared to going it alone than manufacturing.
Information technology and certified financial planning also are industries where companies and associations issue credentials. But even those two fields have made moves toward credentialing pathways in higher education. Phoenix, for example, recently inked an agreement with Cisco, the computer networking company, to create the first associate degree program that will also serve as a Cisco networking certificate. And a spokesman for the Certified Financial Planner Board of Standards said his organization had seen a rise in the number of bachelor and advanced degree programs that are designed to train financial planners.
Observers said the ideal outcome of partnerships like those between the manufacturers and colleges is degree programs that are better geared to jobs, and that test competencies that are vetted by employers.
Welsh said Phoenix increasingly sees itself as "part of a supply chain" of talent for the broader economy, adding that "there's so much demand out there."
And supply chains don't work without suppliers, which, when it comes to training workers, tend to be colleges.
"We're operating in a society that still values college," Wilkins said.