You have /5 articles left.
Sign up for a free account or log in.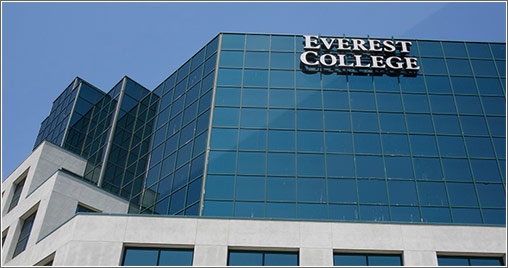 Wisconsin is shaping up to be an important front in the battle over for-profit higher education, with a likely crackdown in Milwaukee and a brewing debate over tighter regulations at the state level.
Milwaukee's city council is set to vote this week on a proposed ordinance that would require for-profits to jump through new hoops to receive city money, including real estate subsidies for private developers that work with the sector. The ordinance, which is likely to pass, follows the shuttering last fall of a controversial Everest College campus, which went belly-up less than two years after opening its doors.
Meanwhile, the state agency that oversees for-profits is mulling the creation of "performance standards" for colleges that operate in the state – a rare move. That process is ongoing, and a committee the board pulled together is unlikely to submit proposed regulations until the summer. But last September the board formally endorsed a plan to "establish minimum standards for student program completion and graduate placement in employment rates."
That sounds a lot like the U.S. Department of Education's "gainful employment" rules, which remain locked in legal limbo. It also resembles some of the strong language the Milwaukee council uses in its proposed ordinance.
For-profit higher ed providers enroll disproportionately high numbers of "low-income and first-generation college students who have little familiarity with the college admission and financial aid processes and are often unaware of the opportunities available to them at public technical schools and universities," the ordinance states. The colleges often "prey" on these students by "promising quick degrees or certificates and high-paying jobs in return for enrolling at high tuition rates financed by high-interest loans."
Taken together, it sounds like for-profits will face a chilly welcome if they try to expand in Wisconsin. And the state is one of several that have increasingly pursued tighter rules for the sector. The attorney general in Massachusetts, for example, recently expanded an investigation into for-profit colleges' lending and recruiting practices.
The high-profile Everest meltdown has contributed to some of the regulatory momentum in the state, observers said. But the statewide for-profit board's push for performance standards began before that controversy heated up. And Everest isn't the only for-profit to pull up stakes in Milwaukee.
Kaplan College, Sanford-Brown College and the University of Phoenix all announced last fall that they, too, would close campuses in the city's metropolitan area, according to the Milwaukee Journal-Sentinel. (Phoenix, however, still operates a learning center in the city.) A national accreditor had placed Sanford-Brown, which Career Education Corp. owns, on probation for poor job-placement rates. Kaplan decided to close its Milwaukee campuses because of declining enrollment, according to the newspaper. Much of for-profit higher education has seen slumping enrollments and revenues of late. (Note: This paragraph has been updated from an earlier version to correct an erroneous reference to Kaplan University.)
Wisconsin's for-profit oversight agency, which is dubbed the Educational Approval Board, signaled in a recent document that the continued viability of for-profit campuses is a concern.
"Given the rapidly changing landscape of postsecondary education, the question of whether a school will be here tomorrow is particularly relevant," according to the board.
The board also said its approved for-profit institutions would increasingly compete with nonprofits, including the new competency-based program being developed by the University of Wisconsin System. For a for-profit to stay competitive, it needs to produce results in job placement for graduates, the board asserted.
What Went Wrong in Milwaukee?
Nobody disputes that Everest made mistakes in its messy, short-lived stint in downtown Milwaukee -- not even the college's owners.
Job placement rates and graduation rates were unacceptably low at the campus, said Kent Jenkins, a spokesman for Corinthian Colleges, Inc., which owns the 90 Everest campuses as well as the Heald College and WyoTech chains.
Everest offers associate and bachelor's degree programs in health care, business administration and information technology, among others. But roughly half of the students who enrolled at the campus dropped out by last fall, and only a quarter of graduates found jobs. Corinthian's overall job placement rate (in graduates' field of study) is 68 percent, Jenkins said.
"When we came to Milwaukee we made a long-term, good-faith investment," Jenkins said. "We just fell short."
To atone for a failure the company called "unprecedented," Corinthian will pay off the loans for all of the students who attended the Milwaukee campus. That move, which will cost Corinthian an estimated $3.7 million, won praise even from critics of for-profits in the city.
One of those critics is Michael Rosen, a professor of economics at Milwaukee Area Technical College and president of the college's branch of the American Federation of Teachers, a faculty union. Rosen and the union fought the creation of the Everest campus, which is located a couple of blocks from the technical college's main campus. The deal was controversial in part because the city allowed a private developer to sell $11 million in bonds in the city redevelopment authority's name to help finance the renovation of abandoned buildings for the campus. That approach will no longer fly in Milwaukee if the ordinance passes.
"We tried to stop it, but the train had left the station," said Rosen.
Although some of the union's opposition may have been self-interested -- Everest's programs sought to compete with the two-year college -- Rosen said it was not a surprise that the for-profit institution produced poor results. Other institutions had similar degree programs in place before the campus was approved. And the city's mix of high poverty and a tight economy contributed to the campus's rapid growth, and demise.
"They recruited a lot of people who were not prepared to do college-level work," said Rosen, who added that being right about the Everest campus "is of little solace."
The Milwaukee location is one of several that Corinthian began shutting down last year, including four that were struggling financially in California. By last spring, Everest had already dismissed two of its presidents in Milwaukee. And the college was apparently not confident that it could right the ship.
Everest is "teaching out" the Milwaukee campus, or allowing students to finish some of their studies and helping them to find jobs. Only 20 students remain on campus, Jenkins said, and they will all leave this month.
"We are closely going over what happened there," he said, to make sure it doesn't happen again.
Jenkins acknowledged that Milwaukee is a difficult market for job placement. But he said Everest has done much better in similar cities. "We have operated successfully in very challenging environments before."
Rosen said he supports the proposed city ordinance that would make it harder for a for-profit to set up a new campus there.
"It both protects students and the taxpayers," said Rosen. "This is at least one step in consumer protection."