You have /5 articles left.
Sign up for a free account or log in.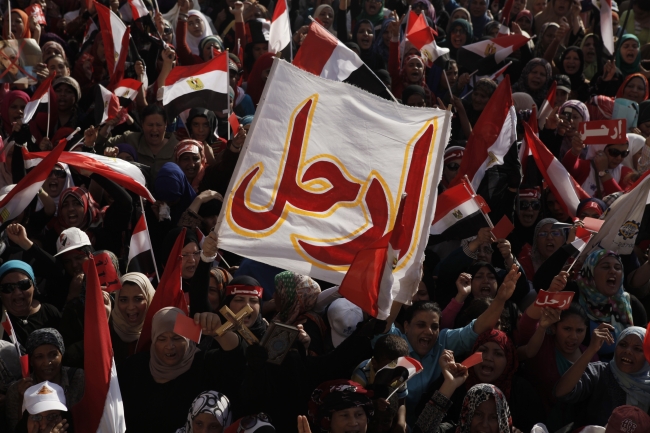 Administrators of American study abroad programs are closely watching the uprising against Egyptian President Mohammed Morsi to determine whether they can safely continue their programming in Egypt or whether the country they only recently returned to will become a no-go zone once again. A student at Kenyon College who was in Alexandria on a summer internship teaching English to children was fatally stabbed on Friday while observing a protest.
"We will not send students there unless we are reassured that the situation has stabilized enough for students to be safe there," said Michael Geisler, the vice president for Language Schools, Schools Abroad, and Graduate Programs and a professor of German at Middlebury College, which runs a study abroad program based at Alexandria University. Middlebury's program is not currently in session, and a final decision about whether to offer it in the fall semester has not yet been made. 
"We have a mission to give our students a global education but we also have a mission to make sure our students are safe," Geisler said. "Trouble can happen in any country at any time but when you have a place like Egypt where you know that things are out of control, you need to be pretty reassured that you can safeguard the health and safety of foreigners in that environment. For the moment I cannot say that is the case but we also know that the situation in Egypt can change significantly within a few weeks."
"Fortunately, we have some time to make our decision. We tell all of our students to buy travel insurance, so we can wait on that decision as long as we can."
The U.S. Department of State issued
a travel warning
against nonessential travel to Egypt on Friday due to concerns about social and political unrest. Universities that currently have students in Egypt largely are reporting that they are "sheltering in place." For example, the University of Minnesota-Twin Cities has four graduate students in Cairo who have committed to remain in their apartment (which is located at a safe remove from the protests) until further notice.
"We're monitoring the situation and staying in close contact with the students," said Stacey Tsantir, the university's director of international health, safety and compliance. "They have not left their apartment since Friday, and that's one of the reasons we were willing to let them stay. They agreed that they would not go to the protest; they agreed that they had enough food to sustain themselves for a week or two."
"We've seen a shift in a lot of institutions' abilities to monitor and assess and react to these environments," said Julie Anne Friend, the associate director for international safety and security at Northwestern University, which does not have students in Egypt this summer. "We're not seeing the mass departure from Egypt that we saw with the revolution [in 2011]. What we're seeing is a lot of sheltering in place."
"I think there are a couple of reasons for that. One is the last time this happened it was February, so it was the middle of the spring semester when there were certainly more students involved," she said, noting that many of the students there in the summer are likely graduate students conducting research. "There's generally a greater tolerance of risk and a little bit of latitude given to graduate students, but even with the undergraduate programs, we all got schooled [in 2011] about how to be prepared for these situations." 
"Because the flights are already operating close to capacity, trying to get people out through commercial air in some of these situations might not be a viable option, so if your [insurance] provider is authorizing an evacuation, they're either doing it by buying up seats for you on commercial air or they're chartering an aircraft," she said. "But if their take is this is going to blow over and they're not in this case conferring the benefits, as they would say, it's up to us to be ready to shelter in place. I would say that institutions are a lot better-prepared and they've been better at preparing their students or their faculty or staff to manage these situations."
The American University in Cairo's Tahrir Square campus will remain closed Tuesday, but its new campus on the outskirts of Cairo (in "New Cairo") will be open for a half-day, until 1 p.m. AUC reports that it has 95 American students registered this summer and that none have asked to be evacuated (and their parents haven't asked either).
However, Kara Amoratis, the global operations coordinator and international risk analyst for Pennsylvania State University, said that two Penn State students enrolled at AUC this summer have flown home of their own accord, having successfully booked passage on commercial flights. Amoratis said that a student who is planning to go to Egypt in the fall will now be required to petition to attend the program given that the State Department travel warning is in place. (Many institutions prohibit study abroad to countries with State Department travel warnings, although some have a process in place through which exemptions can be requested.)
"It's just a shame that this is happening again," Amoratis said. "It's one place that I feel like it's important for people to be able to travel to and we're at this place again we're saying, 'Can we really send them there?' "
Opportunities for study abroad in the Middle East have constricted since 2011, as Damascus, previously a popular location, is no longer a safe possibility given the Syrian civil war, and the situation in Egypt is once again unstable.
The American University of Beirut has reported
an increase in international enrollments, and American students who likely would have gone to Egypt in the past have been re-routed to other destinations in the Middle East, including Israel, Jordan, Morocco and the United Arab Emirates. In the event that it needs to cancel its fall programs in Egypt, the Institute for Study Abroad, Butler University plans to offer spaces to affected students on its programs at Hebrew University, in Israel, or the American University of Sharjah, in the U.A.E.