As seemingly final season begins, Boston University's wrestling team fights to save a program that was cut after the athletics department added two others. 
BU Today/Boston University
There already would have been plenty riding on the Boston University wrestling team's Dec. 6 home opener against Pennsylvania State University. But nearly nine months after its athletes and coaches abruptly learned that this season would be their last, the match is more than an opportunity to upset the top-ranked team in the country.
It's the beginning of the end of a last-ditch and seemingly ill-fated attempt to save the half-century-old program.
Boston's 25 wrestlers and their coach, Carl Adams, were shocked last spring to learn that although the team had sent athletes to the National Collegiate Athletic Association tournament in 31 of Adams's 32 years, administrators had decided the program was underperforming and no amount of money could bring it up to snuff. It was April 1, not long after Boston had added men's lacrosse and women's lightweight crew to its list of sponsored sports.
"We kind of all thought it was a joke at the beginning," said Peter Ishiguro, a junior on the team. "Unfortunately, it wasn't."
Sometimes, when colleges cut sports for financial reasons, they leave reinstatement as an option if the teams can raise enough money to keep things going. (That's how the University of Maryland's men's outdoor track and field team is still competing.) But Boston administrators -- who coaches, athletes and alumni say neither sought their consultation nor gave any warning of the decision – have left no such option on the table.
"They seem to be pretty dug in," said Adams, the head coach. "However, there has been a lot of pressure from alumni."
Administrators said the team wasn't competitive enough to be viable, and the financial cost to revive the program through additional staff and facility enhancements would have been too steep. A university spokesman declined to comment beyond an article published in the official campus publication BU Today. 
In that article, Michael Lynch, assistant vice president and director of athletics, notes that Boston hasn't won a wrestling championship in 15 years. Last year, the Terriers finished the season 9-9 over all and 2-4 in-conference, and placed fourth out of seven in the Colonial Athletic Association championships.
"We have not been able to compete at the level we would want to," Lynch said. "It's something that we feel we needed to do to move the department forward in the best possible manner."
In another BU Today article, university officials say a $3 million deal with New Balance to help fund a new sports field is "making it possible to bring field hockey back to campus and to add varsity sports, notably a men's varsity lacrosse team."
"The field will benefit not only our student-athletes and the greater BU community, but it will allow us to expand our very successful NCAA Division 1 athletics program," President Robert A. Brown said at the time.
Wrestling proponents say the only way to give the university the success it wants is with what the university won't give them: more money. The team has been using the same small facility for 40 years and makes do with a single coach and a recruiting budget that's a third of its competitors, Adams says. (The program's total budget is around $187,000.) Their lockers are hand-me-downs from the field hockey team.
Of all sports, wrestling boasts the highest percentage of first-generation students nationally, according to the NCAA. (Lacrosse players, on the other hand, tend to come from families that don't qualify for need-based aid -- in fact, the sport has become a recruiting tool at colleges looking to lure such students). Adams also takes pride in his team's academic performance, which has a Graduation Success Rate of 82 percent, according to the most recent NCAA data. More recently, Adams says, the rate has averaged 100 percent.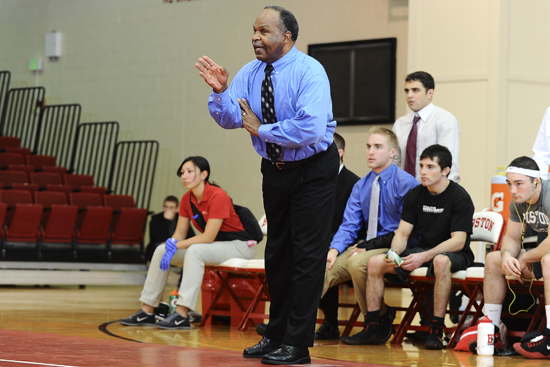 "The beauty of the sport of wrestling is it's a very diverse community. It accommodates all colors, it accommodates all sizes," Adams said. "That's what college is all about. You're developing people. It's not about wins and losses."
The team and its supporters have been driving this point home. In a meeting with Lynch and Senior Vice President Todd Klipp, alumni invoked the university's mission statement, which preaches "the value of diversity" and higher education that is "accessible to all."  
Heading up the crusade to "Save BU Wrestling" is David Leonardo, a restaurant developer who was on the team from 1992-97.
"When you get rid of a sport like wrestling," Leonardo said, "you're taking away an opportunity for kids. Kids like myself who come from low-, middle-income families, who would never have had an opportunity to attend a school like BU."
Despite the apparent finality of the decision, alumni formed a strategic plan that includes raising $400,000 by February (enough to keep the program running for another two years) and $4 million by 2024. However, those projections include an $800,000 endowment that the program's late benefactor, Orin Smiley, instructed his wife to leave for him. Since the program was cut, alumni are no longer counting on that money.
Boston is only the latest university to cut wrestling, a sport is actually growing at every level except the NCAA's Division I, where the number of teams has fallen from 146 in 1981-82 to 77 in 2011-12. (The National College Wrestling Association's primary purpose is to help create recreational teams at campuses where intercollegiate squads have disappeared. It's worth noting, though, that many Olympic sports are intensifying fund-raising to avoid a similar situation.) 
But this was one elimination that Mike Moyer, executive director of the National Wrestling Coaches Association, called a "blindside." When Moyer assesses the health of a program, he looks at athletic and academic records, as well as the relationships between athletes, coaches and administrators.
"At BU, every one of those is at the top," Moyer said. "It's just a shame they weren't engaged in a more proactive way to head something like this off…. We'd like to think that eliminating sports would be a last resort and not a first resort."
Boston administrators also cited the fact that the athletic conference the university is joining next year, the Patriot League, does not formally sponsor wrestling. However, Moyer said that with the addition of Boston, the conference should have enough members with wrestling teams to sponsor the sport.
Advocates for the wrestling program questioned whether competition and money were the only reasons the team was cut. Some wondered whether the university went out of compliance with Title IX of the Education Amendments of 1972, which requires equitable opportunity for men and women in school sports, when it added men's lacrosse.
However, Erin Buzuvis, a law professor at Western New England University and co-author of the Title IX Blog, said there's not an obvious role for Title IX here. Adding women's light weight crew was probably meant to address any compliance risk, Buzuvis said, and even if the university was still striving for proportionality, it would make more sense to add women and cut men, not replace one team with another.
"Either way you slice it, this is not looking like a 'Title IX killed wrestling' story," she said in an email. "It's just an 'athletic department preference for another men's sport killed wrestling' story."
Regardless, at this point, the team's focus is less on why the program was cut than on how to bring it back. After things slowed down in the summer, team members are back on campus raising awareness and as much money as they can. Alumni and parents have conference calls once or twice a week to discuss strategy. A documentary called It Hurts to Win, funded via a Kickstarter campaign, is highlighting the program's final year. Adams has backing from the student government, other athletic programs, the NWCA and colleagues from around the country.
But acknowledging that this season could well be the program's last, the team is also training hard, hoping to make this year, at least, suitably competitive by everyone's standards.
"We're going to remain hopeful because the impact of this decision – you're talking about 60 years of legacy," Adams said. "One of the worst things you can do is push a wrestler into the corner. We're going to take the high road in everything we do. But we have a chip on our shoulder."