You have /5 articles left.
Sign up for a free account or log in.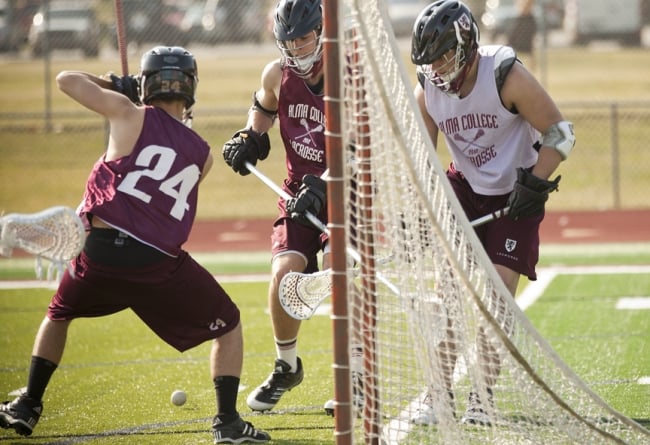 Ten years ago, if you were a Chicago-area high school student who wanted to play lacrosse in college, a couple of things were true about you. You were likely white, from a well-educated and wealthy household, fairly uncommon (only 7,085 high school boys and 3,420 high school girls played the sport in the 12-state Midwest region in 2001), and going East for college, since the East is where college lacrosse programs were.
Nowadays, the first two are still largely true. The latter two are not. The sport's popularity has boomed in the region, particularly in the suburbs of Chicago and the Twin Cities, and Midwestern colleges have rapidly added programs to try to keep pace. Since 2010, 17 private colleges in the Midwest have added Division III men's lacrosse programs and 16 have added women's programs. The growth is particularly notable because many colleges have been eliminating some sports programs during the same time period.
The push by Midwestern liberal arts colleges to add lacrosse programs is one of several tactics employed by these institutions in recent years to hold on to a demographic that presidents say is central to these institutions' identities and bottom lines, particularly as the population shrinks and becomes more coveted by other types of institutions. Middle-class suburban students, who are not only able but willing to pay the high price for private education, used to be liberal arts colleges' bread and butter. Now they're increasingly lured to other types of institutions. Lacrosse is a weapon in the fight to keep them.
"We're trying to compete more effectively for a smaller demographic," said W. Kent Barnds, vice president for enrollment, communication, and planning at Augustana College in Rock Island, Ill., which added men's and women's lacrosse programs last year and is in its first season of competition."We're really trying to get more than our fair share of a shrinking demographic."
Lacrosse players are desirable for several reasons, but the main one is that they tend to be what enrollment professionals call "full-pay" students, or students whose families tend not to qualify for need-based aid. Because of that, they must pay an institution's sticker price unless the college offers non-need-based grants and scholarships.
According to USA Lacrosse, the sport's national governing body, lacrosse players tend to come from more educated households than the general population, with 85 percent of adults involved in the sport as either players or parents having graduated from a four-year college. They also tend to be wealthier. Less than 10 percent of lacrosse players come from households with incomes of less than $50,000, and nearly 75 percent of all lacrosse-playing families value their primary residence at $200,000 or more.
Lacrosse itself is not inherently more expensive than sports such as soccer and football. Unlike, for example, equestrian sports, equipment for lacrosse costs about as it does in football, and the sport tends to be played on the same sort of field. But lacrosse has its roots in East Coast private high schools that attracted upper-middle-class students, and when it spread geographically, it tended to attract similar demographics (though the sport has seen more economic diversity in recent years). 
That demographic of student historically was willing to pay high tuition prices for private colleges. But these days, liberal arts colleges are having a harder time luring them. "The people who play lacrosse are a demographic that has been shrinking in most of our schools," said Scott Bierman, president of Beloit College in Wisconsin, which will start playing lacrosse next year. "The students from relatively affluent suburban high schools are a tougher and tougher demographic for us to attract without getting into massive merit aid competitions."
Administrators at Beloit, Augustana, and Alma College in Michigan all said they decided to offer lacrosse after strategically examining how they would remain competitive over the next few years. Both Beloit and Augustana were able to raise money to fund the construction of their fields by pitching the business angle to donors. They all wanted to maintain their hold on the group in their own backyards – middle-class Wisconsin, Illinois, and Michigan, respectively – as well as tap into new geographic markets.
"We were looking at opportunity to creep into some new markets, capitalize on the popularity of the sport that's emerging here in the Midwest, and leverage an already successful athletic program to reach out to the best lacrosse players who would otherwise go east to play," Barnds said.
Lacrosse isn't the only program that such colleges have added in recent years; strategically adding academic and extracurricular programs that appeal to that demographic of student has become a major business strategy. Beloit has expanded its music and drama offerings. Alma added wrestling and bowling, as well as making a bigger pitch for its Model UN program, which is one of the top-ranked teams nationally. Augustana added majors in graphic design, international business, and environmental studies. All of these tend to attract students who have significant financial resources.
According to an Inside Higher Ed survey of admissions directors last fall, recruiting "full pay" students is a key goal for all sectors of higher education, with almost a third of all admissions directors saying recruiting such students will be an important objective over the next two to three years. The need was so high that 10 percent of admissions directors said they would admit applicants with lower grades and test scores because they were full-pay students. 
The competition for full-pay students grows as colleges and universities become increasingly tuition-dependent. In recent years, tuition has overtaken state appropriations as the largest source of revenue at many public universities, and the trend does not appear likely to reverse itself any time soon. State institutions have begun to lure away full-pay students with cheaper tuition and special programs such as honors colleges that mimic the academic feel of liberal arts colleges while offering the large-university experience. In the Inside Higher Ed survey, admissions directors from private master's and baccalaureate institutions were more likely than their peers to say they are facing increased competition for students from institutions in different sectors.
The struggle is particularly prominent in the Midwest, where the full-pay demographic is likely to shrink, according to projections by the Western Interstate Commission for Higher Education. In the Midwest, non-Hispanic white students are expected to decline as a percentage of the graduating populations by about 13 percent by 2021. The demographics experiencing significant growth tend to be the ones least able and least willing to pay for private higher education, which is a challenge for tuition-driven institutions. At Beloit, Bierman said, the percentage of students who qualify for Pell Grants rose from 13 percent to 20 percent between 2008 and 2011. While Bierman and other presidents said it's good for their colleges to diversify, it causes problems for their bottom lines.
Lacrosse is a good program to reach coveted students, administrators say, because there's such a mismatch between the number of high school students wanting to play in college and the number of open varsity roster spots. Even with 17 new men's teams in the region in past three years, that's still fewer than 300 additional varsity roster spots open each year. And students who want to play lacrosse in college aren't as excited by club teams if they can get a varsity spot, administrators say. "Lacrosse players are sort of like football players, in the sense that if you don't have it, they're not coming," Barnds said.
Barnds said he's confident that if Augustana did not offer lacrosse, the students now playing in the program would have gone elsewhere. Bierman and Jeff Abernathy, president of Alma College, which is in its first year of competition for men's and women's lacrosse, both said students their colleges are recruiting would likely go to programs that offered lacrosse rather than other liberal arts colleges if they did not offer the sport.
Because the number of middle-class, college-bound students in states like Michigan and Wisconsin is likely to decrease in the next decade, presidents said the lacrosse programs are designed to help the institutions recruit beyond their traditional markets. "To thrive, given what's happening in Michigan, that this demographic is declining, we're going to have to draw from further afield," Abernathy said.
For colleges like Alma and Beloit, the first step is getting a foothold in the Chicago metropolitan area. If they can pull players from that area, the presidents said, it will grow their brand in those regions, making them more likely to recruit students who aren't lacrosse players. "We want lacrosse players to have a great experience here and for those students to go back and effectively serve as recruiters," Bierman said.
Both Alma and Beloit are likely to pull a significant percentage of their teams from the Chicago area. Augustana, where 60 percent of the student population already comes from the Chicago area, already enjoys a strong reputation in the region and hopes the expansion into lacrosse will help solidify it. "We want to reinforce that reputation in a place where we're already popular and own those kids who aren't going to look at us if we don't offer lacrosse," Barnds said.
Administrators also said the sport can help them get beyond Chicago. For Beloit, of the 90 students it admitted this year who expressed an interest in playing lacrosse for the college, 16 came from the East Coast, a much higher percentage than the general admissions pool.
East Coast coaches said they don't fear the growth of college programs in the Midwest, particularly because the growth at the high-school level in the region has been so great. "A few years ago, we couldn't handle the number of prospective students," said Dave Webster, head coach of the men's lacrosse team at Dickinson College, in Pennsylvania, since 2001. "There were too many in each recruiting class." Given their reputations, East Coast colleges such as Dickinson and Skidmore, which regularly rank at the top of Division III standings, enjoy an advantage in recruitment, even in the Midwest, coaches said.
Administrators at Beloit, Alma, and Augustana said there is some concern about building a recruitment strategy around lacrosse and athletics in general. For one, there are some problems that tend to come with lacrosse that could harm an institution's reputation. "Based on the data that comes out of the NCAA, we know there are some cultural issues connected to lacrosse, specifically related to partying," Bierman said, adding that the decision of who to hire to coach the teams was a major consideration. "For what it's worth, I tend not to get involved with interviewing coaches for positions, but I was involved in interviewing the lacrosse coaches."
There's also the fear that relying on athletics to help meet the bottom line could drive the institution to cut corners as far as academic standards or elsewhere. At Beloit, about 30 percent of the student body participates in intercollegiate athletics. At Alma it's 40 percent. "You have to make sure scholarships aren't benefiting athletes in a way that's out of sync with the rest of students," Abernathy said. "That's always a worry, maintaining the purity of Division III athletics. We have to make sure these athletes are students first."
Despite the challenges, Webster said he doesn't see the growth of lacrosse programs slowing down at all, particularly because it's a good investment for liberal arts colleges. "The demographic would suggest that there's plenty of room for new programs," Webster said. "If a college can add 15 new males with little or no need for aid, that makes good business sense."