You have /5 articles left.
Sign up for a free account or log in.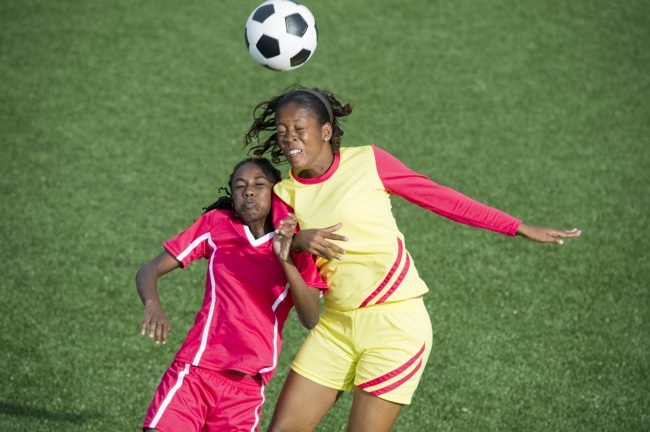 When the Ivy League announced in summer 2011 that it would limit contact in football practices to minimize head trauma in athletes, the move was unprecedented. The issue of concussions in sport at all levels had established itself in the general public consciousness, and the safety of football players was of particular concern.
Since then, one other Division I conference has copied the Ivies. Some have made other rules changes, and started long-term research projects on head trauma in athletes. Bolstered by the new rules, advocacy groups like All Players United, increased news media attention to head trauma in the National Football League, and the deaths of football players who suffered from head trauma, calls for action in the sport whose revenue helps keep college athletic departments afloat have become impossible to ignore.
But as researchers and policy makers know, concussions aren't only a danger in football -- in fact, football isn't even the sport in which they present the greatest risk, at least in terms of frequency.
Football may have the highest number of concussions by sport because of the roster size, but many other sports see higher occurrence rates per athletic exposure. According to a National Academy of Sciences report released last month, field hockey, women's lacrosse and soccer, wrestling, ice hockey and women's basketball have all proved about as dangerous or more so than football in recent years in terms of reported concussions.
That's why a year after the Ivy League decreed limited contact in football practice, its members did the same for men's and women's lacrosse, soccer and ice hockey. The league, in conjunction with the Big Ten Conference, also launched a cross-institutional research project to study the effects of head injuries in multiple sports.
"We recognized all along that concussions are an issue that need to be addressed whenever they happen. It's not about the sport, it's about concussions any time," Ivy League Executive Director Robin Harris said. "I know there's more conversation, as I'm sitting on the sideline at my daughter's soccer game."
Even lawmakers are asking questions. Just last week, Reps. Charlie Dent and Joyce Beatty held a panel on Capitol Hill on the effects of head trauma in athletes. This summer, the politicians introduced the National Collegiate Athletics Accountability Act, which would include a requirement for baseline concussion testing of all athletes.
"It's hard to turn on ESPN and the news and listen for very long without hearing something about concussions," said James T. Eckner, an assistant professor of physical medicine and rehabilitation at the University of Michigan. "Almost every state now has a concussion law in place that mandates athlete and coach education."
Eckner is a co-investigator on the NCAA-funded National Sport Concussion Outcomes Study, which will include more than 1,000 students in 11 sports at three universities. While he and other experts agreed that there is a disproportionate (but not exactly "bad") emphasis on head trauma in football, they also say intensified education efforts throughout all sports have helped address that.
"We've seen concussions in golfers and we wouldn't want to manage it any differently," Cohen said.
Last month, University of New Haven officials announced they would be the latest (following at least two other institutions) to use impact sensors to monitor head trauma in football players, and women's and men's soccer players. Women's lacrosse is next on the list.
"The publicity is out there because of the impact that football has in terms of just the number of people who either watch it or their children are playing it," New Haven Athletics Director Deborah Chin said, before noting that women are actually at higher risk of head trauma.
"Do we know why? No," Chin said. "That's why these data are so important."
There's a lot at stake. Because of their repeated exposure to head trauma, football players and other athletes are more likely to develop the progressive degenerative brain disease chronic traumatic encephalopathy (CTE), growing evidence shows. But it can take years or even decades for the changes in the brain to occur -- brain degeneration that is associated with memory loss, depression, impaired judgment and progressive dementia.
Reliable data on head trauma are elusive, which is part of the reason why response to the issue feels slow. Many groups, including the Southeastern Conference, have said they're not ready to implement rules changes until completing long research projects that measure factors including speed and angle of impact, symptoms and effects on the athlete. An identical hit performed against two different individuals could be catastrophic for one and harmless for the other.
Once more is understood about how and when concussions occur in any sport, that's when specific rules changes can be discussed, said Margot Putukian, director of athletic medicine and head team physician at Princeton University.
"This is something that every conference is dealing with and looking at, and I think trying to get on common ground and do things similarly," Putukian said. "It's not just football, is kind of a take-home message that I think we try to provide."
The aforementioned NAS report also urged the National Collegiate Athletic Association to confront a cultural problem: many athletes, coaches and parents are reluctant to identify or report concussions because of stigma and competition. The NCAA has issued some best practices guidelines including education and ordered institutions to maintain concussion management plans.
Many universities have used those guidelines as jumping-off points for more education and training locally. For instance, some soccer coaches are changing practices to reduce hitting the ball with the head, said Randy Cohen, chair of the National Athletic Trainers' Association's College/University Athletic Trainers' Committee. Women's coaches in particular are teaching added neck strengthening.
"The media really jumped on the football aspect, but we've been looking at it for years," Cohen said. "The medical people and the people who are working with the athletes, we've been looking at it more globally, and that's a good thing."
At the University of Arizona, where Cohen is head athletic trainer, officials have been educating all athletes on concussions for a decade, and baseline testing for head trauma has grown from strictly high-risk sports, including football and soccer, to include all teams.
While athletic trainers and many others who work in the weeds fully grasp the extent and potential damage of head trauma, Cohen said, coaches and the athletes themselves have been slower to understand.
But there is visible progress. More coaches get why athletes shouldn't return to practice after a concussion and are letting people onto the sidelines to monitor head trauma as it happens, Cohen said. And while many athletes still hesitate to report their own head trauma and ask for help, Cohen has noticed that more teammates are reporting it for them.
"Somebody will come in and say, 'You need to check on so-and-so because they're not acting right. They hit their head,' " Cohen said. He himself would like to see coaches trained and tested annually on emergency and medical issues. "It's kind of ridiculous that they have to take a [compliance] test to go recruit, and yet they can go out and coach without this training."