You have /5 articles left.
Sign up for a free account or log in.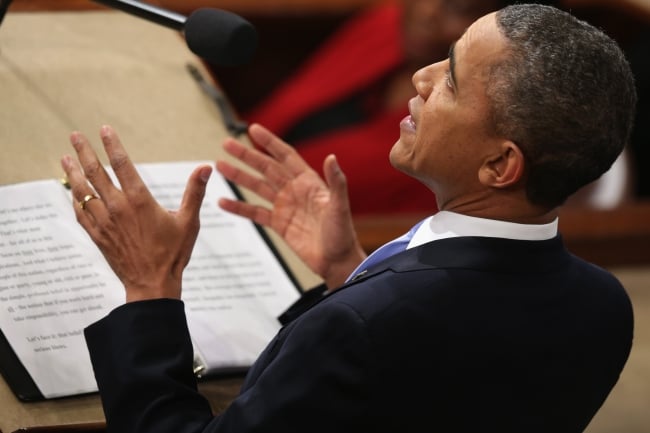 WASHINGTON -- In his State of the Union address Tuesday, President Obama called for expanded access to apprenticeships and improved job training programs at community colleges that are better-aligned with the skills that employers demand. 
In line with the overarching economic themes of his speech, Obama also spoke about the power of higher education to improve lives.
In a speech that was generally devoid of dramatic new initiatives, add ok? **  yes /ms he touched briefly on various aspects of his higher education agenda, but did not push for any significant new legislative or executive action on those issues. He did, however, call on Congress to boost money allocated to scientific research.
Business Partnerships for Community Colleges
Obama pushed Tuesday for "more apprenticeships that set a young worker on an upward trajectory for life," and pledged to mobilize businesses and community colleges this year to boost the number of apprenticeships available to workers.
The White House offered few details about the apprenticeship plan, though it would likely benefit community college campuses. A report by the Center for American Progress last month called for expanded use of apprenticeships to boost the nation's economy and increase workers' lifetime earnings.
The president also said he would undertake efforts aimed at "connecting companies to community colleges that can help design training to fill their specific needs." He proposed an "across-the-board reform of America's training programs."
The details of a "program-by-program review" of federal training programs will be announced in the coming days and the review will focus on skills that are needed in "high demand" sectors, according to a White House fact sheet. Vice President Joseph Biden will lead that effort, starting Wednesday when he and his wife, Jill Biden, visit Monroe Community College, in Rochester, N.Y.
David S. Baime, senior vice president for government relations and research at the American Association of Community Colleges, add title? ** added/ ms said that two-year colleges would welcome any new mechanisms to help them partner with businesses, but added that "in truth, it's something they already do week in and week out."
"What the institutions need to execute these new programs is stronger financial support, in cases where the private sector can't provide it," Baime said.  "The federal job training programs have been reviewed repeatedly, and so more than another review, we need a Workforce Investment Act reauthorization and greatly enhanced funding." maybe link to the various GAO reports on the multiple programs? like this one: http://www.gao.gov/products/GAO-11-92
Any plan to allocate more money to such efforts would require Congressional action, as Obama acknowledged in his address.
"And if Congress wants to help," Obama said of his plan to improve federal training programs, "you can concentrate funding on proven programs that connect more ready-to-work Americans with ready-to-be-filled jobs."
College Affordability
Echoing the language he used to describe his ambitious higher education agenda last summer, Obama referred to a "shaking up" of higher education. However, he did not mention by name his administration's controversial plan to create a college rating system, referring only to "incentives to offer better value."
"We're shaking up our system of higher education to give parents more information, and colleges more incentives to offer better value, so that no middle-class kid is priced out of a college education," Obama said.
The fact sheet released by the White House does refer specifically to the "new system of college ratings" to prod colleges to focus on affordability and value but notes that the administration's agenda also includes partnering with colleges to promote innovation.
"[H]igher education leaders across the country are already finding new ways to help students learn more at lower cost," the fact sheet says, adding that the president this year would "continue pursing executive actions to spur the development, validation, and scaling-up of these cutting-edge innovations." The Obama administration has already announced its intention to provide regulatory waivers to colleges who want to use federal student aid funds to experiment with alternative ways of providing higher education, such as competency-based education.
Obama also touted some of his administration's first-term accomplishment, such as the end of the bank-based lending program and an expansion of income-based repayment programs for federal student loans. He did not offer any new proposals for executive or legislative action on student loan debt but said he wanted to work with Congress "help even more Americans who feel trapped by student loan debt."
In addition, the president made brief reference to the college summit he convened earlier this month. The meeting brought together more than 100 college presidents who had made commitments to helping more low-income students apply for and complete college -- promises that Obama described on Wednesday night as helping to " to reduce inequality in access to higher education."
Federally Funded Research
Obama also lauded the importance of federally funded research and called on Congress to fully reverse the cuts to research funding. The compromise budget bill signed into law earlier this month restored some of those reductions, but research and higher education advocates have pushed for more relief.
"Federally funded research helped lead to the ideas and inventions behind Google and smartphones," he said. "That's why Congress should undo the damage done by last year's cuts to basic research so we can unleash the next great American discovery."
Obama also highlighted the two hubs for high-tech manufacturing that his administration launched in Raleigh, N.C., and Youngstown, Ohio, which rely heavily on partnerships between businesses and research universities. 
M. Peter McPherson, president of the Association of Public and Land-grant Universities, called the Obama's speech a "forceful argument for greater levels of research in order to create revolutionary new technologies that grow and expand businesses, generate jobs, and strengthen our economy." 
Republican Responses
Several of the Republican reactions to the president's address Wednesday night also touched on higher education issues.
Rep. Cathy McMorris Rodgers of Washington, who delivered the official Republican Party response to the State of the Union, spent part of her remarks describing her experience saving up money to become the first person in her family to graduate from college.
Delivering the Tea Party response, meanwhile, Senator Mike Lee of Utah touted his legislation to overhaul accreditation as an effort to "modernize higher education, making it more accessible and affordable for lower-income and non-traditional students."
Separately, Senator Chuck Grassley of Iowa, a Republican, called for more accountability for existing federal programs before embarking on new initiatives like the president proposed.
Those accountability measures could include, he said in a statement, having the Internal Revenue Service "require more disclosure in exchange for their tax exemption so executive perks and other spending that contributes to college costs receives scrutiny."