You have /5 articles left.
Sign up for a free account or log in.
Citing numerous concerns about their president's commitment to shared governance, the faculty union at Bergen Community College in New Jersey voted "no confidence" in her leadership. They say they are being denied regular access to the president, that changes to the promotion and tenure committee violate their rights, and that at least one of their colleagues was forced into a bizarre situation over a "Game of Thrones" T-shirt. But President Kaye Walter says the vote had more to do with the union's protracted negotiations for a new contract.
Whatever the reason, the college's faculty and administration seem to be at an impasse – although both sides say they're willing to move forward without changing presidents if their communication improves.
"It would be difficult and a lot of good will has been lost, but I think it's certainly possible," said a union member who did not want to give his name, citing the potential for "some weird things" to happen to faculty dissenters at the college. "But I think the tone could be turned around."
In the meantime, however, he said, "There's a lot of outrage at what the faculty perceive as a toxic climate in the management and lack of a collegial relationship."
He continued: "It's a theme I hear over and over again from faculty and students, that's they're demoralized and there's a culture of intimidation and fear."
Consequently, he said, two-thirds of those attending the Bergen Community College Faculty Association meeting last week voted in favor of an impromptu motion raised from the floor expressing "no confidence" in Walter. The tally was 109 in favor and 46 opposed, with 10 abstaining. Those present represented just under half of the college's full-time faculty members.
Walter said the vote was "all related to negotiations. My door is continually open and I am accessible to anyone who wants to speak to me."
Questions of Shared Governance
Faculty members deny that negotiations for a new contract – the last expired in July 2013 – have anything to do with the vote, since Walter is not involved in negotiations with the National Education Association-affiliated union personally.
Instead, professors point to changes in the college's governance structure, both formal and informal, as cause for concern.
Professors say that Walter, who began at the college in 2012 following the ouster of former President Jeremiah Ryan, initially followed a college tradition of meeting with the head of the Faculty Senate and faculty union monthly. (Ryan was fired amid questions about his personal expense account and after another faculty vote of no confidence.) But Walter has ceased the practice and instead taken to directly communicating with the Faculty Senate when necessary, they say.
"If the president of the college and the chair of the Faculty Senate cannot talk to each other, it will undermine student success," said George Cronk, chair of the philosophy and religion department and Faculty Senate secretary. Cronk voted against the motion of no confidence in part because it was unplanned, but said that although he likes the president as a person, relations between her administration -- including several other relatively new officers -- and the faculty are untenable.
Aggrieved faculty members also say that Walter has replaced elected faculty members on the Promotion and Tenure Committee with appointed members, against policy promoted by the American Association of University Professors and followed previously at the college. The same goes for department chairs. Faculty members also said Walter has hinted at a large-scale program review and extensive department closures to individual professors.
Walter said the college, like others, is planning to review its programs to make the best use of its resources. For example, she said, some departments have just one faculty member and may be combined with other departments to streamline operations. But faculty members will be involved in the review, she said.
The president also noted that promotion and tenure standards have not changed to date, but said the college is developing new standards that incorporate "learning outcomes assessment," to be more in line with the college's accreditor, Middle States Higher Education Commission.
Walter said she begin appointing faculty members to the promotion and tenure committee because some professors previously had reported intimidation from members of the union. "We had been getting numerous complaints that people were not given promotions and tenure because they weren't in good standing with their union, so in order for us to assure that these standards were carried forward, there were changes that need to be made," she said.
But faculty members denied that, saying that all changes are an attempt to bring a strong-willed faculty into line.
Cronk pointed to a proposed Code of Conduct for employees that says they must "abide" by extensive behaviors listed in the document, such as not urinating in public, streaking, or bullying, even off-campus, where a college interest is found to exist. The code also says "defending your actions could be an admission of a violation of this code." Cronk, a former lawyer, said the document raised several legal concerns and also made thinly veiled references to specific faculty members who recently have come under the scrutiny of the administration.
'Fire and Blood'
Francis Schmidt, a professor of art and animation, is one such case.
By all accounts, including his own, Schmidt is a bit of an eccentric. The longtime professor posts cat pictures to social media and loves fantasy stories, especially HBO's popular "Game of Thrones."
So it came as no surprise to many of his Google+ contacts that he enthusiastically posted a picture of his young daughter doing yoga in a T-shirt with the new "Game of Thrones" season tagline in January, upon release of the trailer. The T-shirt reads, "I will take what is mine in fire and blood," and Schmidt's cat lurks in the photo background.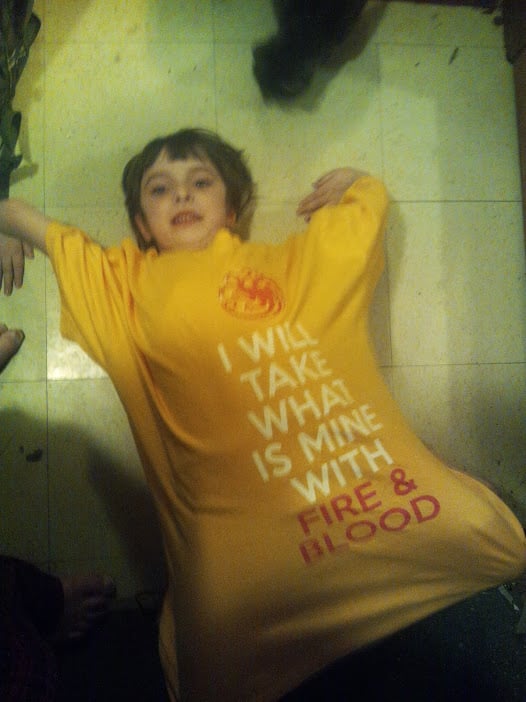 But one contact -- a dean -- who was notified automatically via Google that the picture had been posted apparently took it as a threat. In an email, Jim Miller, the college's executive director for human resources, told Schmidt to meet with him and two other administrators immediately in light of the "threatening email."
Although it was winter break, Schmidt said he met with the administrators, including a security official, in one of their offices and was questioned repeatedly about the picture's meaning and the popularity of "Game of Thrones."
Schmidt said Miller asked him to use Google to verify the phrase, which he did, showing approximately 4 million hits. The professor said he asked why the photo had set off such a reaction, and that the security official said that "fire" could be a kind of proxy for "AK-47s."
Despite Schmidt's explanation, he was notified via email later in the week that he was being placed on leave without pay, effectively immediately, and that he would have to be cleared by a psychiatrist before he returned to campus. Schmidt said he was diagnosed with depression in 2007 but was easily cleared for this review, although even the brief time away from campus set back his students, especially those on independent study.
Schmidt believes he was targeted in part because he filed a grievance against the college a week before the post for being passed up for a sabbatical. And according to AAUP standards, professors should be removed from the classroom only in the event that they are an immediate threat to students, and after consulting with a faculty committee. Greg Scholtz, director of tenure, academic freedom and governance for AAUP, said it did not appear that the photo in question would meet that criteria before a "duly constituted" faculty committee.
Walter said she did not believe that the college had acted unfairly, especially considering that there were three school shootings nationwide in January, prior to Schmidt's post. The suspects in all three shootings were minors targeting their local schools (although three additional shootings at colleges or universities happened later in the month).
As for being less available to the faculty, Walter said her husband was gravely ill and died this year, causing her to rearrange her schedule. But she said she's attended most or all significant faculty events and remains committed to the college, students and faculty. Importantly, she added, she retains the support of the board.
E. Carter Corriston, board chairman, did not return a request for comment but has publicly supported Walter in previous statements.