You have /5 articles left.
Sign up for a free account or log in.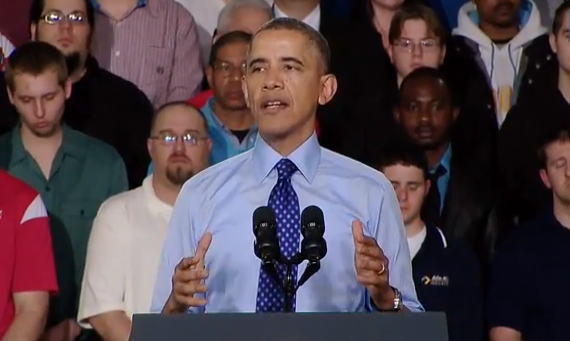 The White House on Wednesday rolled out two job-training grant programs that focus on the community college sector. Both push for closer ties between colleges and employers.
The news wasn't exactly new for the largest of the two pots of money – the fourth and final installment of a $2 billion workforce development fund. This week the U.S. Department of Labor released the application website for the last $450 million of the competitive grants, which were created in 2010.
The program was designed to create partnerships that last after the grants dry up. It also nudges community colleges to get creative about career services. That strategy appears to be working, as previous grant recipients have won praise for their collaboration with employers and local governments.
"It's moving in the right direction," said Mary Alice McCarthy, a senior policy analyst for the New America Foundation, who previously worked for both the Labor and Education Departments.
President Obama and Vice President Biden talked up the workforce money Wednesday at a campus center of the Community College of Allegheny County, located near Pittsburgh (although presumably they skipped using the program's seven-letter acronym). They also described $100 million in new funding to encourage the creation of apprenticeships.
New money is rare in Washington these days. Obama was able to find the $100 million to create the American Apprenticeship Grants program by drawing from fees collected for H-1B visas. Those visas allow employers to temporarily hire foreign workers, for a fee. That money in turn must go to efforts to create new job opportunities for Americans.
Apprenticeships are not common in the United States. The number of active programs has declined over the last decade, according to federal statistics. About 288,000 apprenticeships were filled last year, 200,000 fewer than a decade ago. (The number of active apprenticeships climbs to 375,000 when military programs are included.)
The White House aims to reverse this trend. That's because 87 percent of apprentices get a job after completing their programs, the administration said, with an average starting wage of over $50,000.
As with the other job training grants, the new apprenticeship funds will focus on partnerships between employers and community colleges, as well as labor unions, local governments, nonprofit institutions and others.
Apprenticeships should "reward workplace learning with college credit," the White House said in a fact sheet. The program will also encourage the use of industry-recognized skills certifications.
The funding follows Biden's announcement last week at the American Association of Community Colleges meeting of a new consortium of colleges, employers and unions. Participants in the group must agree to use college-credit recommendations from the American Council on Education or the National College Credit Recommendation Service to translate learning and skills from apprenticeships into academic credits.
The new grant program encourages the creation of apprenticeship models in high-growth fields, such as information technology, healthcare and advanced manufacturing.
McCarthy said apprenticeships are expensive to start, but have a big payoff in the long run. She applauded the White House for encouraging them as a form of job training.
"It fits with their overall skills development strategy," she said.
Data and Scale
The Obama Administration's ambitious $12 billion American Graduation Initiative didn't get past Congress. That proposal, which was aimed at community colleges, morphed into the $2 billion workforce grants package, which is dubbed the Trade Adjustment Assistance Community College and Career Training Program (TAACCCT).
The latest installment was $50 million smaller than one-quarter of the total because of sequester budget cuts, which knocked about 7 percent off the $500 million, and for spending on evaluation and technical assistance for the grants' administration (a 3 percent hit), according to Jee Hang Lee, vice president for public policy and external relations at the Association of Community College Trustees.
Many of the grants have gone to consortiums, with individual colleges also receiving a few. The feds say successful applications need to make the case that they can quickly create career training paths for high-wage, high-skill jobs. The program also encourages the awarding of credit for skills and learning earned outside of the traditional classroom, such as through prior-learning assessment and competency-based education.
This time around the Labor Department is encouraging applicants to work with national industry associations. The goal is to make job training programs replicable across the country.
"Closing the gap between the skills workers possess and those required by industry is a priority for America's business leaders," Eric Spiegel, president and CEO of the Siemens Corporation and vice chair of the Business Roundtable's Education and Workforce Committee, said in a written statement.
The feds also are promising extra money for applicants that can get good state-level data on how job-training programs are faring -- both on the educational achievement and employment fronts.
The deadline for applications is July 7, according to the White House. Grants will go to community colleges in all 50 states.
Advocates for two-year colleges are pushing hard for a more permanent source of job-training money after the $2 billion is gone. Lee said the U.S. Senate proposed such a "segregated funding account" during the budget tussle. He hopes a similar grant program will emerge on Capitol Hill.
McCarthy agreed that more funding for collaborative job training would be welcome.
"Once this is gone, how do you keep pushing these different groups together?" she said.