You have /5 articles left.
Sign up for a free account or log in.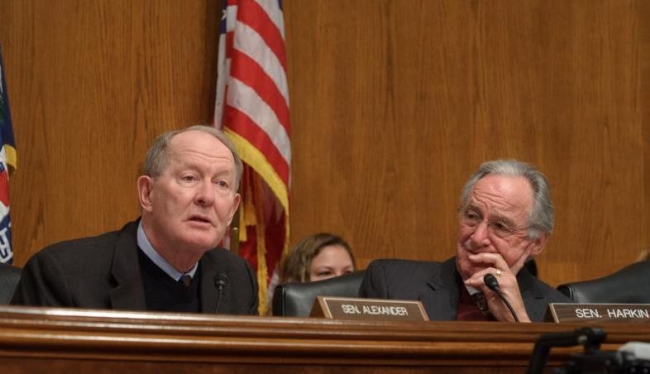 WASHINGTON -- After months of hearings, the two key lawmakers charged with overseeing the reauthorization of the Higher Education Act in the U.S. Senate are beginning to stake out firmer positions on what they want to include in the massive law that governs colleges and universities.
Senator Lamar Alexander of Tennessee, the top Republican on the Senate education committee, on Thursday unveiled his plan to drastically simplify the federal student aid system. His announcement comes as Senator Tom Harkin, the Iowa Democrat who chairs the panel, is preparing to release a package of Higher Education Act proposals next week.
While Harkin is expected to provide a sweeping framework for how to rewrite the law, Alexander's legislation released Thursday is focused only on overhauling student aid programs.
FAFSA 'On A Postcard'
The bill, which is co-sponsored by Senator Michael Bennet of Colorado, a Democrat, would eliminate the Free Application for Federal Student Aid, known as FAFSA, which asks families more than 100 questions about their financial situation. Most applicants would instead have to provide only their family size and household income.
Alexander has, for the past several months, been using the 10-page paper FAFSA application as a favorite prop during his higher education speeches (a shtick reminiscent of Margaret Spellings, who was education secretary under President George W. Bush). He has held up the form as a prime example of the need to deregulate and simplify federal oversight of higher education.
The current FAFSA, Alexander says, is too complicated and cumbersome, and a waste of family and taxpayer resources. A growing chorus of education researchers and advocates have also said that the complexity of the current FAFSA is a significant barrier for getting more low-income and first-generation students to apply to and enroll in college.
Judith Scott-Clayton, an assistant professor of economics and education at Teachers College at Columbia University, said at an event unveiling the legislation Thursday that her work has found that the federal government can assess the financial needs of families just as effectively with just a few simple questions.
"If we need more complexity at some point or in some circumstances, let the burden be on why that's needed," she said. "The current form is a barrier to success."
The bill would also restore year-round eligibility for Pell Grants while also providing more flexibility for how those awards are used by students -- provisions welcomed by many advocates for low-income and nontraditional students.
In addition, the legislation calls for a streamlining of federal student aid programs. It would create "one undergraduate loan program, one graduate loan program, and one parent loan program." Such a provision would eliminate a range of other types of existing federal loans, such as subsidized loans for undergraduate students.
That provision is likely to be "very controversial" among higher education officials, said Terry W. Hartle, senior vice president for government and public affairs at the American Council on Education. But, he said, "this is a chance for everyone to put their ideas on the table."
Some colleges, especially private institutions, have also said that they're concerned about making the FAFSA too simple.  
"Should there be some weeding down? Of course so," said Cynthia Littlefield, vice president for federal relations at the Association of Jesuit Colleges and Universities. But, she said, since many institutions use the more complex questions on the form as a basis for doling out their own institutional aid dollars, they would still need some way to obtain that information from students.
"We would probably have to look at the concept of putting new forms together so that they would have enough information to make those decisions," she said.
Harkin Proposal Coming
Alexander told reporters Thursday that he had provided Harkin a copy of his legislation in advance of the Higher Education Act proposal Harkin will be releasing.
"This will be a contribution to the bipartisan Higher Education Act process that's ongoing," Alexander said of his FAFSA simplification legislation. "This is one suggestion."
Still, there are signs that the reauthorization process could soon turn divisive as more proposals take shape in the form of bills.   
Harkin's proposal is expected to include a handful of policies that Republicans, including Alexander, are likely to find objectionable. It will include legislation that would allow borrowers to refinance student loan debt, and a student-unit record system to track graduates' success in the work force, according to people who have been briefed on the plan.
It will also call for tougher accountability measures for for-profit colleges, including a stricter cap on the share of revenue that such institutions can receive from the U.S. Department of Education (from 90 percent of total revenue to 85 percent). Colleges will also face restrictions on using federal money for advertising and marketing purposes.
Alexander, meanwhile, is working with colleges on finding ways to reduce regulatory burden during this reauthorization of the Higher Education Act. That task force was formed by a bipartisan group of senators, but Harkin is not a member.
Harkin said in a statement Thursday that he welcomed Alexander's thoughts on financial aid simplification but also looked forward to the broader legislation he plans to release "in the coming days."
"A few of the ideas Sen. Alexander included in his proposal are consistent with the comprehensive higher education proposal I will soon unveil," he said. "We cannot have a piecemeal approach to tackling the rising cost of a college education.  We need a comprehensive strategy that addresses the higher education system as a whole, taking into account states, students, and institutions."