You have /5 articles left.
Sign up for a free account or log in.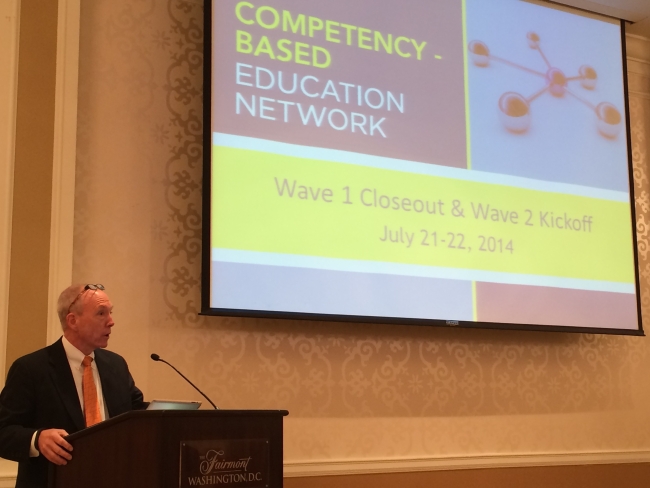 The U.S. Department of Education will give its blessing -- and grant federal aid eligibility -- to colleges' experimentation with competency-based education and prior learning assessment.
On Tuesday the department announced a new round of its "experimental sites" initiative, which waives certain rules for federal aid programs so institutions can test new approaches without losing their aid eligibility. Many colleges may ramp up their experiments with competency-based programs -- and sources said more than 350 institutions currently offer or are seeking to create such degree tracks.
But perhaps more importantly, said several proponents of this emerging form of education, the federal program could help lay the groundwork for regulation and legislation that is better-suited to competency-based learning.
Meanwhile, the U.S. House of Representatives is slated to vote this week on legislation with similar goals. The so-called "demonstration project" bill would allow up to 20 institutions to offer competency-based degrees without meeting all federal rules. The White House said Tuesday it supports the legislation.
The House is expected to pass the bill. But it's less likely the U.S. Senate will follow suit, experts said, in part because of top Senate Democrats' desire to deal with the issue as part of the broad set of proposed legislation relating to the Higher Education Act, the law that governs federal financial aid, which is due to be renewed in coming years.
Even so, the Education Department has the authority to achieve what the demonstration bill could do, and more. Supporters of competency-based education called the experimental sites announcement a big win.
"The department recognizes that this is new territory and they don't have a regulatory framework for it," said Paul LeBlanc, president of Southern New Hampshire University.
He said lessons learned from the experimentation should help the federal government and accreditors develop better systems for encouraging innovation and "new ways of thinking about financial aid."
Colleges have faced plenty of red tape as they seek to give competency-based education a try. That is particularly true for "direct assessment" programs, the most aggressive version, which does not rely on the traditional credit hour standard.
Only two institutions -- College for America, a subsidiary of Southern New Hampshire, and Capella University -- have been successful in the lengthy process of getting the department and regional accrediting agencies to approve direct assessment programs. Other institutions have tried and either were rebuffed by the feds or are still waiting for the final word.
For example, the University of Wisconsin-Extension last year created ambitious direct assessment degree tracks. But the university has had to cover for the absence of federal aid for its "Flex Program" by spending more on grants for students. Officials with the system said Tuesday they were eager to participate in the experimental sites program.
Clearing the Way
The feds are seeking experiments that provide students with "better, faster and more flexible" pathways to academic credentials and jobs, the department said in a news release. Applications are due in late September.
The latest round of experimental sites grew out of a request for ideas the department issued last year. Many colleges sent in suggestions.
Ted Mitchell, the relatively new under secretary of education, spoke Tuesday to a group of 60 leaders from 18 colleges and two statewide higher education systems that have begun competency-based education programs. Mitchell drew rave reviews from several participants in the Washington, D.C., meeting of the Lumina Foundation-funded group, which is called the Competency-Based Education Network (C-BEN).
Jim Selbe is a special assistant to the chancellor of the Kentucky Community and Technical College System, which is a pioneer in competency-based programs in the two-year sector. Selbe said the Tuesday talk was the "most positive and upbeat" he's heard in Washington.
Experimental site status would give the Kentucky system the ability to "be broader and have more flexibility," said Selbe. "This is going to give us a chance to really go field test."
For example, Selbe said, the system is considering new programs that would charge students a monthly fee for all they can learn. This subscription-style approach could also apply to four-month terms. StraighterLine, a low-cost online provider, has long offered courses for a monthly subscription fee. But the company has been able to do so because it is unaccredited and not eligible for federal aid.
A move by the Kentucky system to try subscriptions is "impossible right now" under federal aid rules, said Selbe. But experimental sites could open the door to monthly aid disbursements, saving students time and money. "This will give us a boost to go forward."
The department said it is seeking experiments in four areas. They should increase academic quality and reduce costs, the feds have said. And the announcement said the department would conduct evaluations of the selected programs, to test their effectiveness. 
The four targeted areas include self-paced competency-based programs, such as direct assessment degree tracks. Colleges can also test "hybrid" programs, which combine elements of direct assessment and credit-hour-based coursework. That version is currently not allowed under federal rules.
The new experimental sites will also include prior-learning assessment -- which is the granting of college credit for learning that occurs outside the traditional classroom. Prior learning credits have not been eligible for federal aid spending in the past.
Finally, the program will test federal work-study programs under which college students mentor high school students in college readiness, student aid, career counseling and financial literacy.
Mitchell promised the department would provide clearer guidance on direct assessment and competency-based education to both colleges and accreditors, said attendees of the C-BEN meeting.
"We do our best work when we follow you," he said, according to a news release from the group. "We want these experiments to clear the brush and help you lead."
Experimental sites programs have rarely been so promising, said Amy Laitinen, deputy director of the New America Foundation's higher education program and a former official at the department and White House.
That's because they typically provide narrower exemptions for individual colleges. This approach, however, is a rare chance to "test and refine; improve and redo," she said.
The best-case scenario would be for the experimental sites to glean knowledge that could apply to the looming debate over the Higher Education Act, said Laitinen.
"We don't have to wait for a reauthorization," she said. "We can inform a reauthorization."