You have /5 articles left.
Sign up for a free account or log in.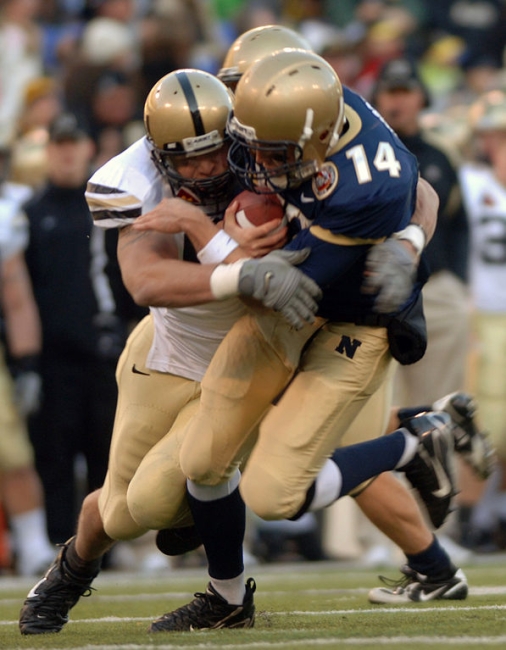 The National Collegiate Athletics Association will establish a $70 million fund for testing and diagnosing concussions in current and former college athletes, the association announced Tuesday, as part of a settlement to a class action.
Under the proposed settlement, which is still waiting for the approval of a U.S. District Court judge in Illinois, NCAA athletes who have competed in all contact sports in all divisions in the past 50 years may qualify for physical examinations, neurological measurements, and neurocognitive assessments. An additional $5 million will be put toward concussion research and education. The lawyers have requested $15 million in legal fees, which the NCAA will pay.
The NCAA, which admitted no wrongdoing, said it will fund the settlement, in part, with payments from the association's insurance carriers.
"Medical knowledge of concussions will continue to grow, and consensus about diagnosis, treatment and management of concussions by the medical community will continue to evolve," Brian Hainline, the NCAA's chief medical officer, said in a statement. "This agreement's proactive measures will ensure student-athletes have access to high quality medical care by physicians with experience in the diagnosis, treatment, and management of concussions."
However, the settlement does not provide any money for treating anyone who is diagnosed with conditions related to a concussion.
The class action was filed in November 2011, listing former NCAA football players Adrian Arrington, Derek Owens, and Mark Turner as plaintiffs. Angela Palacios, a soccer player, was also listed, and eventually several other plaintiffs were added, representing a variety of contact sports. The class action was seeking unspecified damages and the establishment of a medical monitoring program.
As part of the settlement, the NCAA also issued guidelines for when athletes return to play following a head injury. The guidelines include basic testing for concussions, not allowing athletes who have been diagnosed with concussions to play or practice on the same day, requiring medical personal with concussion training to be present during all games, and establishing a process for institutions to report diagnosed concussions and their outcomes. Many players over the years have in fact returned to play shortly after experiencing concussion-like injuries.
Some of the guidelines were already adopted by the NCAA earlier this month.
"For years, we have witnessed the significant impact that concussions have had on student-athletes and are gratified to reach such a significant settlement that will provide certainty, safety and measurable guidelines of player health," Steve Berman, the lead attorney representing the class of athletes, said. "We believe that the relief provided by this settlement is a major accomplishment in ensuring the safety of student-athletes."
Unlike the recent $675 million payout that settled a concussion lawsuit against the National Football League, the NCAA's settlement will not provide any compensation to those who filed the lawsuit. Donald Remy, the NCAA's chief legal officer, cautioned against drawing comparisons between the two lawsuits, however, saying they are "very different cases."
The NCAA settlement does not prevent athletes from suing their universities or the NCAA for personal injury damages in the future, and at least two of the dozen athletes included in the class action do plan on continuing their original lawsuits. The NCAA is also still facing several other lawsuits from other college football, soccer, hockey, and basketball players pertaining to concussions.
Ramogi Huma, the founder of the National College Players Association and a former linebacker for the University of California at Los Angeles, called the settlement a "missed opportunity." Huma also questioned whether the NCAA could enforce the return-to-play guidelines as they haven't been through the NCAA's rule-making process.
"Right now, none of it's mandatory," he said. "It's absolutely unacceptable. No money is going to players who are found to have brain damage. The NCAA should be helping the players whose blood, sweat, and brain damage helped generate all of its money. That's simply not addressed by this lawsuit."
Lewis Margolis, an injury control researcher and associate professor of child health at the University of North Carolina at Chapel Hill, said he was disappointed that the lawsuit and settlement didn't address treatment or prevention. It doesn't help those who are afflicted, Margolis said, and it doesn't help stop concussions from happening in the first place.
Margolis has previously compared allowing college athletes to play sports like football without major efforts to minimize or eliminate head trauma to the infamous Tuskegee syphilis experiment. In that study -- now decried as deceptive and unethical -- the U.S. Public Health Service studied the progression of untreated syphilis on African American men, tricking them into thinking they were receiving treatment for the disease.
On Tuesday, Margolis called the NCAA settlement's emphasis on testing and not treatment "troubling."
"We don't know how severe the long-term effects are, and this settlement does nothing to address that problem," he said. "The focus needs to be on prevention. With this settlement, we're just continuing to generate a sample of people to study. I think that is wrong, and I think it is inappropriate."