You have /5 articles left.
Sign up for a free account or log in.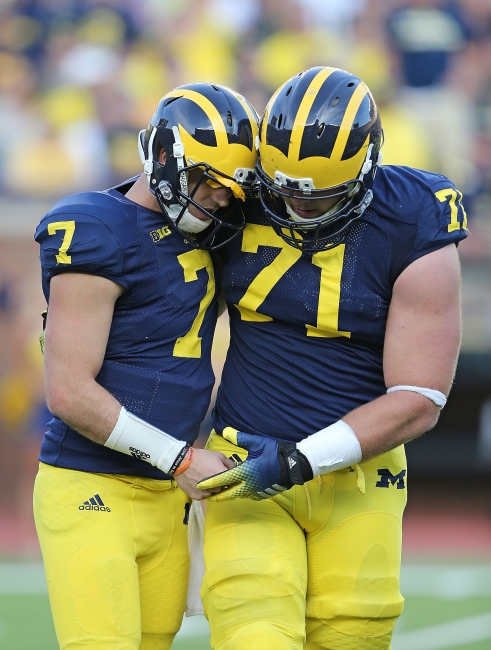 When the University of Michigan let quarterback Shane Morris stay in a game Saturday despite his exhibiting symptoms of what would eventually prove to be a concussion, it didn't just create a major controversy for itself. It also renewed a debate for the National Collegiate Athletic Association and all of college football over whether the association should try to regulate the handling of brain injuries or merely recommend best practices.
In July, the NCAA released new guidelines regarding concussions and other athletic brain injuries, and some criticized the association for drafting a list of suggestions rather than hard regulations that would have to followed by member institutions. The NCAA defended the decision, saying that releasing nonbinding guidelines would allow member institutions to better address concussions while avoiding the lengthy legislative process.
"When you build inter-association consensus, I think it speaks much more powerfully because it's not simply the NCAA making a rule," the association's chief medical officer, Brian Hainline, said in a news release in July. "It's consensus from numerous well-respected medical organizations, from football coaches, from football associations, from all of us."
Hainline and the NCAA would repeat the assertion later when a lawsuit ended with a $70 million settlement but no new regulations, and again in September when Hainline delivered a well-received presentation on athlete health to the Knight Commission on Intercollegiate Athletics. Guidelines may "lack the teeth of regulations," he said at the time, but they are the quickest way to establish a cultural norm among member institutions.
Now, some head trauma researchers and sports law experts question whether that norm is being established quickly enough.
Despite visible symptoms of a concussion and of an earlier leg injury, Morris was reinserted into Michigan's game Saturday before being evaluated. Such an action is contrary to Michigan's protocols and all medical recommendations designed to protect athletes' health, including those of the NCAA and the Big Ten Conference. None of those protocols carry sanctions if they are not followed. 
"Sanctions are better than guidelines," said Dionne Koller, director of the Center of Sport and Law at the University of Baltimore. "That's the nature of law. They prod people to do things they might not do and change things in a lot of areas, sports included."
Hainline has said that the guidelines could one day become regulations, but the NCAA has not indicated when that might happen. (The association did not respond to requests for comment Wednesday.) The sanctions and rules wouldn't have to come from the NCAA, however, Koller said. Lawmakers, regional conferences, and even a team's fan base could hold an athletic department or coaching staff accountable, she said, pointing to ongoing protests at the University of Michigan. Since Saturday, students have marched on campus, demanding that Michigan's football coach, Brady Hoke, and athletic director, Dave Brandon, be fired.
More than 10,000 students have signed a petition making similar demands.
"I think everybody defers to the NCAA to regulate college sports, when we don't actually have to," she said. "We've given the NCAA carte blanche, but when they continuously fail to do the right things, it might be time to look for that elsewhere."
Rep. Bill Pascrell, a Democrat from New Jersey and co-founder of the Congressional Brain Injury Task Force, is already looking elsewhere for sanctions to be created. In a letter sent to the Big Ten commissioner Jim Delany, Pascrell urged the conference to investigate the circumstances surrounding Morris's injury and establish its own penalties for violations of concussion recommendations.
"After the NCAA's new protocols were announced, you touted the fact that the Big Ten had adopted similar protocols in 2010 stating, 'It was the safest and broadest plan we could enact. It makes for a healthier game, and that is what everyone wants,' " Pascrell wrote. "I think we both can agree that if protocols can simply be overlooked and ignored, there will be no meaningful impact on the safety of players."
Other experts on concussions and brain trauma said they are unsure whether regulations would help any more than guidelines. "There's a lot of things in society we simply need to do without people giving us rules to follow," said Dennis Molfese, director of the Developmental Brain Laboratory at the University of Nebraska at Lincoln. He called instead for more vigilance on the part of team physicians watching what happens on the field. Sanctions would not give a coaching staff the ability to notice every concussive injury as it happens, Molfese said.
Lewis Margolis, an injury control researcher and an associate professor of child health at the University of North Carolina at Chapel Hill, said there's too much "conflict of interest" among coaching staff members, team physicians, and the NCAA to ever trust that an athlete's health will be prioritized, even with the threat of sanctions.
Margolis frequently compares the NCAA's handling of concussions to the Tuskegee syphilis experiment. In that study -- now decried as deceptive and unethical -- the U.S. Public Health Service studied the progression of untreated syphilis on African American men, tricking them into thinking they were receiving treatment for the disease.
"From a medical ethics point of view, somebody has the obligation to treat the patient," he said. "But so often the obligation seems to be to treat the team or the university. Until we recognize that conflict of interest and act on that, we're going to have that problem, whether there are guidelines or rules. The question is, 'Should young men be playing football?' And the answer is, 'No.' Not until we have this figured out."
While Koller said she believes sanctions are better than guidelines, she too has concerns.
"There's of course the risk that if you create sanctions, then you also create incentives for people to not diagnose concussions and find ways to get around the punishment," she said. "As long as there's such an appetite for this college-sponsored violence, you aren't likely to see a lot of real change.
"Can the guidelines be better? Of course. Do I think sanctions would be even better? Absolutely. Do I think that would really be the answer? No."