You have /5 articles left.
Sign up for a free account or log in.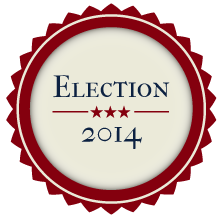 With victories in several key Senate races last night, Republicans will take control of both chambers of Congress heading into the final two years of the Obama presidency -- a balance of power that sets up a much-changed dynamic for federal higher education policy-making in the coming months.
The change will likely be something of a double-edged sword for colleges and universities, higher education advocates said. On the one hand, colleges will find more help from Republicans in their longstanding efforts to roll back federal requirements they view as burdensome. At the same time, higher education may face tougher battles over federal funding for academic research and student aid programs, as GOP majorities embrace more austere budget caps.  
Election Results on "This Week"
Daniel J. Hurley, associate vice president for government relations and state policy at the American Association of State Colleges and Universities, and Christopher P. Loss, author of Between Citizens and the State: The Politics of American Higher Education in the 20th Century, will discuss the election results and their impact on higher education Friday on "This Week," Inside Higher Ed's free weekly news podcast. Sign up here to be notified of new podcasts.
Republican leadership of the Senate is also likely to complicate the Obama administration's agenda for executive action, namely its regulations clamping down on the for-profit college industry as well as its desire to put into effect its full proposal for a college ratings system.
Policy priorities led by Senate Democrats that affect higher education are also expected to take a back seat under Republican leadership. Some of those proposals, such as allowing existing student loan borrowers to lower their interest rates, were featured prominently in Democratic campaign ads this year. Senate Democrats had also pushed new policies that sought to hold colleges more accountable for loan defaults and clamp down further on for-profit institutions.
The shift in power is likely to result in continued deadlock on higher education and other issues, especially since Republicans will not enjoy veto-proof margins in either chamber. As a result, they'll be unlikely to enact into law policies that the administration would reject (such as blocking of gainful employment). 
New Committee Leadership
The next Congress will bring fairly significant changes to the lawmakers in charge of shepherding higher education legislation through the House and Senate; last night's Republican victories are expected to catapult Senator Lamar Alexander to chairman of the Senate education committee from his current post as ranking member.
Alexander, a former U.S. education secretary and university president, has said that his higher education priority will be reducing federal regulation of college and universities. He has also pushed strongly a simplification of the Free Application for Federal Student Aid, known as the FAFSA, as well as some student loan and grant programs.
Alexander has said he wants to "start from scratch" on rewriting the Higher Education Act in an attempt to de-clutter the massive statute that governs federal student aid.
But beyond removing federal requirements viewed as burdensome and streamlining student aid programs, Alexander has not said publicly what else he wants to see in a new Higher Education Act.
One question for the next Congress will be the extent to which Alexander embraces some of the other "more imaginative" higher education policy ideas that have been offered in recent years by other Republicans, said Andrew Kelly, who directs higher education research at the American Enterprise Institute.
Several of those ideas, which have been put forward by Senators Mike Lee and Marco Rubio and Representative Paul Ryan, revolve around making it easier for nontraditional programs to get access to federal aid through new accreditation entities.
"Alexander doesn't seem as skeptical of the accreditation system as some other Republican lawmakers, so I don't know that those would be at the top of his list," Kelly said. "But it's a big question mark."
Kelly said that he sees an opportunity for a Republican-led Congress to embrace "some of the more imaginative ideas out there" by those Republicans, "who see student debt and college affordability as a campaign issue that families, their constituents are going to care about for a long time coming."
In the House, Representative John Kline, Republican of Minnesota, is expected to continue as the chairman of the education committee. Kline won his re-election bid last night in spite of a high-profile effort by the comedian Bill Maher to unseat the seven-term Congressman, in part, because of his support of for-profit colleges.
Democrats, meanwhile, are losing two longtime education policy makers to retirement, as Senator Tom Harkin of Iowa and Representative George Miller of California leave Congress.
Senator Patty Murray of Washington, who currently chairs the budget committee, is expected to become the top Democrat on the Senate education committee. In the House, Representative Bobby Scott of Virginia is in line to take Miller's place as the top Democrat on that chamber's education panel.
Several other Democrats who had played prominent roles on higher ed issues lost their re-election battles. In the House, Reps. Tim Bishop (N.Y.) and John Tierney (Mass.) were both aggressive advocates for colleges and students -- Tierney more of a partisan bulldog, Bishop having developed his expertise as a longtime college administrator, at Long Island's Southampton College.
Sen. Kay Hagan, a North Carolina Democrat, also lost her re-election bid; she has been a member of the Senate's education panel.
A New Budget Dynamic
Beyond changes to the make-up of the education committees, higher education advocates said that they're concerned about what a completely Republican Congress would mean for funding to student aid and academic research.
While both research and financial aid have historically enjoyed relatively strong bipartisan support from both Democrats and Republicans, advocates said that the more austere budgetary conditions that Republicans are likely to create may not bode well for funding to those discretionary programs.
"We've got a number of conservative Republicans who have been pointing to the Budget Control Act and sequestration and the fact that that has contributed to deficit reduction," said M. Matthew Owens, vice president for federal relations at the Association of American Universities. Those automatic budget cuts and limitations on the overall pool of money available to be allocated to domestic programs will "hamstring the ability of Congress to make investment in scientific research and student aid," he said.
"We have a number of Democratic leaders who have made it clear that they would like to see some relief from the Budget Control Act caps," he said. "In that environment it would be less difficult for scientific research and financial aid."
Another round of automatic budget cuts, set to take effect in the 2016 fiscal year, is "less likely to be averted with Republican control of the Senate," said David Baime, senior vice president for government relations and research at the American Association of Community Colleges. He noted, though, that there was bipartisan support to provide some relief from budget caps in last year's agreement to fund the government after the shutdown.
"There is a lot of concern on our campuses about the implications of a sequester taking effect in 2016 and what that might mean for specific programs," Baime said. "If the overall budget pie gets shrunk through sequestration, you could see it meaning a narrower slicer for many programs that benefit our students and our colleges."
Justin Draeger, president of the National Association of Student Financial Aid Administrators, said that advocates for student aid may find themselves in the position of having to stave off reductions or fight for at least flat funding. Increased funding appears to be far out of reach, he said.
"We're not going to see significant new investments either way, simply based on where we've seen Republican talking points and rhetoric on cutting spending," he said.
Draeger also said that colleges would have concerns about Alexander's efforts to simplify federal loan and grant programs if they were to lead to effective cuts to the money the federal government spends on student aid.
"We want to be sure that simplification doesn't become a way for us to make cuts to students," he said. "We would draw a pretty bright line in paying down the deficits on the backs of students."
However, Draeger said, Alexander had been "willing to engage" on the issue, and there was likely common ground over making loan programs easier for students to access.
More Roadblocks to Obama Agenda
President Obama's plan to develop a ratings system for higher education and then link colleges' performance in the ratings to their federal aid has always faced long odds since it was announced in August 2013. The administration has, on its own, been putting together the ratings system, an outline of which is set to be publicly released in the coming weeks.
But the White House would need Congressional approval to tie the ratings to federal funding. That proposal has already received a cool reception among many Democrats on Capitol Hill, not to mention the Republicans who have actively sought to block the Education Department's power to produce any type of ratings system.
Republican control of the Senate now means that the president's goal of linking student aid to colleges' performance in a ratings system has an even slimmer chance, if any, of becoming law.
"A united Republican Congress, I think, basically spells a death knell for any effort to tie college ratings to student aid," said Kelly, the AEI scholar.
The Obama administration's other higher education policy efforts are also likely to come under greater scrutiny by newly empowered Republicans in the Senate, especially its recently released "gainful employment" rule that targets mostly for-profit colleges.