You have /5 articles left.
Sign up for a free account or log in.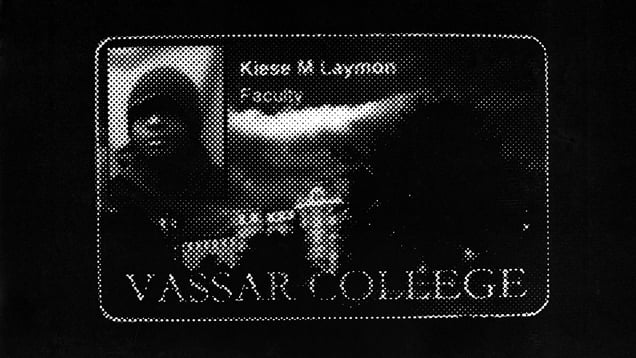 What's it like to be a faculty member of color at a predominantly white institution? Two essays this week by Vassar professors paint complex pictures of achievement, disappointment, pride and outrage. The pieces have captured lots of attention on social media, as well as from Vassar's administration. Many say the professors' experiences speak to faculty diversity concerns on many campuses, including those that don't fit the cloistered, elite Vassar profile.
The first essay, published by Gawker and written by Kiese Laymon, an associate professor of English and a contributing editor at Gawker, begins with the author at a traffic stop, being chastised by a white local police officer.
"After taking my license and ID back to his car, the police officer came to me with a ticket and two lessons," Laymon wrote. " 'Looks like you got a good thing going on over there at Vassar College,' he said. 'You don't wanna ruin it by rolling through stop signs, do you?' "
Laymon says that was the fourth time a local police officer had told him his job made everything "O.K.," a phrase that inspired the essay's title, "My Vassar College Faculty ID Makes Everything OK." To Laymon, the notion is demeaning, grating and emblematic of other subtle and not-so-subtle indignities he says have marked his tenure at Vassar. There's the time a student in flip-flops asked him if he was selling weed. And the alleged racial profiling by the campus police, who have demanded to see Laymon's ID when he was sitting in his office, and who once stopped him for walking in front of the Vassar president's house, he says. Laymon wrote that many students of color have been unfairly targeted by campus and local police, too.
There's also the questioning of Laymon's academic credentials and publications by colleagues, a dean's flat-out denial that there was any racial profiling on campus, and the time "a senior professor affirmed his/her commitment to 'African Americans' " and called Laymon a "fraud." On another occasion, a senior colleague said it was all right if Laymon spoke "in ebonics." The individuals involved in the encounters Laymon describes aren't named or given descriptions that might identify them.
In an emailed statement, Vassar President Catharine Hill said that what Laymon wrote "is certainly powerful."
"He raises important issues about race facing our society and our community at Vassar. We believe in free speech and in being open to uncomfortable conversations about complex issues, as a way to move forward to a better college and society."
A spokesman for the Town of Poughkeepsie Police Department declined to comment on the essay.
"I came into that meeting knowing that the illest part of racial terror in this nation is that it's sanctioned by sorry overpaid white bodies that will never be racially terrorized and maintained by a few desperate underpaid black and brown bodies that will," Laymon wrote of the meeting with the senior colleague three years ago. "I left that meeting knowing that there are few things more shameful than being treated like a nigger by — and under the gaze of — intellectually and imaginatively average white Americans who are not, and will never have to be, half as good at their jobs as you are at yours."
Laymon links his struggles and those of other black academics with the experiences of black youths who have been killed by police officers, including Michael Brown, whose August death set off the protests and riots in Ferguson, Mo.
"We are so much better than the sick part of our nation that murders an unarmed black boy like a rabid dog, before prosecuting him for being a nigger," Laymon wrote. "We are so much better than powerful academic institutions, special prosecutors, and the innocent practitioners of white racial supremacy in this nation who really believe that a handful of niggers with some special IDs, and a scar(r)ed black President on the wrong side of history, are proof of their — and really, our own — terrifying deliverance from American evil."
Laymon's piece received praise from academics on Facebook and Twitter. Commenters said it was a "must-read," or that they'd been moved to tears.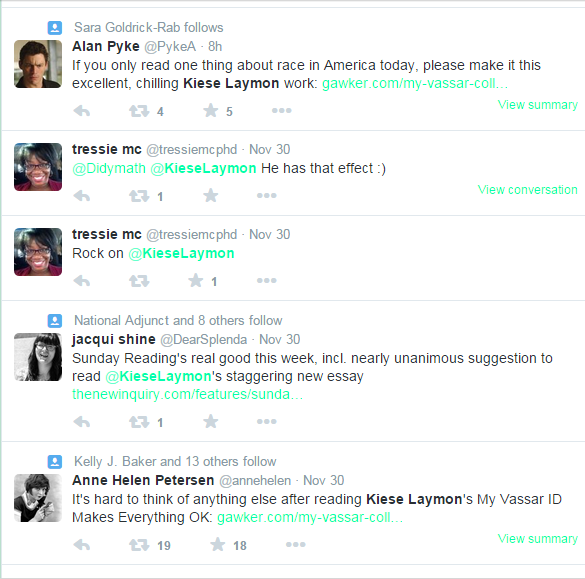 "Being educated, wealthy, and smart will never preclude you from racism," one Gawker reader wrote. "It doesn't matter what you accomplish. You would think that being in a liberal college you would find more 'enlightened' people but sadly, that's not the case. Maybe it's the fact that so many people are squashed in a campus, but I definitely encountered racism as an Asian woman while I was in school."
On Tuesday, a related essay by Eve Dunbar, a fellow associate professor of English and former associate dean of the faculty, appeared on Gawker's partner site Jezebel. In it, Dunbar discusses her own experiences as a black female faculty member at Vassar, and says that in academe, it's minority faculty members -- and black women in particular -- who get "burned."
"For instance, just weeks after I joined the faculty as a new professor, a senior black female colleague told me that members of my department would never support me for tenure because I was a black woman and had nothing to offer white people," she wrote.
Dunbar continues: "During my second semester at the institution a white senior colleague broke confidentiality and protocol in order to give me details about departmental deliberations regarding my hire. And just last spring, I sat in a room as a group of men discussed whether or not I had suffrage — me, a tenured faculty member who was, at that time, serving as acting dean of the college."
The professor calls these instances just a "sprinkling" of the experiences she'd had "with the intent to diminish my right to be a black woman with full-citizenship rights at the institution."
Dunbar says that the "reigning discourse is to call these sorts of interpersonal violations 'micro-aggressions,' " but that she prefers to call them "workplace hazing, because it captures the power relations and institutional tradition that such violations constitute."
Moreover, she wrote, "hazing suggests the violence many black and brown faculty, particularly those of us who are women, encounter as we run the gauntlet of life within the academy. Attacks from faculty colleagues, students and administrators leave many of us scarred and fatigued. And in some instances, some faculty of color and women so internalize this violence that they become the worst perpetrators of workplace hazing on other less powerful, marginalized community members."
Dunbar says she was motivated to assume the role of associate dean of the faculty, and later acting dean of the college, in part by the desire to "shift the culture of hazing" at Vassar. The deanship entailed uncompensated work that went far beyond the job description, including teaching a class each semester, but Dunbar did it – in part because it was fulfilling.
"But these were partial truths," she adds. "I continued to teach because I knew many of my colleagues didn't trust that I was up to the work of the office and would use any evidence that didn't entail my excessive excellence and institutional service to suggest I wasn't fit to hold my position. I ended up teaching a year's worth of courses during my two-and-a-half years working administration, giving a year's worth of work (salary) back to my institution."
Still, Dunbar remained in her position until several teenage boys were allegedly stopped and questioned by local police after hanging out in the Vassar library without identification. Dunbar said that she worked after that incident to create a system for reporting alleged instances of racial profiling, but that she ultimately stepped down as dean "because the kind of institutional leader I have to be is one critical of white supremacy and her own complicity within it."
She continues: "As a black woman and a scholar of black literature, history and culture, I grow less convinced, however, that this position is compatible with many American institutions—small and large, corporate, non-profit, or governmental."
Dunbar's essay was also met with praise. One Gawker reader commented that Dunbar's explanation of why she stepped down constituted the "most truth-laden few sentences I've read this decade. Thank you."
In an interview, Laymon said his essay -- which was inspired in part by the recent grand jury decision not to indict the police officer who shot Brown -- has prompted emails and phone calls from hundreds of students, faculty and staff around the country.
"Lots of our students have reached out saying they appreciate that I told some of their truth," he said. "I know that I'm not the only one at Vassar to experience a lot of what I wrote about."
Still, Laymon said he wrote his essay for the faculty, students and administrators of color "around the country who are told, in a million ways, that our IDs will protect us. They will. And they won't. So what are we going to do?"
Laymon declined to comment directly on Dunbar's piece.
Dunbar said she was inspired to write her piece after many years of talking with female colleagues in particular about faculty "hazing," and after experiencing institutional racism.
"I think I wanted to highlight that students, staff members and faculty aren't just problems to be managed by administration; they are people with real lives who suffer when they aren't heard and cared for," she said. "I'm an optimist, so I believe critique makes institutions stronger. I know that when institutions and institutional leaders listen to the most marginalized voices at their institutions, they improve the quality of life for all members of the community in tremendous ways."
Jeff Kosmacher, a Vassar spokesman, said that 24 percent of Vassar's faculty members were racial minorities as of the last academic year.
Adam Banks, professor of writing rhetoric and digital media at the University of Kentucky, tweeted that Laymon's essay was "so necessary." He declined to comment further, but pointed to a letter he helped write from the National Council of Teachers of English to senior administrators at Arizona State University this summer, asking them to force campus police to drop charges against Ersula Ore. Ore, an assistant professor of English at Arizona State, was charged with resisting arrest after she was stopped for jaywalking and eventually forced to the ground by police.
"If there is any institution we should be able to count on to advance the ideal that all people are equal, that all people should feel safe in the pursuit of learning, it is the university," the letter says. "However, the treatment of Dr. Ore by university police, vociferously supported by President [Michael] Crowe's statement of support undermines our confidence in Arizona State University's commitment to basic equality and leaves us questioning whether ASU is in any way serious about its often expressed commitments to diversity."
Ore, who declined to comment for this story, saying she was not in a position to talk publicly about her case, was eventually sentenced to probation.
Shannon Gibney, a tenured professor of English at Minneapolis Community and Technical College who said she was reprimanded last year for discussing structural racism, attended graduate school with Laymon at Indiana University. She said she thought his piece resonated so much with so many – even those teaching outside of small, private institutions such as Vassar – because the experiences described are "unfortunately so very common," for faculty members as well as other professionals of color.
"This idea that somehow you are more shielded from racism because of your class standing has, in many ways, not stood the test of either empirical or personal data," Gibney said via email. "I mean, the piece is titled, 'My Vassar College Faculty ID Makes Everything OK,' which is completely tongue-in-cheek, because here he is, this celebrated national writer and teacher at this elite college, still getting routinely stopped for Driving While Black, dealing with daily microaggressions from his peers and administration, and completely unable to protect himself or his students from the violent onslaught of structural and institutional racism."
Gibney added: "This, coupled with the overt, physical and state violence we're seeing come out of places like Ferguson […] is completely devastating to read, and even more devastating to live. But I think that's the really brilliant connection [Laymon] is making here: that it's all connected. This sort of 'racism-lite' that we encounter in academia may kill you more slowly than the brutal physical violence black bodies routinely encounter vis-a-vis police forces around the country, but it will still kill you."
People who are "reading this piece and loving it are probably living this truth now, or have people in their lives who are," she added.
Tressie McMillan Cottom, a Ph.D. candidate in sociology at Emory University who has blogged about about race in academe, said Laymon's words resonate in part because the "historical and contemporary racism that operates through persistent, intentional wealth inequalities means black professors are more likely to be first-generation academics."
"We are always a part of the world where we can be stopped by the police for living in the wrong neighborhood even as we have one foot in the world where the police are there to unlock car doors for college town citizens," she said, noting that Laymon's essay highlights the "fragility" of the faculty ID. "It is the duality of our experiences in the academy while always a part of the larger social reality of being black in America that [Laymon] describes."
Nyasha Junior, an assistant professor of religion at Howard University's School of Divinity, said that even though she teaches at a historically black institution and doesn't face many of the issues Laymon describes, she knows her faculty ID won't "save" her from law enforcement officers, neighbors, store clerks and others who might see her as "inferior." As for Dunbar's essay, Junior said she most related to the idea of black women feeling like they have to "outperform" racial and gender biases.
"There is an internalized burden that black academics, but especially black women academics, carry," she said. "It is not a specific directive from higher-ups, but a sense that you should do more, say 'yes,' go above and beyond in order to belong. But not just to belong -- to prove that you belong."
Kecia Thomas, a professor of industrial-organizational psychology and associate dean for inclusion and diversity leadership at the University of Georgia, recently published an essay on race in academe in The Truly Diverse Faculty: New Dialogues in American Higher Education. In an email, she said that both writers' experiences speak to "the challenges many institutions confront as they try to become more diverse," and the disillusionment some academics may feel when they discover that higher education isn't a "vaccine" against prejudice or its "sting."
"Faculty rarely think of ourselves as workers," she said. "However, we are and the career barriers that our non-faculty colleagues confront such as discrimination, harassment, conflict, micro-aggressions and incivilities are as real in the ivory tower as they are in other workplaces."
Thomas said the essays present a "clear lesson" that academic workplace leaders "need to pay as much attention to inclusion as we do to diversity."  Whereas "diversity" is something that can be measured and even "bragged" about, she said, it's frequently "a lack of inclusion that may prompt a minority faculty member to leave."
Perceptions of inclusion reflect how faculty members experience the campus and their careers there, Thomas said, naming a series of questions that institutions must ask to assess inclusion. "Do minority members experience comparable levels of visibility and voice to their 'cultural default' peers?" she said. "Do opportunities for promotion and advancement only come as a consequence of upholding the status quo, or can diversity be an opportunity for institutional learning and greater effectiveness? Is academic freedom an equal opportunity? Can one be authentic and excellent?"
Administrators also can encourage inclusion by enforcing nondiscrimination and anti-harassment policies and working toward recruiting and retaining a "critical mass" of underrepresented faculty members and allies, Thomas said. Institutions can "reward and recognize diversity champions" as they do champions of other core values, such as research and instruction, and support "engaged scholarship" that lessens the distance between minority faculty members and minority communities, among other best practices.
"There is no amount of education and no title that can discount the tax of being different, of being the 'other,'" even in higher education, Thomas said. But "every institution can improve."