You have /5 articles left.
Sign up for a free account or log in.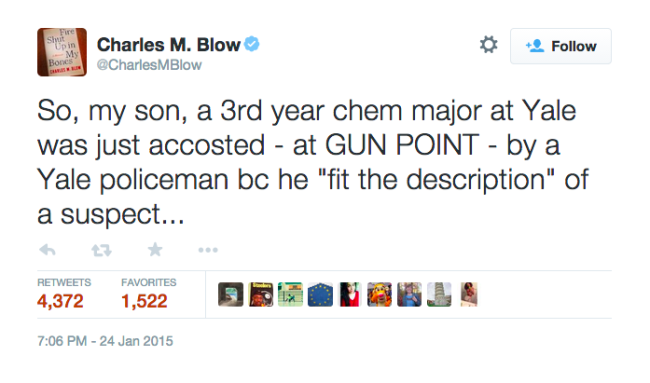 The debate over racial profiling -- already a hot topic on many college campuses -- gained renewed attention this weekend when Yale University police briefly detained a black male student Saturday evening. Black students and faculty members at many campuses charge that racial profiling is a fact of life for them, but this student's experience immediately attracted wide attention. His father is a New York Times columnist who has written about racial profiling and whose Twitter feed attracts many eyeballs.
Charles M. Blow, posted several tweets about the incident, saying that his son was held at gunpoint, and that the incident left the father angry. "He was let go when they realized he was a college student and not a criminal ( he was leaving the library!) He's shaken, but I'm fuming!," wrote Blow. Many of his 122,000 followers quickly spread the word about the incident.
Blow wrote that the incident reinforced his view of the importance of drawing attention to the issue of racial profiling. "Recent events reinforce what many have been saying for years: have a convo w your children abt what to do when interacting with authorities," he wrote.
Blow's column in The New York Times this morning offers more details on the incident. He said he understood the need for police, at Yale and elsewhere, to look for people who match descriptions of various suspects. But he questioned why his son was stopped on campus at gunpoint and told to get on the ground.
"Why was a gun drawn first? Why was he not immediately told why he was being detained? Why not ask for ID first?" Blow wrote. "What if my son had panicked under the stress, having never had a gun pointed at him before, and made what the officer considered a 'suspicious' movement? Had I come close to losing him? Triggers cannot be unpulled. Bullets cannot be called back."
The column closes this way: "The dean of Yale College and the campus police chief have apologized and promised an internal investigation, and I appreciate that. But the scars cannot be unmade. My son will always carry the memory of the day he left his college library and an officer trained a gun on him."
Yale officials acknowledged to Inside Higher Ed that a student was briefly detained and then released Saturday night. A spokeswoman declined to confirm that the student was Tahj Blow, the son of Charles Blow, or that he was held at gunpoint.
A spokeswoman said that Yale's police department would review what happened, and she described the events that led to a student being detained.
She said that students in one of Yale's residential colleges -- which has experienced burglaries in the last week -- reported an individual had been entering rooms under false pretenses. Students described the suspect as a tall African-American male, college-aged and wearing a black jacket. That description was sent to campus police, the spokeswoman said, and was the reason the student was detained.
After the student was released, a suspect was arrested.
Other Incidents
There have been numerous incidents in the last year in which alleged racial profiling by campus police or police of college towns has been an issue: