You have /5 articles left.
Sign up for a free account or log in.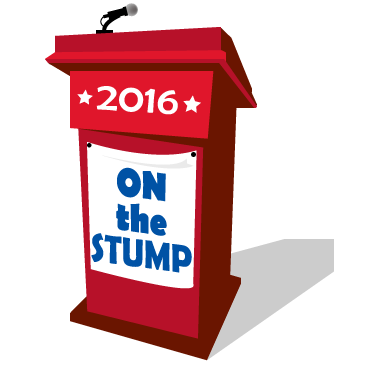 Presidential candidates already are expounding on higher education, which is shaping up to be a campaign issue. We'll help you keep score for the next 19 months -- yes, 19 months -- with a new feature called "On the Stump." Check back here for the latest from the long and winding campaign trail.
Senator Marco Rubio, a Florida Republican, declared his candidacy last week. On Friday he spoke at New Hampshire's Manchester Community College. Rubio, 43, who teaches a political science course at Florida International University, spoke about higher education both at the college and in his campaign announcement.
What did he say?
"We have only one way of providing higher education in America, and that is, we tell everybody, 'You either go to a traditional college or you go nowhere,'" he said in Manchester, according to The New York Times. "That isn't working."
Rubio called for an approach to higher education that includes more vocational training, the Times reported, and combines online courses, community college classes and "brick and mortar" credits, presumably earned at traditional, four-year colleges.
Behind the speechifying
The first-termer has become a vocal advocate of higher education reform, sometimes joining with Democrats on in-the-weeds proposals.
For example, he and Ron Wyden, an Oregon Democrat, have pushed for their bill that would give prospective students and parents detailed data on how much graduates in specific academic programs at individual colleges could expect to make. The proposed legislation would link student-level academic data with information about employment and earnings.
Rubio also supports legislation to change accreditation in higher education. He backs a bill that would give states the ability to open up accreditation and federal aid eligibility to nontraditional providers based on individual online courses rather than degrees.
The Floridian worked with Senator Michael Bennet, a Colorado Democrat, on a budget amendment to create an alternative, outcomes-based accreditation process. The proposal "would allow students to use their federal aid at new providers and existing colleges and universities that demonstrate successful student outcomes and offer innovative and effective programs," according to a news release from Bennet.
Riffing on alma mater
On Friday Rubio followed in President Obama's footsteps by complaining about his own student debt, which reached $100,000. Rubio attended the now-defunct Tarkio College on a football scholarship for one year. He later attended Santa Fe College, a two-year institution, before earning a bachelor's in political science from the University of Florida.
Rubio is a lawyer -- having later earned a J.D. from the University of Miami. It's likely that much of his debt, like Obama's, comes from his time in law school, which appears to have led to gainful employment.
Right-wing street cred​
In response to a question on Friday about the Common Core standards, Rubio said he would consider eliminating the U.S. Department of Education, the New Hampshire Union Leader reported. He joins a long tradition of Republican presidential candidates who have made that threat.
What people are saying