You have /5 articles left.
Sign up for a free account or log in.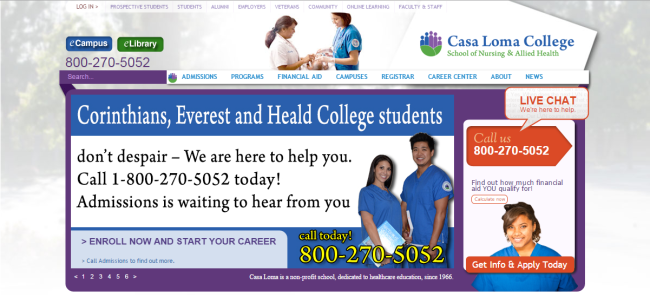 Amid the fallout of more than 16,000 students shut out by Corinthian Colleges' closure, institutions from California to New York are teaming up with the U.S. Department of Education to help keep those students on track toward completing college.
The sudden closure of Corinthian's remaining Everest, Heald and WyoTech campuses in Arizona, California, Hawaii, Oregon and New York on Monday means students are left with either attempting to transfer their credits to another institution or dropping their academic pursuits. Some colleges and administrators posted messages on websites or social media encouraging former Corinthian students to consider transferring to their institutions. 
"Students are upset and we get that. We understand that. Our hope is to help them navigate this and make the process of choosing another school and moving another direction as seamless as possible," said Randy Bowen, an assistant vice president for enrollment management at Monroe Community College in Rochester, N.Y. 
Bowen said his college on Tuesday sent advisers to an information fair at a nearby Everest campus, which is closing, to try to help students. The campus enrolled about 460 students and Monroe anticipates that about 40 of them will enroll at the community college this fall, he said. 
The fair was one of a number happening this week at Corinthian campuses with the help of Education Department officials in an attempt to ease the transition for students. 
The process won't be easy for many students, especially as they attempt to transfer credits and previous course work from Corinthian to colleges where a comparative or equable credit or program may not exist. Some students may find themselves starting over from scratch. 
"Our system is well positioned to take in students who may be interested," said Paul Feist, vice chancellor for communications for the California community college system, adding that the system's chancellor has been in contact with all 112 of the state's two-year colleges to discuss the Corinthian situation. "It's going to be up to each individual college to determine what credits transfer, if any. A college that has a Heald, WyoTech or Everest in its service area has probably encountered a [student] move in the past." 
Long Beach City College President Eloy Oakley said he's not certain how many students will look to transfer, but he wants to get the word out that his college is willing to help them. 
"We are all educators, and it's like a natural disaster -- our first reaction is to help these students," he said. "We want to make sure they know that as frustrated as they are right now, they have a place at Long Beach City College and any of our community colleges. They have options and no mater what, at the end of the day, we want them to finish their education, stay in the community and become economic assets to the community."
We are all educators, and it's like a natural disaster -- our first reaction is to help these students. -- Eloy Oakley, president of Long Beach City College
Bowen said Monroe is also familiar with transferring students from Everest, but the difference is the circumstances that will lead to their arrival now and the sensitivity that will be required to help them. He doesn't expect there will be capacity concerns for acquiring the new students, but there may be challenges when it comes to former Corinthian students who are interested in competitive programs like nursing and finance. 
"We'll bring in as many transfer credits as possible without compromising the academic integrity of the programs here," Bowen said. 
Problems with College Transfer Lists
To further help students, the department released lists of neighboring colleges and programs that may be receptive to Corinthian students. The list offered students options within a 25-mile radius of their closed Corinthian location. 
But the feds were criticized Tuesday for further harming students because some of those institutions had appeared on a list of colleges the department has decided require extra financial scrutiny. 
Senator Dick Durbin, an Illinois Democrat, criticized the department Tuesday for including other for-profit colleges that have been under investigation either by state attorneys general or federal agencies as transfer options for Corinthian students.
"Has the Department of Education learned nothing? How in good faith can they tell these Corinthian students, who just had their college disappear and are sitting on a pile of debt, that these are viable transfer options for their students?" Durbin said. "A move like this leads me to the sad conclusion that the Department of Education is out of touch with reality."
The department website identifies 286 institutions as "viable transfer options" for displaced Corinthian students. Of those colleges listed, 174 are for-profits, 90 are community colleges or four-year public institutions, and 22 are private nonprofit colleges. 
Eighteen of the colleges listed as transfer options were, as of last month, subject to the department's aid restrictions known as heightened cash monitoring, according to an Inside Higher Ed analysis of federal records. Corinthian was also operating under heightened cash monitoring. That sanction -- combined with a 21-day delay on access to federal aid -- caused a cash flow crisis at the company last year and forced it into a deal with the department to sell or close all of its campuses. 
Five of the colleges that appear on the department's list of alternatives are no longer eligible for federal aid because they have closed, according to federal records. Those include two DeVry University campuses, one ITT Tech campus, a Le Cordon Bleu location and a Casa Loma College campus. 
Two other California-based Casa Loma College campuses, in Anaheim and Van Nuys, remain open. The college ran a banner on its website encouraging Corinthian, Everest and Heald students to call their admission department. 
Denise Horn, an Education Department spokeswoman, said the main priority has been notifying each of the Corinthian students their options. 
"At least 42 percent of these students were within six months of completing their degrees," she said in an email. "We are doing everything we can within statutory limits to help students affected by the largest college shutdown in American history. Corinthian's closure follows a series of aggressive enforcement action aimed at protecting students and taxpayers against an unscrupulous company that made misleading promises." 
Horn said the department will continue to work to protect students, borrowers and taxpayers. 
"The department needs to be in direct contact with students and walk them through this," said Maggie Thompson, campaign manager for Higher Ed Not Debt, a coalition of consumer groups. "Students should have transfer and accreditation options explained to them clearly and how they can get their loans discharged." 
Thompson said this isn't the first time the department has referred Corinthian students to controversial for-profits. For example, when an Everest campuses closed in Minnesota, the department listed a handful of transfer options that were under investigation, she said. 
As a result, Higher Ed Not Debt is encouraging Corinthian students to start over. Thompson said they're especially concerned with students who were allowed to enroll after the operation agreement was in place and Corinthian began the search for campus buyers. 
"We believe the best path will be for them to get closed-school discharge and start over again at a new institution," she said. "Many of the credits they earned at Corinthian won't be transferable to nonprofit entities and community colleges."
Financial Aid Questions 
Starting over may be especially difficult for Corinthian students who receive Pell Grants. A written statement by Pauline Abernathy, vice president of the Institute for College Access and Success, said that while Corinthian students can discharge their federal loans because of school closures, the Pell Grants they used while enrolled will count against their lifetime limit. 
In the post, Abernathy wrote: "Because the law doesn't reset the clock on a student's eligibility for Pell Grants when a school shuts down, low-income students may not be eligible for enough aid to complete a program anywhere else." 
Community college leaders are encouraging Corinthian students to speak with counselors and financial aid advisers when they attempt to transfer. 
Bowen points to the New York State Tuition Assistance Program, which can help students receive up to $5,165 per year, while Oakley said there is state aid available to California students that would be unaffected by a student's Pell Grant status. 
California also has its own Student Tuition Recovery Fund to help those who were enrolled at a college that closed. 
"It's really important that the federal forgiveness process is clear and doesn't place an undue burden on students," Thompson said. 
-- Michael Stratford contributed to this article.