You have /5 articles left.
Sign up for a free account or log in.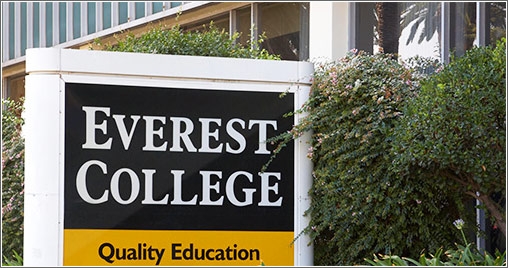 There is no precedent for the shuttering of a for-profit chain that enrolls 72,000 students across 107 campuses. But it is possible -- or maybe even likely -- that Corinthian Colleges will go bankrupt in coming weeks.
Corinthian, which faces a raft of financial and regulatory challenges, appeared to have enough cash and assets to stay afloat for at least the next few months. That changed with a letter the U.S. Department of Education sent to the for-profit last week.
The department said it had tightened financial oversight of the company and placed a 21-day hold on Corinthian's ability to receive federal financial aid payments. That money typically clears within three days after a college submits enrollment data.
Corinthian was already weakened, and had said last month it would consider selling off parts of the business. The company recently sold or closed seven campuses and laid off 1,350 employees.
With headquarters in Santa Ana, Calif., Corinthian operates three chains of campuses – Heald College, WyoTech and Everest College and University. It is publicly traded. And with annual revenue of $1.6 billion, it is one of the largest for-profit higher ed providers.
The timing of the department's letter is bad for the company, sources said. Enrollments and revenue are typically down in the summer across much of higher education. As a result, Corinthian has little liquidity. (It has no long-term debt, however.)
The 21-day financial aid hold will worsen an already-predicted $55 million cash shortage for the company this quarter, according to a report from Jeffrey Silber, a financial analyst with BMO Capital Markets.
Corinthian has been seeking credit from its lenders to bridge the gap, the company said Thursday in a corporate filing. But creditors have refused that request.
Without an alternative form of financing, the "company's cash flows will not be sufficient to meet its obligations as they become due," Corinthian said, "which would cause the company to be unable to continue as a going concern."
If Corinthian can't pay its bills and goes bankrupt, the feds would yank its access to financial aid programs. That would be a quick death blow, experts said.
The department has a "teach out" plan in place for shuttering colleges. That program helps current students finish their studies or transfer. But the failure of an institution the size and complexity of Corinthian would test that plan, several sources said. Some doubt the department would be able to manage the crisis.
Similar concerns have arisen in recent weeks amid the continuing conflict over the future of City College of San Francisco, which enrolls 77,000 students. 
"The Education Department and the accreditors do not appear to have contemplated a scenario in which tens of thousands of students are simultaneously displaced," according to The Capital Forum, a Beltway-based newsletter founded by Teddy Downey, executive editor of a subscription news and analysis company, who tracks the for-profit industry. "Such lack of planning has likely created the possibility for a chaotic situation to arise."
Many students would face difficulties in transferring to other institutions, experts said. For example, students at WyoTech's campus in Laramie, Wyoming, might not have nearby options that match up with the institution's certificate programs in automotive and other technology fields.
However, Corinthian's current students also might not have to pay off their federal loans if the for-profit closes. The department typically discharges that debt. It also releases debt if a college goes bankrupt, but only if students can prove resulting "hardship."
That means the government would not get all of its loan money back if Corinthian shuts down. The company receives $1.4 billion in annual revenue from federal loans and grants.
Department officials and Corinthian were talking often this week, said a spokesman for the company and a spokeswoman for the department. It was unclear Thursday night if any solutions were available.
Crackdown on For-Profits
If Corinthian goes bankrupt, the department will struggle to help students cope with the resulting cascade of problems, said Trace Urdan, an industry analyst with Wells Fargo Securities, which is a primary investor in Corinthian.
"Who's going to pay for the teach out?" Urdan said. "There's no teach out. The doors are locked."
Critics of the for-profit sector will have their first major scalp if Corinthian folds. And while the company has been struggling with declining enrollment and revenue in recent years, the Obama administration, which has been aggressive in pursuing the sector, could be seen as having had a direct role in the company's failure.
However, it's not clear whether consumer groups or policy makers would celebrate Corinthian's demise, given the possible disruption to students.
A Thursday news release from the department about the Corinthian action was one of the first to feature a quote from Ted Mitchell. Last month Mitchell was confirmed as the U.S. under secretary of education, the top higher education-focused post at the department.
"The department's foremost interest is to protect students and make sure they are educated by institutions that operate in accordance with our standards," Mitchell said. "We made the decision to increase oversight of Corinthian Colleges after careful consideration and as part of our obligations to protect hardworking taxpayers and students' futures."
Ben Miller is a senior policy analyst for the New America Foundation and a former department official. He said Corinthian is widely viewed as one of the most troubled of for-profit chains. For example, the attorneys general of California and Massachusetts have sued Corinthian. And Miller said the company would be among the worst performers under the White House's proposed "gainful employment" rules.
While regulators must seek to prevent students from getting hurt in the for-profit crackdown, Miller said Corinthian's struggles should send a powerful message to the industry.
"You need to change," he said. "The lowest-performing actor, it didn't do what it needed to improve."
Political Fallout
The department said Thursday it placed Corinthian on "heightened cash monitoring" status for failing to address concerns about its practices, including questions about job placement data, marketing claims and allegations about altered student grades and attendance records.
So far this year the feds have sent the company five information requests, according to the department, but Corinthian has not turned over the documents.
The company had a different take.
Corinthian said it "has expended substantial resources in making rolling production of responsive documents and data to the Education Department." The inquiry has expanded during the course of the year, the company said in its filing, including new information requests in the June letter. Corinthian has 100 employees working on its responses, and expects to devote more resources to the inquiry as it continues.
While it struggles to pay the bills, the company has asked for "relief" from the 21-day hold on federal aid payments. But the department appeared to be sticking to its guns, despite likely pressure from members of the U.S. Congress who are sympathetic to Corinthian and the for-profit sector.
Corinthian's share price dipped to 28 cents on Thursday, down from a peak of almost $20 in 2010.
Federal regulators have been coping with another large institution's existential crisis this month. The department has been involved in the ongoing debate over whether City College of San Francisco should lose its accreditation.
However, the feds have said that the accreditor of City College can grant a two-year extension in that case. Advocates of for-profits are likely to cry foul if Corinthian goes under and City College doesn't, arguing that the department bent over backward to help the community college.
Urdan was surprised by the department's likely "terminal action" with Corinthian. He thought regulators would want to avoid the resulting mess, which could include lawsuits or a Congressional hearing. He cited the Congressional backlash to the 2001 bankruptcy of the Computer Learning Center, a vocational institution, which the department helped shut down.
The feds' skepticism about Corinthian and its student outcomes may now outweigh those worries, Urdan said.
"The politics have changed," he said. "I just don't think they care."