You have /5 articles left.
Sign up for a free account or log in.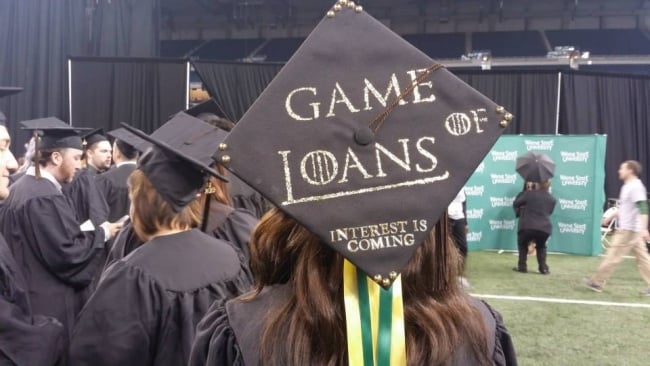 After a concerted push over the past several months from liberals and progressive groups, Hillary Clinton's presidential campaign appears to be on the cusp of embracing a debt-free college plan.
The Democratic front-runner's campaign manager promoted the idea last week during an interview on CNBC.
"What voters are looking for is someone to be a champion for everyday people," the campaign manager, Robby Mook, said. "For young people, that's debt-free college."
His comments follow a resolution last month by Congressional Democrats that promoted debt-free public higher education and that won the backing of prominent Democrats like Senators Elizabeth Warren and Chuck Schumer.
Much of the inspiration for the debt-free college plan has come from a Progressive Change Campaign Committee and Demos policy paper that sketches out the concept of making public higher education debt-free across the country.
The idea has already caught on with Clinton's potential and declared rivals in the Democratic nominating contest. Senator Bernie Sanders, the Vermont Independent, who is running for president, has proposed an $18 billion federal program to make the first two years of public higher education free. And former Maryland Governor Martin O'Malley, a likely contender, has also backed the idea.
Debt-free college, if it does indeed capture a high-profile spot on the Democratic 2016 campaign trail, would be among the most ambitious higher education proposals offered by a presidential candidate in a few decades of election cycles.
Although rising levels of student loan debt have increasingly become a popular topic in presidential and congressional elections over the past several cycles, the solutions have been less sweeping than debt-free college.
President Obama, for instance, during his 2012 re-election campaign focused largely on promoting more generous income-based repayment plans and reducing the interest rate on federal student loans by several percentage points. And many Democrats pushed the issue of refinancing student loans during the 2014 midterm elections.
The debt-free college plan, as outlined in the Demos paper, is thin on details. But the basic idea is that the federal government would reward states that increase spending on higher education, reducing the need for students to take out loans, and also boost need-based aid programs like the Pell Grant.
Mark Huelsman, senior policy analyst at Demos, said that the debt-free concept relies on what many higher education policy groups have long been saying: that states need to boost their spending on higher education and that student loan debt is crushing some borrowers and a drag on the economy.
"We think there are a number of ways to get to debt-free college, but this is about creating the umbrella for that conversation to take place," he said. "From a strategic perspective it's good to have that bold marker in mind that can galvanize people. So many good policies can flow through that."
"I don't think it's as much of a leap as it may seem," Huelsman said. "We're talking about reducing unmet need for low- and middle-income students."
"Debt-free college doesn't necessarily mean free tuition," he said. "It means that students should face no more in unmet need than they could reasonably make up for over a summer job or a part-time job over the school year."
Still, Huelsman concedes, "it's not a small ask of states and it's not a small ask of the federal government to reverse decades of public disinvestment."
Senator Warren of Massachusetts said that she thinks the debt-free college "is a part of" efforts to reduce the burden of student loan debt.
"Student debt will be a central issue in the 2016 elections, both at the presidential election and the congressional level," Warren told reporters last month. "There are two problems that have to be solved: the high cost of college education and huge outstanding student loan burden. And we need to go after both of them."
Senator Schumer of New York, the high-ranking Democrat, called debt-free college "the next big idea" in announcing a resolution by congressional Democrats last month that backed the concept.
Is Debt-Free the Right Approach?
Many community college advocates have said that although Obama's free community college proposal, announced in January, stands a slim chance of passing the current Congress, it has brought unprecedented levels of attention to community colleges and their funding. Shifting the conversation so that, as the Obama administration describes it, two years of postsecondary education are come to be viewed as universal as high school, has been a victory in itself, many proponents of the plan have said.
But some are concerned that pushing for the level of state and federal investment needed to allow students across the country to earn bachelor's degrees without taking on any amount of debt would be a bridge too far.
"Some people on the Left think, strategically, they should just shoot for the moon," said Sara Goldrick-Rab, a professor of education policy at the University of Wisconsin at Madison. "I worry we're going to lose the conversation about two years of free community college by going way too far. Incremental is very important here."
The focus, Goldrick-Rab said, should be on funding efforts to make two years of college in the public sector free for everyone, with additional aid to help low- and moderate-income students finish a bachelor's degree. Such a policy, she said, would be targeted at two key populations: students who currently aren't attending any college and those who are going into debt but not earning a credential.
"Once a student has had at least two years of colleges, it isn't unreasonable to consider taking a loan. There's a lot less risk," she said. "What's unreasonable is financing those first two years of college with debt when you have no idea what you're doing."