You have /5 articles left.
Sign up for a free account or log in.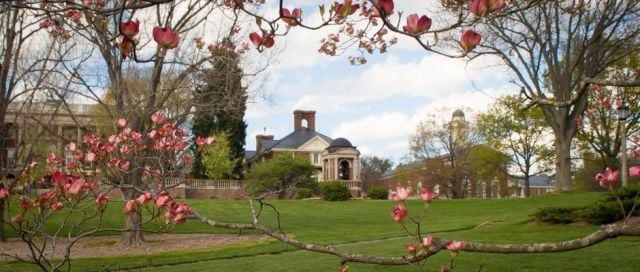 Sweet Briar College lives on.
In a deal announced Saturday evening by Virginia's attorney general, the college's current leaders agreed to relinquish control to a new president and a largely new board. Saving Sweet Briar, an organization of alumnae who have fought the planned closure of the college, has agreed to raise $12.5 million to continue operating the college in the 2015-16 academic year. The first $2.5 million would have to be provided by July 2.
Lessons for Other Colleges
Experts discuss the implications
of Sweet Briar's reversal for the
many small private institutions
watching it. Read more.
Based on that agreement, the attorney general will end restrictions on $16 million in the college's endowment. The funds from the endowment and from Saving Sweet Briar are believed to be sufficient to operate the college in the coming academic year. All litigation will be dropped.
The deal also states that there will be a severance plan for faculty and staff members, but that they "may be offered employment" after the change in leadership. Most tenured and tenure-track faculty members were told by the current administration that they would lose their jobs at the end of June.
Links to Essays on Sweet Briar
The announcement that Sweet Briar would close set off a wide debate in higher education. Here are links to some of the essays published by Inside Higher Ed, all appearing while the college planned to close:
As soon as word of the deal started to spread, alumnae who fought against the long odds started to celebrate. "Never doubt that a small group of women can change the world. We saved Sweet Briar!" said one of the first comments on Twitter. The hashtag #savesweetbriar was replaced by many with #sweetbriarsaved. One of the alumnae groups that has been working to keep the college open promoted a Sweet Briar 2.0 website, with collections of ideas on how to strengthen the college.
"Today's settlement is an answer to the prayers of many and a powerful validation of the value of fighting for what you believe in," said Sarah Clement, chair of Saving Sweet Briar. She noted that the organization has $21 million in pledges from alumnae and others who want to keep the college going.
The news in March that Sweet Briar would shut down stunned not only the college, but many others in higher education. Unlike most colleges that close, Sweet Briar still had more than $80 million in its endowment, name recognition, a beautiful campus and a sound academic reputation. But trustees cited a rising discount rate (the percentage covered by institutional aid or discounts off sticker price that families pay), a declining yield (the percentage of admitted applicants who enroll) and the difficulty of recruiting applicants to a rural women's liberal arts college.
But alumnae immediately objected, criticized the management of the college and said that they would raise enough money to keep it going. They have apparently done so. But now they face the challenges that the previous board could not solve: how to attract enough students to sustain the college, and specifically how to attract students in an era when being a rural liberal arts college for women doesn't by itself draw enough students -- however high quality the experience for those who enroll.
Sweet Briar had an undergraduate enrollment of 561 students in the academic year that just ended. Since then, 134 have graduated and another 231 have requested final transcripts, which typically indicates a transfer. However, it is unclear how many of those students might reconsider now that their college has survived. Sweet Briar alumnae report that ever since the announcement Saturday night they have been hearing from students who transferred who want to come back, and from others who are interested in enrolling.
Saving Sweet Briar and others have been engaged in a bitter legal battle with the college over the plans to close. While the college has avoided any orders to stay open indefinitely, the opponents of closure won a key victory this month when the Virginia Supreme Court ordered a new hearing by a lower court on an injunction to block closure. While the ruling was not a conclusive victory for Saving Sweet Briar, it kept the legal case against closure alive.
Up until Saturday, the college itself had been predicting that the college would shut down after helping students graduate or transfer this summer. And officials have said repeatedly that there was no realistic way to make the college successful over the long run.
But shortly after the announcement by Virginia Attorney General Mark Herring, the college issued a statement endorsing the deal. The announcement noted that Saving Sweet Briar says it has $12 million in donation pledges for the next year (the larger total reflects some longer-term commitments). With that money added to existing funds, the board statement said, "the Board of Directors decided that new leadership should be allowed the opportunity to operate the college for another year with the hope it will be able to find long-term solutions for ongoing sustainability."
A spokesperson for the college said the current administration and board would have no comment beyond the statement.
Change in Leadership
The agreement announced Saturday stipulates that at least 13 members of Sweet Briar's current board (of 23) will resign. They will be replaced by at least 18 trustees nominated by the plaintiffs who have been suing to keep Sweet Briar alive, and they will constitute a majority of the board.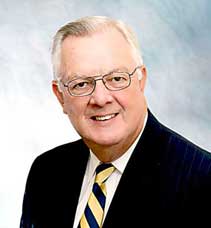 The new board is expected to appoint Philip Stone (at right) as president. Stone is a lawyer who from 1994 to 2010 served as president of Bridgewater College. While Bridgewater is coeducational, it has much in common with Sweet Briar -- both are liberal arts institutions, and like Sweet Briar, Bridgewater is located in a part of Virginia more notable for its beauty (the Shenandoah Valley) than its city life. When Stone took over as president of Bridgewater, it was struggling with enrollment. By the time he had been there 10 years, enrollment was up 78 percent. Bridgewater summarizes Stone's presidency here.
Stone's biography on his law firm's website notes that he has extensive higher education experience beyond Bridgewater, having served as (among other leadership roles) chairman of the Commission on Colleges of the Southern Association of Colleges and Schools, president of the Council of Independent Colleges in Virginia, and chair of the National Collegiate Athletic Association's Division III Presidents Council.
In an email to Inside Higher Ed, Stone said he could not give a full interview until he is officially appointed. But he said he is not trying to help Sweet Briar just for the coming year, but for a much longer future. "After seeing the extraordinary passion, courage and strength of the Sweet Briar alumnae, I feel privileged to be asked to join their heroic efforts to save this great college," he said. "I want to make it clear that my commitment is not merely to keep the college open for the coming school year but to help it embark on a path for its next 100 years! I am enthusiastic and optimistic about what lies ahead. With the support of such wonderful alumnae and so many other supporters and friends of Sweet Briar, I am confident the college's finest years can still lie ahead."
The issues facing Stone are significant. A report last month by Moody's Investors Service said, "In Sweet Briar's case, challenges included small scale, which, combined with weakening demand, declining pricing flexibility and an insufficient endowment, led to an unsustainable business model." Some of the very qualities that make alumnae so loyal also make it hard to balance the books, Moody's said. "Sweet Briar's model of providing highly personalized education with small class sizes is expensive, as indicated by educational expenses per student of approximately $42,000," said the report. "Although this cost structure is commensurate with the other rated women's schools, standing at the median, colleges either need greater pricing flexibility, larger endowments or more gift revenue to sustain the model." And the report added that Sweet Briar lacks the resources of those other colleges.
The college will need to quickly build its infrastructure back -- since many administrative positions have been left vacant. And Sweet Briar may want to undo some of the moves taken when it looked like the college was closing. For example, Sweet Briar runs a highly acclaimed program for study abroad in Paris and Nice. When the college announced it was closing, it transferred the program to Hollins University. A spokesperson for Hollins said that the university was "hoping to clarify the status" in the next few days.
Richard Kneedler, former president of Franklin & Marshall College and of Rockford College (where he brought the college back from a near-death situation), said that Sweet Briar's new leadership can succeed, but that it won't be easy. He said that the infusion of cash from the settlement will be of enormous help, but that demands for that money will be high, and it will be hard for the college to satisfy everyone.
His advice to Sweet Briar's new administrators: "You need to be certain of your facts, understand the underlying financial realities and then agree to certain things -- agreeing to do those things you know you can pay for, and to only make promises you know you can deliver on." He said that with a "commitment to transparency," a college facing a difficult situation can rebound, especially if the various players work together, discussing views with civility and respect.
"If there is a commitment to teamwork, to honesty and collegiality, that is often the key element that makes colleges strong enough to survive," he said. "It's a bigger asset than a big endowment."
Professors Think About Change
While many faculty members spent recent months job hunting, some decided to stay put, joining the lawsuits trying to keep the college open and thinking about what to do if they beat the odds and had a college at which to teach this fall.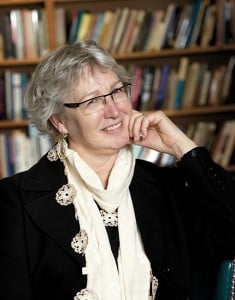 Deborah Durham (right) is one of those faculty members. A tenured professor of anthropology, she has taught at Sweet Briar since 1993, winning three Fulbrights along the way. She has a letter from the college (from the time closure was announced) telling her that June 30 is her last day on payroll. On Sunday, she said she was full of hope about the future.
Many professors have obtained positions elsewhere, although many have been hired for one-year jobs and may be able to come back. Those staying and those leaving have been meeting to talk about what the college would look like in the coming academic year with -- in the best of scenarios -- far fewer students or faculty members than in the past.
She said colleagues are going through departmental offerings, trying to assure that there is someone who could help a student with any existing major. She said some of those who have taken positions elsewhere have said that they could teach one course a semester to help during the transition. Faculty members are also reaching out to people who have specialties that might be missing next year, to check on their availability. Durham said that she and other faculty members also expected more interdisciplinary courses and programs in any plan for next year.
One question for the faculty will be how closely to stick to the liberal arts model. Durham said that professors have been talking about this issue, with a mix of opinions. Some professors, she said, want the college "to retain the pure liberal arts focus, and feel that the college can succeed if it promotes itself that way, and that there is a place for the liberal arts in the world and that the fad of training for the job market will turn around."
Others, Durham said, are more open to adding more vocationally oriented programs, if consistent with Sweet Briar's values. "When they announced that we were closing, of course we were all shaken. Maybe we're now open," she said.
A Rare Development
Decisions by trustees to close a college are almost always heartbreaking to alumni. But typically their protests and even litigation fail to change anything. The only known case of a college board announcing that it would close -- and then being forced to reverse course -- is that of Wilson College, in Pennsylvania. A women's college, Wilson faced declining enrollment and a poor balance sheet, and in 1979 Wilson's board voted to shut the college down. But a state judge in essence found that the college's board hadn't made good decisions, and he ordered the board to keep the college going, which it did.
For a while Wilson College rebounded, but by 2012, the board determined that it was falling apart financially, and that only admitting men (and making numerous other changes) would make the college financially viable. Alumnae protested, but the plan was adopted.