You have /5 articles left.
Sign up for a free account or log in.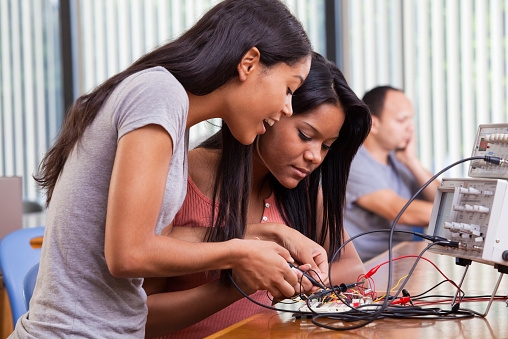 What have long set U.S.-trained engineers apart from their global peers -- at least in the minds of lots of employers -- are their softer skills. While universities in many other countries focus almost entirely on technical mastery, American engineering programs also stress the development of additional competencies, such as critical thinking, writing and the ability to work across disciplines and in diverse settings.
And that hasn't been an accident. For years, the major undergraduate and master's-level engineering program accreditor, the Accreditation Board for Engineering and Technology, or ABET, has made these outcomes part of its standards. So proposed changes designed to streamline those standards are worrying some faculty members, who say they'll inevitably narrow American engineers' skills set -- and therefore take away their competitive edge. But ABET argues that the changes will benefit the discipline over all, by making less opaque the process of assessing some of these outcomes and by encouraging innovation in teaching.
"Engineering is increasingly being done in a much more complex context and -- I'm going to show my age here a bit -- engineers can no longer afford to be the guys with pocket protectors and slide rules," said Charles N. Haas, the L. D. Betz Professor of Environmental Engineering and chair of civil, architectural and environmental engineering at Drexel University, and an opponent of ABET's changes. "They need to be able to interact with people from diverse communities and understand and meet their needs and communicate with different constituencies as much as possible."
Donna Riley, a professor of engineering education at Virginia Tech and a past chair of the American Society for Engineering Education's Liberal Education and Engineering and Society division, agreed.
"U.S. engineers will be at a disadvantage if they don't understand the global context of their work," she said. "This is about being able to see the big picture, and in so many ways this is what this [debate] is all about."
In the mid-1990s, amid high-profile calls for more well-rounded engineers who would remain competitive internationally, ABET released its Engineering Criteria 2000 accreditation standards. Arguably the most significant part of the document, Criterion 3 said all engineering programs had to demonstrate that their graduates could:
Apply knowledge of mathematics, science and engineering
Design and conduct experiments, and analyze and interpret data
Design a system, component or process to meet desired needs
Function on multidisciplinary teams
Identify, formulate and solve engineering problems
Understand professional and ethical responsibility
Communicate effectively
Understand the impact of engineering solutions in a global and societal context, due to a "broad education"
Recognize the need for and engage in lifelong learning
Grasp contemporary issues, based on background knowledge, and
Use the techniques, skills and modern engineering tools necessary for engineering practice.
The 11 subcriteria in Criterion 3, widely referred to as A-K, weren't perfect. Some faculty members said they didn't stress liberal education enough, while others pointed out how hard it was to assess outcomes such as lifelong learning. But many agreed the criteria did provide guidance for departments in helping their students prepare for an increasingly global field. Virtually all accredited U.S. engineering programs have been assessed by A-K for the past 15 years. A number of those requirements led engineering programs to be sure to include writing, public speaking, history and world cultures instruction in the requirements for students.
Cut to last week, in Seattle, when a presentation on proposed changes to the accreditation criteria stunned many attendees at the American Society for Engineering Education's annual meeting. Small groups of faculty members, administrators and members of professional societies already had been briefed on the changes. But for many faculty members, the conference was the first time they'd heard about them -- just two weeks ahead of the end of a public comment period.
"We were all very much surprised by it," said Riley, of Virginia Tech. "The process remains opaque … Whatever attempts at communication were made weren't effective."
More than process, faculty members are concerned about the content of the changes. According to a slide presentation from ABET's Engineering Accreditation Commission, A-K will be reorganized into six outcomes. Students must have the ability to:
Use the principles of science and mathematics to identity, formulate and solve engineering problems
Apply both analysis and synthesis in the engineering design process, resulting in designs that meet constraints and specifications (including societal, economic, environmental and other factors appropriate to design)
Develop and conduct appropriate experimentation and testing procedures, and analyze and draw conclusions from data
Communicate effectively with a range of audiences through various media
Demonstrate ethical principles in an engineering context, and
Establish goals, plan tasks, meet deadlines, manage risk and uncertainty, and function effectively on teams.
ABET's Engineering Accreditation Commission says that individual programs may articulate additional outcomes, but that it is focusing on what is "necessary" to professional practice. For example, references to a "broad education," "life-long learning," knowledge of contemporary issues and professional responsibility are gone. One of the commission's concerns, according to the presentation, is that programs aren't adopting additional goals under the more lengthy A-K guidelines. And that's stifling teaching innovation, it says. Moreover, "some outcomes have proven difficult to assess in a useful and repeatable manner."
But some faculty members and administrators are nevertheless alarmed by the changes, particularly the omission of the global and multidisciplinary competencies. While engineering programs are hard-pressed to meet the A-K requirements and stay on top of their increasingly complex technical curricula, these additional competencies are necessary for students' career prospects, they say. But they'll likely fall by the wayside if ABET abandons them, given the constant pressure of decreasing credit hours required for the major.
"What's necessary for a strong engineering education is being profoundly weakened," said Amy Slaton, a professor of history at Drexel who teaches many engineering students completing general education requirements, including in a course on technology in historical perspective. "The concern is this is a terrible time to do this, with the number of engineers increasing from India and China and [Brazil and Russia]. The thing that has made American-trained engineers stand out is that they can think critically and ethically and they can write."
Slaton said the new standards don't seem to support the "T-Shaped" worker -- one with foundational technical skills and a broadly educated mind -- businesses say they want.
Riley said she wondered how a student who hadn't been trained in global competencies and contemporary issues, for example, might approach building an electrical grid in another country, in which so many cultural factors are at play -- what drives usage, when is peak demand, what happens if it goes out?
Haas, also at Drexel, said he particularly worried about the elimination of "multidisciplinary" teamwork. No real engineering problem these days applies to just one discipline, he said.
Asked how hard it was as a department chair to meet all the A-K requirements, Haas said it's a constant "balancing act." But it's all worth it, he said. As for difficulty assessing things such as lifelong learning and global competency in the undergraduate classroom, both Haas and Riley said it's possible. There are off-the-shelf assessment tools, they said, and building these skills means anything from sending someone on a semester abroad to simply including a module in a lab.
Riley and several colleagues are currently circulating a petition, asking ABET to extend its period for feedback on the changes. The engineering education society's Liberal Education and Engineering and Society division also has shared with ABET its "deep" concerns in an open letter. 
Faculty members aren't the only one who are concerned. Some professional societies have offered their feedback, as well. Jim O'Brien, managing director of the American Society for Civil Engineers, said his organization wrote a letter to the ABET commission suggesting changes to the changes. While the old standards did probably stifle some teaching innovation, he said, the new standards leave out key outcomes. Of particular import, he said, was the "global" competency reference. If ABET doesn't include it in the general standards, he said, his organization will work to add it to their own set of standards. O'Brien guessed the proposal wouldn't pass as is, however, given the level of concern.
Norman Fortenberry, executive director of the American Society for Engineering Education, said he couldn't comment, as the association was still considering the changes.
ABET was unable to make anyone available to immediately comment on the draft changes. But a spokeswoman stressed that they are just a draft, reflecting discussions that have been underway since 2009. They'll be open to additional comment for a year after ABET further considers the changes starting this summer.