Debt Protests Target Aid Officers
On social media and in person, student activists zero in on financial aid administrators' annual conference.
(Michael Stratford)
NEW ORLEANS -- The beer-soaked streets leading to Jackson Square in this city's historic French Quarter bustled on Monday evening with characteristic revelry – and a short-lived, if chaotic, debate over student loan debt.
"They're coming," a face-painted man in a full-body alligator costume yelled from his bicycle. "They're two blocks away."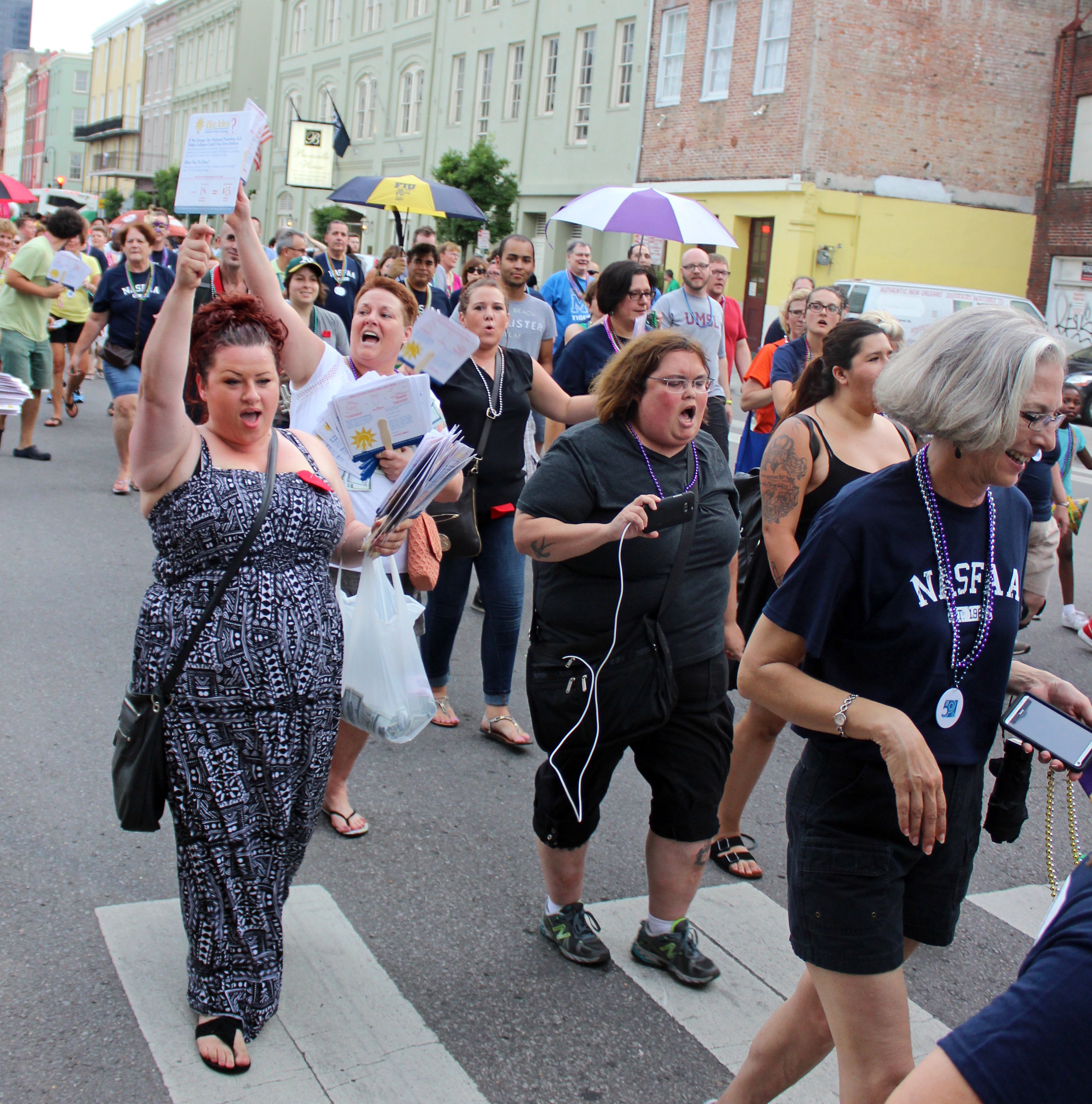 With that warning, several dozen student activists, staged strategically at a corner bar, finished their drinks, gathered their protest signs, and geared up for action.
The target? Hundreds of college financial aid officers who were parading -- complete with Mardi Gras beads, marching band and police escort -- through the French Quarter to celebrate the end of the second day of their annual gathering here.
"No cuts, no fees, education should be free," the protesters from the Occupy-inspired Student Debt Collective chanted in repetition, throwing fake money at the financial aid officers and interrupting their parade with music.
The protest, which lasted less than an hour, came during the annual meeting of the National Association of Student Financial Aid Administrators, known as NASFAA. What is usually a wonkish conference filled with sessions on the mechanics of Education Department data systems, the intricacies of federal student aid regulations and best practices for running financial aid offices was enlivened by the Debt Collective's physical and social media demonstrations here.
The group pushed out its message on a spoof Twitter account (below) that appeared to be sanctioned by NASFAA, and published a blog post claiming its debt-free-college proposal had won the Big Idea contest at the conference. (The actual winner of the contest for the best policy idea for improving student aid will be announced Tuesday.)
The Debt Collective said it wanted to "rain on NASFAA's parade" being hosted in New Orleans. And their complaints were varied: corporate and Wall Street greed in lending, unfair loan servicing and predatory for-profit colleges.
Although NASFAA attendees are largely rank-and-file financial aid officers at colleges, its exhibit hall is filled with a range of student loan-related companies, like the Education Department's contracted loan servicers (Navient, Great Lakes, Nelnet, Fed Loan Servicing) and the biggest private lenders, like Sallie Mae, Wells Fargo and Discover.
Ann Larson, one of the Debt Collective organizers based in New York, said the group was trying to broaden its campaign from Corinthian Colleges and for-profit institutions to "address systemic causes" of student loan debt.
NASFAA, she said, "isn't the problem, but they are simply one node in industry and system that works against students."
Earlier this year, the Debt Collective's student loan debt strike of federal loans owed by Corinthian students, in part, pressured the Obama administration into setting up a debt relief process for those students and others similarly situated. The group doesn't believe those steps went far enough.
Protesters said their action here was also aimed at the Education Department, which isn't a financial sponsor of the conference but sends about a dozen department officials to educate financial aid officers about the federal rules they must follow.
Dawn Lueck of California was a regular NASFAA conference attendee during her 13-year career as a corporate finance manager at for-profit colleges, first ITT Technical Institute and then Heald College. She said she usually found it useful to talk about best practices in the industry, and fun to network with others.
On Monday, though, she returned to the conference as a protester with the Debt Collective.
"What we're protesting is what's not being said here," Lueck said, adding that she herself has more than $100,000 in outstanding student loan debt. Roughly half of it came from her associate degree at ITT Technical Institute and her bachelor's degree at the University of Phoenix. "The student voice and perspective is not there."
"We're not directly attacking NASFAA," said Sarah Dieffenbacher, an Everest Institute graduate from Lake Elisnore, Calif. "We're here to make our presence known."
Another protester, Jessica King, objected to the expense of hosting a large conference -- colleges spend several hundred dollars for each employee to participate.
"Where do you think all that money is coming from? It's coming out of our pockets and from taxpayers," she said. "They have this idea they're helping us here. What are they doing?"
King, 32, attended an Everest Institute in Newport News, Va. She said she is $33,000 in debt after completing a nine-month medical assistant program, which hasn't enabled her to get a job in that field.
Several of the protesters were particularly critical of a NASFAA event earlier in the day that debated whether student loan debt amounted to a "crisis."
After a panel of policy analysts debated the issue, attendees voted on which side had won the debate. A majority of attendees voted to say that student loan debt, while perhaps problematic, was not of crisis proportions.
The protesters said that showed how out of touch NASFAA members were with the burden of student loans on individual borrowers.
Justin Draeger, president of the financial aid officers' association, said he was "baffled" why the group chose to protest the meeting.
"As far as I can tell, they're advocating for debt-free education, which is great. I admire that there is a grassroots effort trying to get at a debt-free education," he said. "But after watching them troll our Twitter account, steal our logo and set up a fake account, their tactics sort of muddy their message."
Draeger said the protesters' message was misplaced at the financial aid conference.
"None of the colleges here get money from lenders or servicers," he said. "It's the wrong venue, unless they're just using a big-name event to get their message out."
He said that financial aid officers are "on their side," advocating for the forgiveness of debt for students displaced by Corinthian Colleges. He pointed out that NASFAA partnered with the Education Department in California to help get former Corinthian students the relief to which they were entitled.
On the humid streets of the French Quarter Monday, Debt Collective protesters and financial aid officers were peaceful, even polite to each other, save for a few isolated confrontations.
One woman in a NASFAA T-shirt was seen quickly grabbing the arm of and pulling away her male companion, also in an association T-shirt, who had given the middle finger to a few boisterous protesters throwing fake cash.
Others were more perplexed by the protestors than anything.
"Hey, we give scholarships to college students," one man retorted to a group of protestors around him, sounding puzzled. "I just don't get your argument."
You may also be interested in...
Today's News from Inside Higher Ed
Inside Higher Ed's Quick Takes