You have /5 articles left.
Sign up for a free account or log in.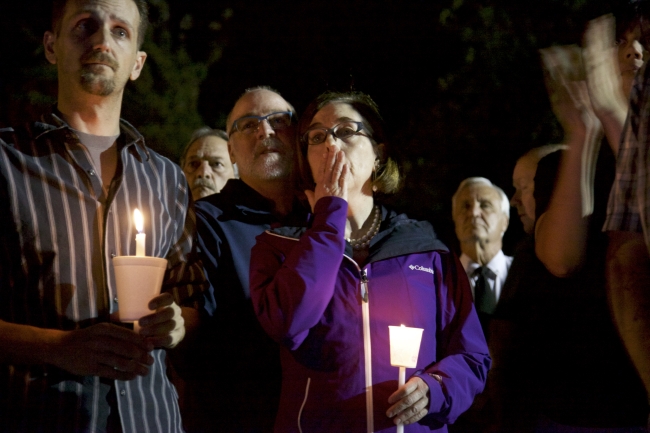 Oregon's Umpqua Community College on Thursday became the site of the third-most-deadly mass shooting ever to occur on a college campus.
A lone gunman identified as a 26-year-old local man shot and killed 9 people and injured seven more at the rural two-year campus, reported The New York Times and many other news outlets.
According to several accounts, the shooting began Thursday morning in a writing class in Snyder Hall. An instructor was killed, as were several students. The gunman, identified in news reports as Chris Harper Mercer, was killed after exchanging fire with sheriff's deputies, said John Hanlin, Douglas County sheriff.
While many fatal shootings have occurred at colleges in recent years, only the 2007 mass killing at Virginia Tech and the 1966 shooting at the University of Texas at Austin resulted in more deaths.
Oregon is one of eight states with provisions in place to allow the carrying of concealed weapons at public college campuses, according to the National Conference of State Legislatures. Those states are Colorado, Idaho, Kansas, Mississippi, Oregon, Texas, Utah and Wisconsin. (Note: This paragraph has been changed from an earlier version to include Texas in the list of campus-carry states. The Texas law was signed earlier this year.)
Momentum is picking up for new campus-carry laws. Bills have been introduced in almost half of the 50 states in recent years. And Florida appears to be in play.
Despite the law in Oregon, the state's Board of Higher Education in 2012 largely banned guns from the seven universities in the Oregon University System.
The university gun ban in Oregon does not apply to community colleges like Umpqua, which enrolls roughly 3,000 students. While Umpqua does not allow the possession of firearms on campus, the wording of its policy seems to imply that the state law authorizing concealed carry would trump campus rules.
"Possession, use or threatened use of firearms (including but not limited to BB guns, air guns, water pistols and paint guns), ammunition, explosives, dangerous chemicals or any other objects as weapons on campus property, except as expressly authorized by law or college regulations, is prohibited," the policy says.
Umpqua is located about 70 miles south of Eugene. The college's average student is 38 years old. The U.S. Department of Education said this week that the rural institution is one of two community colleges nationwide to fail to meet a federal standard for student loan default rates, which could threaten the college's access to federal aid programs.
The campus has reported few crimes in recent years, according to data from the Education Department, including a handful of burglaries and an aggravated assault in 2013. No other crimes -- violent or otherwise -- were reported during a recent three-year stretch.
Joe Olson, who earlier this year stepped down as Umpqua's president, told the AP that the college only has one security officer on duty at any time. The officer is not armed, he said.
Umpqua had debated whether its security officers should carry guns, Olson said, and the college conducted three training exercises with local law enforcement agencies during the last two years.
William Taylor, president of the International Association of Campus Law Enforcement Administrators (IACLEA) and chief of police at San Jacinto College, said the association works with a number of two-year colleges that are similarly understaffed.
"At institutions that are relatively small, with 3,000 to 5,000 students, a number of them only have one person responsible for safety and security," Taylor said. "When you're small it becomes somewhat difficult, because it costs money to do more than that, and many schools don't have large budgets. It's a difficult situation, and they do the best they can."
IACLEA does not have an official position on campus concealed-carry laws, Taylor said, as the organization's membership is "diverse with a broad range of opinions." Two-year colleges, he said, also face "additional wrinkles" to consider when deciding whether to allow firearms on campus, including on-campus day care sites and a relatively large number of high school students attending classes.
A group of college and university presidents in 2012 created a petition calling for stronger gun safety measures. The group, called College Presidents for Gun Safety, opposes legislation allowing guns on campus. It also is pushing for the elimination of semiautomatic assault weapons and the sale of guns from unlicensed sellers without a background check. So far 393 college leaders have signed the petition.
Lawrence Schall, president of Oglethorpe University, helped create the group. Last year, after a shooting rampage that occurred near the University of California at Santa Barbara, he wrote an essay for Inside Higher Ed saying it might be time to speak out again. (Note: This paragraph has been updated from an earlier version to correct the campus where the rampage took place.)
"When I was starting College Presidents for Gun Safety, one of the concerns I heard was the idea there were just too many issues on which to articulate an opinion. Where would it stop? Where would we draw the line?" he wrote. "In light of this latest tragedy, on a college campus that could have been any of ours, I would say: 'We are nowhere near the line yet. Let's worry about that one when we get closer.'"
-- Jake New contributed to this article.