You have /5 articles left.
Sign up for a free account or log in.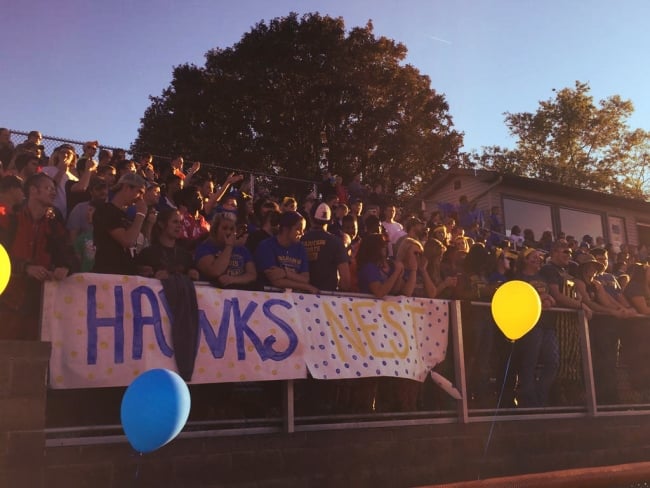 In its first few weeks of existence, Hocking College's fledgling football team has had plenty to celebrate. More than 800 spectators attended the team's first home game in August, the stands filled with students clad in blue shirts and cheering on the Hocking Hawks by ringing blue cowbells. Hocking won 52-2, and went on to win three of the next four games.
Officials say the games have provided a much-needed morale boost at Hocking, a two-year technical college located near the struggling Appalachian town of Nelsonville, Ohio.
In 2008, state officials began a three-year investigation into Hocking, and several current and former administrators were charged with stealing funds from the college. Last year, facing a $4.4 million deficit, the college announced it was laying off 36 employees, and the president was forced to resign. Enrollment has fallen 38 percent since 2010.
Hocking's new football team is an attempt to revitalize the college, by attracting more students to campus and by energizing those already living there. "Following several difficult years for the college, we have the opportunity to raise the spirits of our campus community and engage our local communities around a common interest in sports," Betty Young, Hocking's current president, said, adding that the football team is helping the college enroll more men and students of color.
Funded by less than $900,000 and staffed with volunteers, the college's new athletic program -- which also features archery, cheerleading and men's and women's basketball teams -- has little in common with big-time college sports. At the same time, the football team has already become embroiled in a controversy that is all too familiar among top football programs.
The inaugural roster includes Trent Mays, a former high school football player who was convicted in 2013 of raping a 16-year-old girl.
Mays was a star quarterback for Steubenville High School, a football powerhouse in Ohio, and the case drew immense national attention. In 2012, Mays and other members of the team sexually assaulted an unconscious girl over the course of several hours. Mays penetrated the victim with his fingers and attempted to force her into oral sex, while his friends filmed and photographed her. The footage and photographs were widely shared through social media, and Mays joked about the assault to friends over text messages.
In 2013, Mays, then 17, was "found delinquent" of rape and the dissemination of child pornography. He was sentenced to two years in juvenile detention and was released earlier this year.
His inclusion on the Hocking football team raises questions about the objective of the juvenile justice system and how colleges should treat students previously convicted of serious crimes. Hocking officials have defended the decision, saying the player deserves a second chance after serving his time. Critics argue the severity of some crimes should prevent athletes from ever playing on another school- or college-sponsored team.
"It's one thing to say, 'OK, we're not going to deny them an education,' but it's another to let them play football," Dionne Koller, director of the Center of Sport and Law at the University of Baltimore, said. "Participating in sports is a privilege, not a right."
Second Chances
Hocking is not alone in providing second chances to athletes accused or convicted of gender violence.
The University of Oregon faced a lawsuit last year when it allowed an athlete to play for its basketball team after he was previously accused of sexual assault at Providence College. The player was then suspended from Oregon after he allegedly assaulted a female student there. He has since transferred to yet another institution. Two other players who were also suspended for their alleged involvement in the Oregon assault have transferred to play basketball elsewhere.
In August, a former Vanderbilt University football player who was charged with five counts of aggravated rape transferred to play football at Lane College. Another player allegedly involved in that same case transferred to Alcorn State University, a team that also included a registered sex offender.
Laura Bennett, student conduct officer at Harper College, a two-year institution in Illinois, said that as four-year universities continue to face greater pressure to punish athletes for sexual assault, more students with a history of being accused or found guilty will look at two-year and other smaller colleges as a path to reclaiming their athletic career. "That's where they end up," Bennett, who is also president of the Association for Student Conduct Administration, said. "My institution."
Last year, a former University of Georgia football player named Zach Mettenberger demonstrated just how a troubled college athlete can bounce back by first transferring to a smaller college. After being dismissed from Georgia's football team in 2010 and pleading guilty to two misdemeanor charges of sexual battery, Mettenberger transferred to Butler Community College to play football. The following season, he transferred again to Louisiana State University, becoming starting quarterback.
In 2014, Mettenberger was drafted to play for the Tennessee Titans in the National Football League.
"An athlete can sort of hopscotch through these kinds of programs, always staying one step ahead of their criminal history," Koller said. "He plays two years here or there, and it cleans him up, making him eligible again for a four-year program."
Colleges who transfer in players with histories of sexual and domestic violence have received heavier scrutiny in recent months, and as a result some athletic conferences have created new rules to limit the practice.
In June, the Southeastern Conference became the first athletic conference to announce it would no longer allow its members to accept transfer athletes with histories of domestic and sexual violence. In August, the Big 12 Conference adopted a similar rule after an article in Texas Monthly alleged that Baylor University may have known that a football player, who was later convicted of a sexual assault at Baylor, had previously been suspended from another team over violent behavior.
Colleges that accept transfer players who have been accused of violence at other institutions (or who return such players to their own rosters) risk allowing that behavior to be repeated on their own campuses. In 2007, a lawsuit filed by a former student assaulted at the University of Georgia ended in a six-figure settlement. The plaintiff was raped by a basketball player who had been previously dismissed from a community college after allegedly sexually assaulting two women there. In 2009, the Arizona Board of Regents agreed to pay a former Arizona State University student $850,000 after she was raped by a football player the university had already expelled once for groping and exposing himself to women. The student had returned to campus at the request of a coach, and then raped the woman in her dorm room.
Those lawsuits haven't stopped some institutions from continuing to bring or keep players with troubled pasts on their teams. The University of Oklahoma's roster includes a player who was charged last year with punching a woman and breaking four bones in her face. In defending his decision to keep the player on the team, Bob Stoops, Oklahoma's head football coach, espoused the importance of second chances, echoing a common refrain used among coaches.
"It's our job to help them," Stoops said.
Rehabilitated?
Hocking's president, too, often mentions second chances. But Young also notes that Mays's case comes with a key difference: he is not a transfer who committed a sexual assault as an adult at another institution, but a freshman who was convicted of his crime as a juvenile while still in high school.
"There is a developmental difference in juveniles and adults and that difference is the basis for the design of the juvenile justice system," Young said. "We expect juvenile offenders to have opportunities to live productive adult lives. That statement does not discount the gravity of juvenile offenses. It only recognizes a desire for rehabilitation of youth."
Mays served his two-year sentence at Paint Creek Light House Youth Center, a facility known for offering an intensive rehabilitation program for juvenile sex offenders. After his release, he returned to high school and graduated with honors. Last month, a judge reduced his sex-offender status, requiring him to register as a sex offender once a year for the next decade, rather than every six months for 20 years. Mays's lawyer did not return several requests for comment.
The football player's release coincided with the news that Hocking was creating an athletic program, with football as its banner sport. He reached out to the new team's head coach, Al Matthews, who decided he could join the program.
"People weren't just going to open their arms and give me a scholarship, just because of who I was," Mays told the Associated Press at the start of the season. "But I have to prove myself, and that's what I'm ready to do."
It is not uncommon for colleges to enroll students who are sex offenders or convicted criminals, but Bennett, the president of ASCA, said that institutions should carefully weigh the risks of admitting such a student and determine what sort of restrictions should be put in place. As a registered sex offender, Mays is unable to live on campus, but Young said the athlete is free to join any student organizations and clubs.
Bennett said that she sometimes recommends students with histories of violence only be allowed to enroll in online courses. If they do attend classes on campus, she might also suggest barring their involvement in student organizations. ASCA does not recommend a blanket rule, however, saying that it's up to individual institutions to assess what risks are involved with accepting a particular student.
"Most community colleges are open enrollment, so we do have convicted criminals and sex offenders," Bennet said. "A large portion of those have done their time and are trying to get their lives back on track and that's great. But there are also predators."
It's an institution's job to attempt to determine where an applicant falls along that spectrum, she said.
Victims' advocates, legal experts and college law enforcement officials interviewed for this article, however, said they have concerns about Hocking's vetting process. The associate vice president of student affairs is also the new athletic director. The head football coach is the college's police chief.
Laura Dunn, founder of victims' advocacy group SurvJustice, said a security chief acting as head football coach, even with a small-time program like Hocking's, is a worrying conflict of interest.
"We know of far too many cases of athletes getting special treatment despite committing heinous crimes of interpersonal violence," Dunn said. "I am surprised any school would be foolish enough to not have better management structures given the priority student safety should always have over athletics."
When asked about the Hocking safety director's dual role, one top campus police chief let out a low, long whistle of surprise. The chief -- who asked not to be directly quoted as he has a policy of not commenting on other institutions -- said he's never heard of such an arrangement before, and that the college may need to rethink allowing Matthews to coach the football team.
Hocking students have raised similar concerns in recent weeks. Through campus protests and an online petition, the students are calling for the resignation of both Young and Matthews, as well as the Board of Trustees. Their list of complaints is long, and includes both the inclusion of Mays on the football team and the college's handling of an alleged sexual assault in September. In that assault, a female student said she was gang raped by four men -- three of whom we're allegedly Hocking football players.
The university would not say whether the players had been suspended from Hocking or from the team, saying it could "not comment on the Title IX investigation." Last month, Hocking placed its spokesman, who is also the broadcaster of the football team's games, on administrative leave after he allegedly coached students to say no assault had occurred, and told local media that the investigation was "closed." The case is still open, according to the Athens County prosecutor's office, which is investigating the assault instead of Hocking College police because of the chief's conflict of interest.
In September, Keller Blackburn, Athens County's prosecutor, told the Athens Messenger that Hocking officials should be more concerned about student safety and "not just the reputation of the institution."
Young said the college is "no different than any other campus in regard to the problems of sexual assault," and that it has taken several steps to make students feel safer on campus. Athletes receive sexual assault prevention training, she said, and new security cameras have been installed at the entrance to residence halls. "Chief Matthews has always demonstrated the utmost professionalism in his roles, including having the process in place to engage the local prosecuting attorney and their victim advocate," she said, which helps "assure not so much as an appearance of conflict of interest."
As for Mays, Young said the football player "demonstrates positive leadership on and off the field."
"All persons involved in such an incident are changed forever," she said. "As an educator, parent and grandparent, my prayer is for each one to find a pathway to a positive life as an adult. We are seeing that progress in our student."