You have /5 articles left.
Sign up for a free account or log in.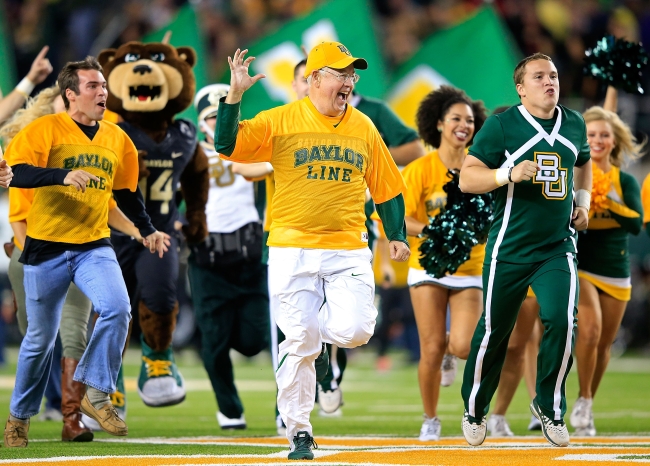 More than a decade after a basketball scandal that included a murder brought "incalculable disgrace" to Baylor University, the university's football program is enveloped in a controversy of its own that threatens to undermine the credibility of the Baptist institution, its winning coach and its law-and-order president, Kenneth Starr.
Baylor continues to face questions and criticism about its handling of sexual assault accusations against a football player, a week after an article in Texas Monthly alleged that the university may have known that the player had previously been suspended from another team over violent behavior. Furthering the criticism, a jury found the player, Samuel Ukwuachu, guilty of the Baylor sexual assault Aug. 20, but the university -- with its lower burden of proof -- never took action against the player and was expected to add him to its football team's defense this season.
It was the second sexual assault conviction involving a Baylor football player in two years.
"Whenever I underestimate the level of influence that football has, I'm wrong," says Erin Buzuvis, director of the Center for Gender and Sexuality Studies at Western New England University and an expert on colleges' handling of sexual assault. "All of the calculated decisions that an institution makes to try and have a winning football team are made with just that goal as the objective. At institutions like Baylor, they decide that the risk of bringing or keeping these students on the team is worthwhile."
In May 2013, Ukwuachu -- then a freshman All-American -- was dismissed from the football team at Boise State University for "violating team rules" after a drunken dispute with his then girlfriend ended with the player putting his fist through a window. The woman later alleged that Ukwuachu hit and choked her.
Marc Paul, the assistant athletics director at Boise State, was so concerned about Ukwuachu's behavior, Texas Monthly reported, that he urged the player's girlfriend and housemate to stay away from him. Paul also made plans to get police protection for the housemate, who received threatening text messages from the player. In a statement Tuesday, Boise State clarified that Ukwuachu's dismissal from the team "had nothing to do" with accusations that he physically assaulted any women, but the statement does not mention Paul's concerns over the broken window and threatening text messages.
Just weeks after he was dismissed, Ukwuachu transferred to Baylor to play football there, though Boise State declined to support any waivers that would help the player get back on the field. That October, police in Waco, Texas, received a call saying that Ukwuachu had sexually assaulted a fellow student. The victim, a women's soccer player at Baylor, testified that she screamed "no" as Ukwuachu raped her in his apartment after homecoming.
In June 2014, Ukwuachu -- who still had not played a game at Baylor and was not on the active roster -- was indicted by a grand jury on two counts of sexually assaulting the female student. Last month, Phil Bennett, Baylor's defensive coordinator, said that the football player was still "expected" to play with the team this season. On Thursday, Ukwuachu was found guilty of sexual assault. He will spend six months in jail and 10 years on probation.
Now Baylor and Boise State coaches are involved in a very public blame game over why Ukwuachu was able to transfer. On Friday, Art Briles, head coach at Baylor, denied he was aware of Ukwuachu's history, saying there was "no mention" of any violent incidents in conversations he had with Boise State officials. Chris Peterson, the head coach at Boise State at the time, responded, saying in a statement that he "thoroughly apprised Coach Briles of the circumstances surrounding [Ukwuachu's] disciplinary record and dismissal."
Peterson's version of the events received some backing on Tuesday, when Sports Illustrated reported that the University of Florida had also "considered taking" Ukwuachu in May 2013, but reconsidered after Boise State told the athletic department about the player's history.
Colleges have received plenty of criticism, especially in recent years, for their handling of cases of sexual assault on campus. And some of the most egregious and high-profile of these cases have involved athletes. It's the kind of incident that victims' advocates have come to view as the status quo in big-time college sports. That the Ukwuachu case happened at a Baptist university where premarital sex is against university rules and that is led by a president who, as a renowned judge and lawyer, has argued nearly 40 cases before the U.S. Supreme Court has added an extra layer of sordidness to the affair.
But perhaps the most damning piece of the story is that university officials said they were unable "to move forward" with the campus disciplinary process due to a lack of evidence, only for Ukwuachu to be found guilty in court. This is unusual, because colleges use a lower burden of proof when adjudicating cases like Ukwuachu's than a criminal court does. Instead of "beyond reasonable doubt," they use the standard known as "preponderance of evidence." This doesn't always mean students who have committed assault will be found responsible for the misconduct, but it does often mean that the chance of that happening is typically higher on campus than in the legal system.
Sexual assault is a famously underprosecuted crime, yet not only did local law enforcement officials move forward with the case, they successfully charged and convicted Ukwuachu. Meanwhile, according to a Baylor official who testified during the trial, the university never held a hearing, and coaches said Ukwuachu was still expected to play this season.
"I can't really think of another example like this," Buzuvis says. "It doesn't make much sense. Usually, as prosecutors don't like to go forward unless it seems like there's a lot of evidence, a campus disciplinary proceeding clearing a student is a persuasive reason for prosecutors to also drop the case, because of the lower burden of proof. Baylor's handling of the case must have been sufficiently dubious if that didn't scare the prosecutors off."
Indeed, the court didn't allow the defense team to reference the campus investigation as the process was perceived to be so incomplete, according to Texas Monthly and other local media reports. The investigation relied on a handful of text messages, a polygraph test commissioned by Ukwuachu, and conversations with the football player, the victim and two witnesses.
Baylor has since launched an internal inquiry to determine what -- if anything -- went wrong with the investigation. Coach and player press conferences were canceled this week, and the university declined to comment for this article, saying that Starr was unavailable for an interview. A spokeswoman provided a four-page "Q and A" that noted that the sexual assault and Title IX polices at the university have been overhauled since the assault happened in 2013.
Critics and even some fans aren't sure that the university's Title IX policies are the issue, however. They see the case as having less to do with outdated policy and more to do with the corrupting influence of big-time college sports.
In recent years, Baylor has ramped up its football program, spending millions of dollars to become and stay competitive, and pushing the team into a different echelon of the sport. "You want to be just like the big, bad kids, Baylor?" Brian Smith, sports columnist for the Houston Chronicle, wrote after the scandal came to light last week. "Congratulations. Now, you are."
Asked a Baylor alumnus who is a columnist for the Dallas Morning News: "Has football gotten so big at Baylor that the administration was seeking to investigate in such a way as to make sure Ukwuachu didn't get kicked off the team?"
Death Penalty, Then a Rapture
The Ukwuachu case comes more than a decade after Baylor was the center of what is widely seen as one of the most shocking scandals in the history of the NCAA.
In 2003, the body of Patrick Dennehy, a basketball player at Baylor, was found decomposing near a gravel pit outside of Waco. He had been shot twice in the head. The killer, it would turn out, was his teammate Carlton Dotson.
The murder was just the beginning of a case that one NCAA official said brought "incalculable disgrace" to the Baptist university and college sports. Dennehy's death resulted in a number of related allegations about the team and its coach, Dave Bliss, coming to the surface. In 2005, the NCAA concluded an investigation into the program and doled out some of its harshest-ever sanctions -- a punishment that was a modified version of its rarely used "death penalty."
According to the investigation, Bliss and his assistant coaches recruited "athletes of dubious character" who were "incapable" of doing the necessary academic work. Because the coaches were worried that several of the athletes would not be academically eligible to play, they recruited seven players to the team, even though the program had only five available scholarships.
When all seven athletes became eligible, the coaches decided to provide the five permitted scholarships and pay the tuition costs of the two remaining players -- including Dennehy -- under the table. The coaches then engaged in an expansive cover-up, with Bliss telling other players to say that Dennehy, the murdered student, paid his tuition by selling drugs. The NCAA also concluded that Baylor coaches violated other NCAA rules by giving money to youth basketball teams and ignoring the university's policies for reporting drug use among players.
It was a disgraceful end to Bliss's storied college coaching career, and the case left the basketball program in ruin for much of the next decade.
It was during that decade that Baylor's football program began to flourish, particularly after Starr became president in 2010. (The basketball program, during Starr's reign, has also rediscovered its footing, making several NCAA championship tournament appearances.) Known as Judge Starr on campus, the president threatened legal action against the Southeastern Conference and Texas A&M University when Texas A&M decided to leave the Big 12 Conference, a move that many at the university feared would break up the league and leave Baylor without a big-time conference home.
Texas A&M ultimately bolted for the wealthier SEC, but Starr's threats, seen by some as desperate at the time, are now credited with helping give other waffling Big 12 teams enough pause that they decided to remain with the league. In the end, all but two Big 12 teams stuck with the conference.
Baylor's football program's rise in stature under Starr is frequently described as "meteoric." In 2010, Briles led the team to the Texas Bowl, finishing off its first winning season in 15 years. Baylor has since won 17 Big 12 conference games and its first Big 12 title since 1980. In 2013, the program had what many consider to be its best-ever season. The newly successful team now plays in a $260 million stadium.
The success and higher profile of the football program have, in part, helped the university raise $400 million since 2012 to support a flurry of construction around campus.
"We like to use biblical analogies, and this is a year of biblical proportions," Buddy Jones, a regent at the university, told the New York Times in 2012. "As we would say in Christendom, it's like an early rapture. We spent 40 years wandering the wilderness. I hope this is our exit."
That same year, a linebacker on the football team was arrested and later convicted of sexual assault. At the player's trial, four other witnesses said that he had raped them as well. A year later, and just weeks after he had been dismissed from Boise State's program over allegedly violent behavior, Ukwuachu joined the team.
A Watershed Moment?
The Ukwuachu controversy places Baylor and Boise State in the middle of an ongoing debate over how easily athletes can transfer after being dismissed over sexual assault and domestic violence allegations.
In June, the Southeastern Conference became the first athletic conference to announce it would no longer allow its members to accept transfer athletes with histories of domestic and sexual violence. The new policy states that any athletes who have been subject to official university disciplinary action for "serious misconduct," such as domestic abuse or sexual assault, at another college are not eligible for athletically related financial aid, practice or competition at an SEC program.
On Tuesday, because of the events at Baylor, the Big 12 adopted a similar rule.
Similarly, the SEC rule was adopted after Jonathan Taylor, a football player at the University of Alabama, was dismissed following his arrest on domestic violence charges. He was previously charged in that same case while playing football for the University of Georgia.
The University of Oregon and Alcorn State University both faced criticism last year after they allowed athletes accused -- and in Alcorn State's case, convicted -- of sexual assault elsewhere to play for their teams. The athlete involved in the Oregon case has since transferred to yet another institution, meaning he has played for three programs and been accused of sexual assault at two of them. In the Oregon case, two other players were also suspended for their alleged involvement in the assault. They, too, have since transferred to play basketball at other, smaller colleges.
Last year, Zach Mettenberger proved just how easily a big-time college athlete can bounce back from being kicked off a team for violent behavior toward women.
After being dismissed from Georgia's football team in 2010 and pleading guilty to two charges of sexual battery, Mettenberger transferred to Butler Community College to play football. The following season, he transferred again to Louisiana State University, becoming starting quarterback in 2012. In 2014, Mettenberger was drafted to play quarterback for the Tennessee Titans.
With the amount of news coverage and criticism the Baylor case has generated, some say they hope it will prove to be a "watershed moment" for how colleges and their athletic departments handle sexual assault and domestic violence. Such a moment -- should it come -- would arrive too late to affect the upcoming football season.
When the season starts, the University of Oklahoma's active roster will include a player who was charged last year with punching a woman and breaking four bones in her face and a player who sat out last season because of a sexual misconduct investigation. "Being an educational institution and the age of these young men, they deserve an opportunity to do that, and it's our job to help them," Bob Stoops, Oklahoma's head football coach, said of his players last week, echoing a common refrain used by coaches about the importance of second chances.
The University of Houston, Diablo Valley College and Northwest Florida State will welcome to their teams the three basketball players who were suspended from Oregon. On Tuesday, The Tennessean reported that Brandon Banks will play football at Lane College. Banks is charged with five counts of aggravated rape and two counts of aggravated sexual battery for his alleged involvement in a gang rape while he was a football player at Vanderbilt University.
Dionne Koller, director of the Center of Sport and Law at the University of Baltimore, said she does not expect the Baylor case to be the wake-up call some might hope it will be.
"At this point, I'm afraid that even this won't be a galvanizing or watershed moment," Koller said. "In the market of college sports, there's always a team that's willing to take these guys. And we will keep tuning in. It's another sad day for sports, and I still wonder how many more sad days we'll have to see before fans and alumni and faculty really demand some accountability."