You have /5 articles left.
Sign up for a free account or log in.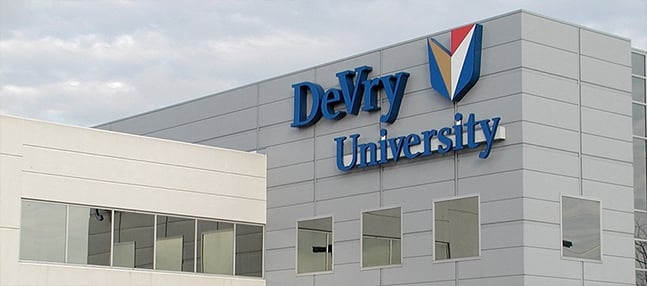 A pair of federal agencies announced Wednesday that they would take action against DeVry University for allegedly making deceptive claims about its job placement rates and graduates' wages.
The Federal Trade Commission filed a lawsuit against DeVry University and its parent company, DeVry Education Group, on the same day the U.S. Department of Education sent a limitations notice in an effort to stop DeVry from making false representations.
In the lawsuit, the FTC is alleging that the for-profit institution erroneously claimed that 90 percent of its graduates, who were actively seeking employment, landed jobs in their field within six months of graduation. The complaint also charges DeVry with deceptively claiming that its graduates had 15 percent higher incomes one year after graduation on average than did the graduates of all other colleges or universities.
The 90 percent claim appeared in marketing efforts since at least 2008, and the 15 percent higher income claim began in 2013, according to the suit.
"Educational institutions like DeVry owe prospective students the truth about their graduates' success finding employment in their field of study and the income they can earn," FTC Chairwoman Edith Ramirez said.
DeVry Education Group disclosed to investors in January 2014 that the FTC had requested documents related to advertising and marketing practices. The commission is just one of a few federal agencies that has been cracking down on for-profit practices. In May, the FTC charged Georgia-based Ashworth College with misrepresenting training and credentials.
"We believe there were many thousands of students who were affected by misrepresentations in our complaint," said Ramirez, adding that as many as 50,000 may have been affected by the allegations. "We're seeking through our action a court order to stop DeVry from making misrepresentations, and seeking monetary relief for affected students. How that plays out will be determined through the course of litigation."
To allow DeVry to continue to participate in federal financial aid programs, the Education Department is requiring the university to take certain steps to notify students and prospective students that the institution can't substantiate its past placement and earnings claims. The department is also requiring DeVry to retain all student documents that are used for five years if the university makes a representation about graduate employment rates. The university must also notify the department within 10 days if there is any adverse action from a private party, state or federal agency taken against the institution for five years.
The department also took issue with DeVry's advertising statements that read, "Since 1975, 90.1 percent of DeVry graduates systemwide in the active job market held positions in their fields of study within six months of graduation." According to the department, DeVry couldn't provide any graduate-specific data to substantiate the "since 1975" claim.
But Ernest Gibble, a spokesman for DeVry, said the university believes it has substantiated the claim. "For that 1975-to-1983 time period, the data we have is rolled up by campus, not graduate by graduate. They're asking us to track down 40-year-old paper documents," he said. "It's as if we've given them the bank statements for that period of time and they're now asking for the checks. For the years after 1983, we have graduate-level data." (Note: This paragraph was added to a previous version of the article to include new information from DeVry.)
In a news release, representatives from DeVry Education Group said they plan to contest the complaint filed by the FTC and will request a hearing on the Education Department's decision.
"DeVry Group believes that the FTC's complaint -- filed 40 years after DeVry University began publishing accurate graduate employment statistics -- is without a valid legal basis. In addition, the FTC's complaint contains anecdotal examples that exaggerate the allegations but do not prove them," according to the statement.
The for-profit claims that its methodology used to measure employment and earnings of graduates is accurate.
"There is no national standard for calculating employment statistics among higher education institutions and the measures and standards used by DeVry University to support its statistics are appropriate," read the statement.
Gibble said that only recently have a handful of states begun to create their own requirements and standards for calculating graduates' employment outcomes. The advertisements that the FTC and Education Department are alleging were deceptive were removed nationally in July, because states such as California are developing their own methodology and DeVry wanted to avoid confusion with the institution's national statistics.
The FTC alleges that DeVry counted a large number of graduates as working "in their field" when they weren't.
Ramirez said one example included a graduate who majored in business administration with a specialization in health services management but was working as a restaurant server.
Ted Mitchell, the Education Department's under secretary, said that there is no general rule for placement rate reporting, and that accrediting agencies establish what they are. But the department's investigation into DeVry will continue, he said.
The department's first goal is to stop any deceptive behavior and the second is to make sure DeVry notifies current and prospective students about the institution's inability to substantiate these claims, Mitchell said.
It's not a coincidence that both agencies released their complaints against DeVry at the same time. Both agencies have been working together on the investigation, Mitchell said.
Mitchell is leading a federal interagency task force that oversees for-profit colleges, however, that group wasn't directly involved in the actions the department and the FTC have taken against DeVry, he said.
"The interagency task force has been working to establish its own ground rules, and in the last couple of meetings, sharing the tools each agency has in its tool kit," Mitchell said. "This is a case of two agencies collaborating together and we're hopeful it can become a model of how the interagency task force operates."
Both Mitchell and Ramirez said that students who feel they've been affected by the allegations should lodge a complaint with the FTC.
"We do hope the action we're finding signals to institutions the importance of accuracy when it comes to these recruitment claims and triggers students to ask more questions as they're considering different institutions," Ramirez said.
More from For-Profit Colleges