You have /5 articles left.
Sign up for a free account or log in.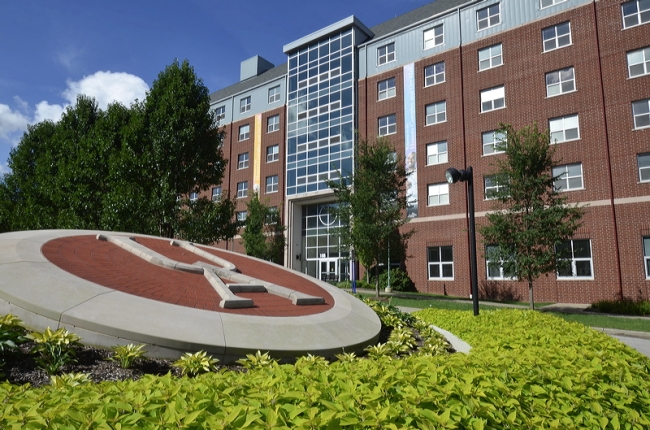 On stage behind the podium, a list of historical milestones in the University of Akron's history appeared on a projection screen. The university was founded in 1870; it became state assisted in 1963. And in 2015, the slide announced, it began to become a national university.
At least, that's the plan. Scott Scarborough, Akron's president, began laying the groundwork during a speech to the university in October. He wants the university to develop a national presence with an international reach, potentially through a network of satellite campuses.
But the idea concerned many Akron faithful: How can the University of Akron, only the fifth-largest public university in Ohio, have cross-country aspirations?
"It feels uncomfortable at the moment," Scarborough told the crowd, "because we are making a transition in character."
In the months since the speech, Scarborough has done little to elaborate on his plans. He is in talks with outside companies, but university officials refuse to go into detail, citing nondisclosure agreements in declining to provide anything more than a short written statement for this article.
But Scarborough has left clues. In an interview with The Devil Strip, a local magazine, he said the university is in talks with Higher Education Partners, a for-profit company that could help the university create a network of satellite campuses. Higher Education Partners did not respond to requests for comment.
The magazine also cited speculation that the university aims to take over campuses owned by ITT Tech, a for-profit chain recently charged with fraud (though ITT Tech "vehemently disagrees" with the charges). 
"We do not respond to rumors about our business or comment on business transactions that we may or may not be contemplating," Nicole Elam, an ITT Tech spokeswoman, wrote in a statement. "That said, as with most organizations and as a normal part of our operations, we regularly explore opportunities that we believe could benefit our organization. However, we have nothing to report today on that front."
The university also declined to comment on the partnerships. "The University of Akron is always looking for ways to expand our services and offerings to help even more people reach their educational and life goals," said Lawrence J. Burns, the university's vice president of advancement, in a statement. "Some conversations are initiated by the university; others come from outside parties."
The process strikes many as too secretive. The lack of transparency, combined with other controversies in Scarborough's tumultuous presidency to date, has done little to allay skepticism about the idea.
The envisioned expansion comes at a tough time for the University of Akron. When the university announced over 200 job cuts over the summer, protesters seized on a $1 million renovation of the president's house. A $500 olive jar, purchased during the renovations, became a symbol of campus discontent. Earlier this month, the Faculty Senate voted no confidence in Scarborough, and advocacy groups are running full-page ads in local papers calling for his resignation.
On Page 3 of @AkronBeacon today: @PresScarborough @uakron must go. pic.twitter.com/tYEFnTZfDJ

-- Save UA from Scott (@SaveUAfromScott) February 10, 2016
'I Can't Think of a Precedent for This'
Higher Education Partners spun off from the Princeton Review in 2011. It is a small company that typically deals with community colleges, providing start-up capital and maintenance for new facilities in return for revenue that comes from the new services.
ITT Tech is a for-profit chain with over 100 locations across the country. If the university were to take over some of those campuses, the idea goes, they would be instrumental in the university's expansion.
But regardless of which companies Akron partners with, Scarborough is determined to expand the university's reach. And in the midst of a budget shortfall and deep cuts to university services, he hopes a nationwide expansion will help bring the university out of financial distress.
Akron is struggling. Enrollments are going down every year, and Ohio spends 23 percent less per student than before the recession. Over the summer, the university announced its plan to reduce expenses by $40 million and raise undergraduate fees and graduate tuition by $10 million.
And while the main campus is valuable, Scarborough said in his October speech, it's also the most expensive part of the university's operation. "We've got to continue to develop this satellite campus structure, because that provides some of the resources necessary to pay for the higher cost structure on the main campus."
Regional universities like Akron are the middle children of higher education, he said, having neither the resources nor the brand strength of flagship publics and elite privates. The hope is that branch locations across the country will help pay for a regional campus struggling to survive on its own.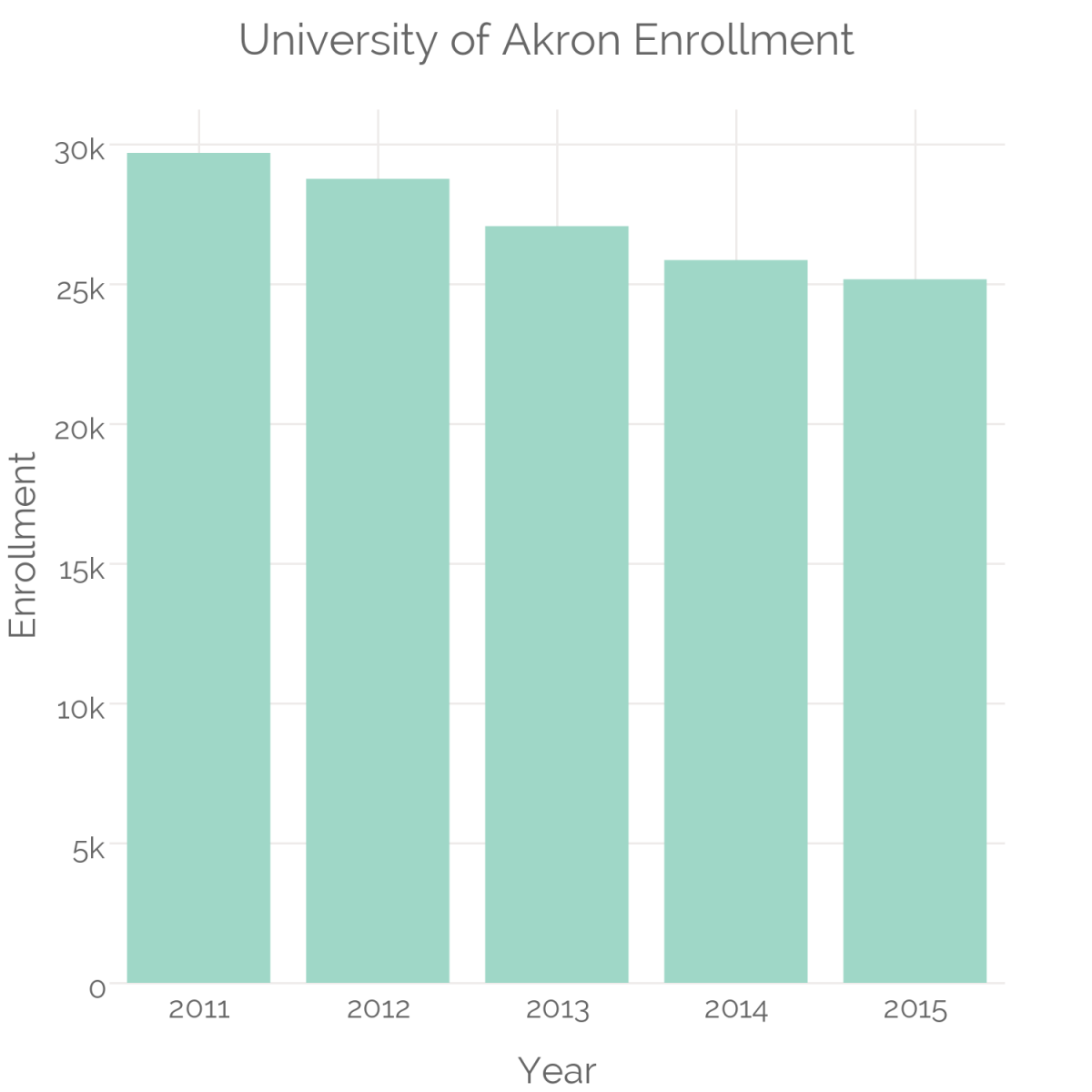 Especially for a public university president, Scarborough's strategy is unique. Most public universities put all of their resources into local campuses. Some of them -- especially flagship universities -- may serve students across the country, but in order to receive an in-person, on-campus education, students need to come to them. While it's common to have nearby satellite campuses -- and Akron already has five, all within 50 miles -- it's rare for a public university to expand across the country, let alone the world.
"It seems very ambitious," said Richard Garrett, chief research officer at Eduventures. "I can't think of a precedent for this."
In his October speech, Scarborough pointed to some of his favorite examples of entrepreneurial public institutions: Arizona State University has 80,000 students and a high-profile online program. Central Michigan University has a "hub and spoke" system of satellite campuses throughout the country.
"It's becoming a national and an international phenomenon as higher education continues to mature," he said.
But while ASU is scaling up online and in Arizona, its strategy doesn't include a network of branch campuses outside the state. Central Michigan does have satellite campuses outside of Michigan, but almost all of them are on military bases, set up to serve a specific population. "As I understand it," Garrett said, "Akron envisages branches aimed at the general public." (Note: This paragraph has been updated from an earlier version to clarify a statement about Arizona State University's growth.)
Akron's vision is understandable, said Michael Thomas, president of the New England Board of Higher Education. Struggling with enrollment and "starving for state support," publics like Akron are relying more and more on partnerships with private companies.
But with such ambitious goals, universities tend to overestimate themselves, he added. Enrollment may not grow as quickly as predicted, or governance issues create rifts. And programs would need to be inexpensive, probably staffed mostly with adjuncts.
"Even when you've got really good market research," Thomas said, "it turns out to be harder to do than you think it is."
A National University
When Scarborough first took over as president, Constance Bouchard, professor of medieval history and vice president of Akron's faculty union, couldn't figure out his strategy. But now, she thinks she has a better understanding.
"His plan," she said, "is to outsource as much as possible."
Outsourcing isn't uncommon. But on top of the general turmoil at the university, there is the fear that core university functions will be outsourced to for-profit companies without input from the community. One of Scarborough's first changes was to outsource dining, a common move at many colleges. But then he began outsourcing other functions, like freshman advising. And now, faculty members are worried about being thrust into a nationwide for-profit partnership.
"Without knowing a whole lot, I can envision so many things that could go wrong," said Linda Saliga, an associate professor of mathematics and vice chair of the university's Faculty Senate. "I don't think a move of this type should be done without faculty input."
It's a charged issue, and for many, the problems are also centered around transparency. Faculty and students know very little about the plans, and worry that the university could finalize plans to partner with for-profits and expand nationally without any feedback. So far, only a select few have been briefed on the university's plans, and those who heard them were also required to sign nondisclosure agreements.
One of those was William Rich, chair of the Faculty Senate. As a law professor, he thinks the precaution makes sense.
"If the university were in negotiations to acquire a publicly traded firm, which ITT Tech is," he said, "there's a risk of insider trading, which is unlawful." He agreed to comment on information that has already been reported, without confirming that ITT Tech is involved.
Schools like ITT Tech have a poor reputation, Rich said. If the university were to acquire such an institution, the move could harm the university's reputation and shift its overall focus.
"There are a lot of questions about the quality of the education that those kinds of schools provide," he said. "The faculty has a lot of questions about how such a school would fit into the university's mission and how it would fit into the university's organizational structure."
And then there are questions of logistics: If the university acquired an entity like ITT Tech, what would the process for approving the curriculum look like? Would it affect the university's accreditation?
"What terrifies us is that they will come in with their courses -- very weak, online, who knows what content -- and we will then be forced to put the University of Akron name on them," said Bouchard. "What the faculty want to be able to do is keep control of our own curriculum."
In most of Higher Education Partners' work with community colleges, the company has not involved itself with the curriculum. But when it was still part of the Princeton Review, partnerships were controversial for similar reasons. And if a company like ITT Tech, which has its own curriculum in place, does become part of the deal, that could complicate matters even more.
Then there's the scale of the project itself. Scarborough's long-term goal is to create a university with an international reach. Will a regional public college in Ohio be able to attract students across the world?
"It's hard to think of successful precedents for midbrand U.S. institutions operating at scale internationally," Garrett said. "To me it's a red flag when someone starts to casually throw around terms like 'international expansion.'"