You have /5 articles left.
Sign up for a free account or log in.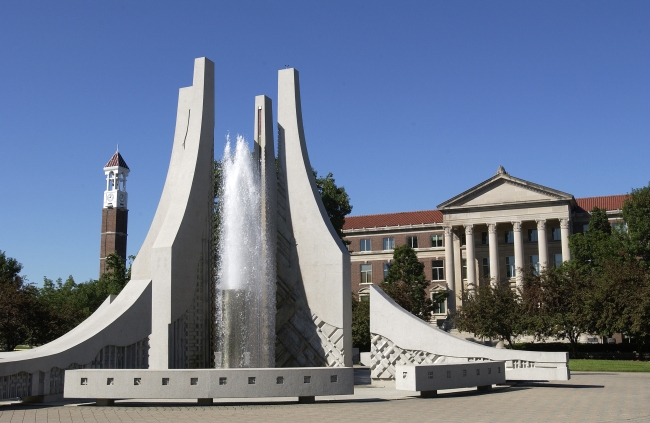 Pay for graduate teaching assistants in the College of Liberal Arts at Purdue University is among the lowest in the Big Ten -- a little less than $14,000 a year, before taxes. So the college's recent announcement that it's raising graduate pay to $15,000 or more next year was good news -- to some. Others say that while they applaud the college's attention to an important issue, the modest pay bump doesn't begin to make up for what Purdue is proposing in exchange: namely, a redistribution of college resources that includes major cuts to some of the largest graduate programs, and future cuts to overall graduate student enrollment.
"One of our goals is to remind the leadership of this land-grant institution that strong teaching and research in the humanities is part of its mission," said Michelle McMullin, a graduate student in English who is organizing opposition to the plan, "and while they may see it as an expense, we are an asset to the university." That's not only as students, but as instructors charged with developing critical-thinking and writing skills and an appreciation for the liberal arts among undergraduates, she said.
Earlier this month, graduate students in the liberal arts received word from faculty members and administrators about a new Graduate Education Initiative, pitched as a rebalancing of university resources among departments and programs. And it is indeed a rebalancing -- not a reduction -- in that the college is shifting around the $7.7 million it devotes annually to graduate student support. But some departments are seeing big cuts as a result -- the largest of which is in English, at $200,000. The department's new graduate education budget is $2.1 million, by far the largest in the college, due to its unusually large cohort of graduate students among Big Ten universities -- about 150 students.
Communications also will see a hefty reduction in its budget, of about $100,000. Some other departments, such as political science, history and philosophy, will see an increase in funding. Simultaneously, the liberal arts college is moving toward enrolling just 500 graduate in all with stipends, down from the current 750.
Strengthening Graduate Education?
David Reingold, the Justin S. Morrill Dean of Liberal Arts, outlined the plan in a document, circulated at Purdue, which he shared with Inside Higher Ed. Reingold said in the memo that he'd talked with program heads about designing a "process that would strengthen graduate education as part of our broader effort to raise the academic profile of the college."
That process was initiated by a faculty task force on graduate education last academic year. The group was charged with investigating the appropriate size and scale of graduate education in the college to ensure competitive stipends and support, and with addressing how to improve the college's ability to mentor students to establish independent scholarship records.
Reingold said in an interview that the initiative wasn't necessarily aimed at reducing time to degree, which varies across the college. But he said that could be a happy byproduct of encouraging more graduate students to spend a bit less time on teaching -- especially those who take on more than the standard half-time appointment to make more money. The initiative also asks departments to set aside money for research-specific assistantships, of which there are relatively few across the college.
"There are unanswered questions as to how much teaching graduate students should do to prepare themselves for careers, especially at research-intensive institutions," he said. "It's critically important that we give students the opportunity to teach classes and hone their skills as instructors and develop that part of their portfolios. But one question is, at what point are there diminishing returns? If you're teaching your tenth class, what's the value of that eleventh one?"
The task force determined that Purdue's stipends are some of the lowest among its peers, and that students are held back academically and professionally by financial stress. Based on the report and subsequent feedback, Reingold said he established four goals for the college:
Enhance the college's ability to recruit the most prepared students.
Improve the experience for graduate students by creating more balance between research and teaching opportunities.
Increase support for graduate student stipends and provide additional resources for research, conference participation and professional development by working toward a more appropriate size and scale of graduate programs.
Prepare students to be more competitive on the job market with improved placements at a broader range of research-intensive institutions as well as teaching-focused institutions and careers outside of academe, by redefining their role in undergraduate education.
Part and parcel to these multiyear goals, he said, is that academic units have more autonomy to allocate financial support but must justify any decision not to raise stipends to $15,000. Program heads also were asked to work on setting aside 20 percent of graduate lines for research assistant positions and justify the number of graduate students admitted.
Fewer TAs, More Teaching for Faculty
Moving toward $15,000 per year per student, the college has enough money to support about 50 students in each of its 10 departments and programs. But, Reingold said, "there are good reasons why some graduate degree programs should be larger, while others will be more modest in size."
Cohort size is influenced by such factors as "the labor market, the relative standing of a particular field in the college, and a track record of placing students in jobs (especially in peer institutions) and cultivating scholars who elevate the overall reputation of an academic unit," Reingold said.
In many comprehensive universities, he said, the size of liberal arts graduate programs is driven largely by undergraduate program needs -- meaning how many graduate student instructors are needed. While that's one factor, he said, it shouldn't be the main one.
Reingold hinted that the undergraduate mission of the university has changed since 2011, with the formation of the College of Health and Human Sciences. The number of liberal arts majors has declined 40 percent since that time, he said, and the total number of credits delivered by the college has shifted from one in four to one in five over the same period.
That doesn't mean that any faculty members are going to lose their jobs, he said, or even that the college's graduate funding commitment will be reduced. But, he said, it's an opportunity for Purdue to renew its commitment to undergraduate education. Why? While the college's scholarly impact rating is strong by some measures, as is the placement of graduate students, reputation-based rankings are substantially lower, he said. Reingold attributed some of that to "trade-offs" the university has made in how it manages its graduate programs and how large parts of the undergraduate curriculum are delivered by teaching assitants.
As a faculty, Reingold said, "we are scholars and we are educators. For me personally, some of the most meaningful experiences of my academic career are tied to student interactions, often with students who were not majors in my discipline, who shared stories of how classroom experiences affected their lives. We must never underestimate the value of teaching undergraduates. At every level of instruction, teaching is a noble profession. To ask all faculty to teach introductory courses is a tribute to the impact our work has on students at Purdue."
Faculty-undergraduate interaction is also an important undergraduate recruitment tool, he added. "For undecided students, a class with a great teacher can be the factor that influences the choice of major. As we work to turn the tide in terms of undergraduate enrollment, using faculty to our best advantage only makes sense to me."
Units were asked to establish the general expectation that all full-time faculty would teach introductory undergraduate courses, and streamline the use of faculty teaching releases across the college for administrative assignments.
Reingold told Inside Higher Ed that there are introductory level courses required of undergraduate students delivered primarily by graduate student instructors. "If we're sending the message that a course is so important that everyone has to take it, shouldn't our faculty be involved beyond a supervisory role?" he asked.
Mixed Reaction
Faculty members in a variety of departments -- especially those that are seeing more funds directed their way as a result of the rebalancing -- support Reingold's plan. R. Douglas Hurt, chair of history, said he thought the dean offered "innovative leadership that will enable the [college] to refocus the curriculum and provide a strong funding plan to support graduate student research," and improve undergraduate and graduate education. The department was able to promise $15,000 in stipends for five years without decreasing enrollment for its incoming cohort.
Matthias Steup, chair of philosophy, said he thought the plan was "a good move" that increases the department's competitiveness in recruiting graduate students. The philosophy department at Purdue was able to raise stipends to $16,000 next year, which Steup called a good "first step," with an eye on eventually raising them to $20,000 across the college. But it's a change that requires some "sacrifices" from other departments, he said.
Graduate students in English feel like they're facing disproportionate sacrifices, however. Those opposed to the plan say the initial pay bump -- approximately $1,000 -- means little in the face of a $200,000 budget cut over all, and that the salary increase will likely be offset next year by increasing health care costs and the reduced opportunity to teach additional courses as more faculty members teach more undergraduate courses.
Alisha Karabinus, another English Ph.D. candidate focusing on rhetoric and composition, said she worried the shift away from graduate instructors would hurt students' chances on the job market. Unlike many students elsewhere, Purdue rhetoric and composition Ph.D.s tend to get good jobs, she said -- but largely because of their experience. And already Karabinus said she was concerned about the availability of a core course she was planning to take next semester. If it's pulled because the instructor needs to teach an undergraduate course, she said, it could take her longer to earn her Ph.D.
Karabinus and about two dozen other graduate students and faculty members from across the college with similar concerns protested outside a meeting between the college's graduate student leaders and Reingold last week.
Justin Lynn Barker, a Ph.D. candidate in English who attended the meeting, said she and other students objected to the plan's seeming "one size fits all" approach to diverse disciplines that fulfill different needs in relation to the undergraduate curriculum. She said Reingold denied that the plan was one size fits all since there was a high level of department-level autonomy in terms of advocating for or funding more than 50 teaching assistant lines. But she and others left the meeting less than convinced, she said.
"Over all, the most disheartening aspect of the meeting was that he kept referring to us (graduate students) as trade-offs," she said via email. "For instance, he emphasized that there will be trade-offs, and he is asking departments and schools to become more active and responsible for those trade-offs. And he noted that the English program was substantially larger than other programs and asked whether these trade-offs (coming from English) are ones that will benefit the college as a whole."
McMullin said she and colleagues will continue to argue for increased funding, "not just for the other departments that benefited from this redistribution of funds, but so that the university can keep its word to currently enrolled graduate students in all [college] disciplines." She added, "This is an institution with a $2.6 billion endowment. [Graduate students in the College of Liberal Arts] represent a very small percentage of the university's overall enrollment, and our contributions are worth the investment needed for Purdue to fulfill its vision and its promises to undergraduate and graduate students alike." 
One of the solutions McMullin and her colleagues are considering proposing is raising the standard half-time teaching appointment salary to $18,000 annually. That way, she said, students' pay would at least be on par with those offered by other Big Ten universities. 
Krista Ratcliffe, Purdue's English chair, did not respond to a request for comment.
Responding to some of the concerns raised by graduate students in English, Reingold said, "While it's true that some graduate students have concerns, many are very supportive of our effort to increase stipends and to offer a graduate experience that better prepares them to secure tenure-track jobs with our peer institutions."
Reinhold underscored the fact that university -- despite large cuts to higher education in Indiana -- is not cutting its commitment to graduate student education. Rather, he said, the continuing work that the task force initiated seeks to "strengthen graduate education with an eye toward raising the academic profile of the college." Among its objectives are increasing stipends, enhancing the graduate experience with a better balance between teaching and research, and working toward a more appropriate size and scale of the graduate programs, he said.
Purdue's Graduate Student Government has no official position on the plan. But Christopher Kulesza, the organization's past president and a Ph.D. candidate in political science (which was able to increase its stipends to $15,000 without cutting graduate enrollment), said he applauded the plan. Kulesza said he'd approached the college asking for a review of graduate student stipends in relations to peers, and Reingold had acted quickly on students' concerns. Moreover, he said, the college's plan advances the goal of being able to provide guaranteed funding for students -- something that hasn't always been the case in all departments.
"This matches up the number of graduate students to the number of funding lines we'll have available," he said.