You have /5 articles left.
Sign up for a free account or log in.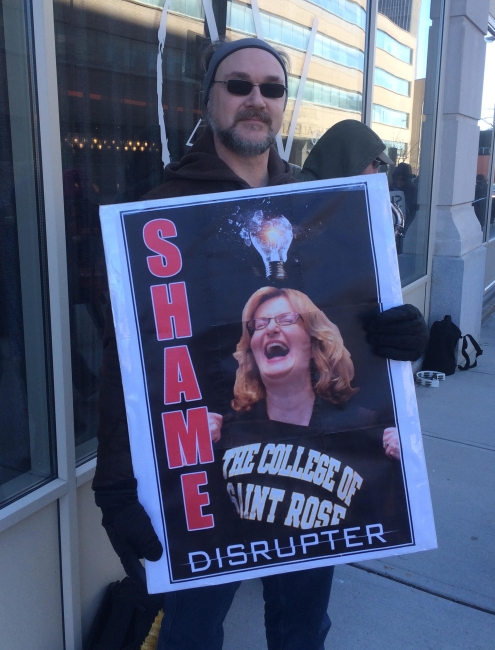 When Carolyn Stefanco accepted the "disrupter" award inside an Albany hotel Friday, faculty members picketed on the sidewalk.
"Disruptive leadership," their signs read, "is killing the College of Saint Rose."
Stefanco, the president of Saint Rose, received the award two months after announcing the elimination of 23 faculty positions -- many of them tenured -- and 12 academic programs. She pitched the cuts, part of an attempt to fix a $9 million deficit, as a way to save money while investing in the college's more popular programs.
At Saint Rose, which she joined in 2014, Stefanco's plans have been contentious. Earlier this month, the faculty voted no confidence in the president, arguing that the cuts were poorly designed and that liberal arts programs were hit particularly hard.
But for business leaders -- the disrupter award comes from the Albany Business Review -- the president's actions took on the tenor of industry-savvy creativity and innovation.
"Disrupter," a word native to start-up culture, typically describes someone who balks at conventional wisdom and comes out ahead. A disrupter discovers newer, better ways to run businesses and manipulate industries.
"To flourish in business these days is to make disruption and change work for you and your business," Mike Hendricks, editor-in-chief of the Review, wrote when the paper announced the winners. "You have to recognize the need and opportunity for change and risk the status quo."
But for Saint Rose faculty, Stefanco's brand of disruption is far from the West Coast start-up variety. For many, the award represents something far more concerning: Stefanco's actions go against the university's mission, opponents argue, and they undermine shared governance and academic freedom.
"This is what's happening at lots and lots of institutions," said Angela Ledford, a political science professor and vice president of Saint Rose's American Association of University Professors chapter. "They're taking shared governance away from the faculty and making corporate and business decisions about what students ought to be learning."
After the faculty's no-confidence vote, the Board of Trustees voted to stand behind the president. "Dr. Stefanco is leading Saint Rose with courage, wisdom and compassion," Board of Trustees Chair Judy Calogero said in a statement. "She is determined to meet the changing needs of our students, improve the college's financial condition, increase enrollment and expand the academic programs our students are seeking."
Saint Rose did not respond to requests for comment on the president accepting the award. (UPDATE: The college sent Inside Higher Ed a statement from Stefanco that said, in part:  "I was hired by the Board of Trustees to confront the realities at Saint Rose. We need to reduce a $9-million operating deficit, to increase enrollment, and to realign our academic programs to better serve our students, 75 percent of whom are enrolled in 25 percent of our programs. To manage institutional change successfully is to discern the difference between what is temporary in nature and what is enduring. Our fundamental mission is to serve our students. But some academic programs require change from time to time in response to the economic, technological and social changes rapidly reshaping our world. The changes at Saint Rose will overwhelmingly benefit current and future students but, regrettably, also will result in the loss of faculty jobs. The affected faculty are talented, dedicated to their students, and have served with distinction.  I thank the Business Review for this recognition, which I accept with humility as a person committed to doing the best I can every day to help our students, faculty and staff preserve the spirit of Saint Rose, prepare for a challenging future, and manage the consequences of change with integrity, strength and compassion.")
Faculty members don't dispute that some cuts might be needed. But they dispute the magnitude of the cuts, and they say that they should have been more involved in the parts of the plan that involved changing the academic programs offered.
Ledford worries about the corporatization of higher education, and she sees Stefanco's actions as part of a trend: When administrations run colleges like businesses, they undermine shared governance. Faculty members have little control over who's hired and fired or what programs are cut.
When Saint Rose picked which programs to eliminate, the decision rested on enrollment: according to the college, 75 percent of students are enrolled in 25 percent of courses; 12 programs don't have any students at all.
Kathleen Crowley, a psychology professor and president of Saint Rose's AAUP chapter, attended Stefanco's award ceremony, where she says the president repeated those statistics.
"It's difficult to imagine that the Albany Business Review considers this kind of disruption innovative or useful or productive," Crowley said. "We're very disappointed that the president has decided to accept."
There were seven winners of the disrupter award, and the other six honorees -- CEOs, presidents, general managers -- run traditional businesses, not nonprofit colleges. "President Stefanco," Ledford said, "sticks out in the most egregious way."
The president's opponents were struck by the image of Stefanco, a few months after laying off so many professors, accepting an award for her efforts in a hotel ballroom.
Big crowd fills ballroom at Albany Wellington for inaugural @AlbanyBizReview Disrupters event pic.twitter.com/xS2H0lehrD

-- Michael DeMasi (@AlbBizMikeD) February 26, 2016
Ledford is angry about losing programs and colleagues -- her own department lost two faculty members -- but she says that the faculty backlash is about the larger implications: weakening tenure protections threaten academic freedom. And when academic freedom is threatened, "you are chipping away of the very integrity of higher education altogether."
"When you start firing tenured and tenure-track faculty," she said, "then tenure no longer has any meaning."
The president's opponents say that the liberal arts took a particularly hard hit: programs cut include American studies, women's and gender studies, philosophy, religious studies, and sociology.
"Students' faculty care more about getting them training for a job," Ledford said. "Their faculty care about getting them to be lifelong learners and critical thinkers and citizens of the world."
Saint Rose has maintained that the liberal arts will remain at the foundations of the college's curriculum, and that liberal arts courses will continue to be required for all undergraduates.
Ledford attended the protest outside the award ceremony Friday afternoon, along with 40 or so students, faculty members, community members and local labor groups.
"It's a very tone-deaf move, to accept this award as disrupter, after laying off 23 faculty members a couple weeks before Christmas," said Sean Collins, an organizer for the union that represents adjunct faculty at Saint Rose.
Collins said that, by giving Stefanco an award, the business community is treating college presidents as business leaders. "But that's not what they should be," he said. "They should be something more."